Hardware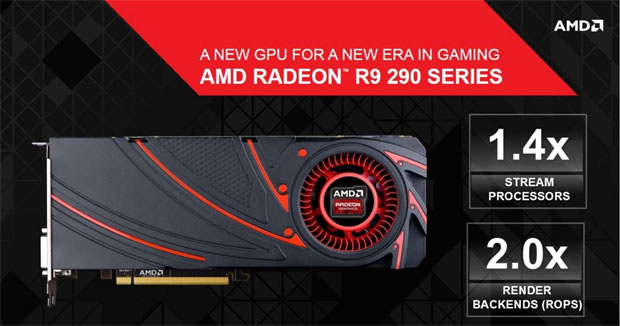 Published on December 4th, 2013 | by Admin
AMD Radeon R9-290X review
Summary: We believe that AMD are onto a winner with Radeon R9-290X that really packs a punch when it comes to features, performance and the overall cost.
Title: Radeon R9-290X
Product: Graphics Card
Developer: AMD
Reviewer: Tony Smith
Review Date: December 2013
Using the Hawaii XT Graphics Processor, the new R9-290X card has arrived from AMD and is a little powerhouse when it comes to gaming. Some could say a little volcano! This card also boasts a whopping 4GB of RAM, a 512-bit memory bus plus a 1Ghz GPU core. If the card is not being used for gaming, the core speeds drops to save power.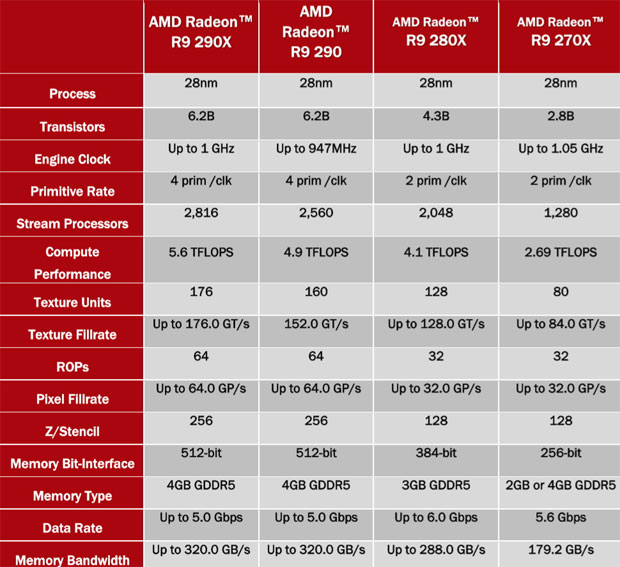 As you may have noticed, AMD have also moved away from their 7000 series of labelling, hence the new R9 format (see above screenshot). It's also a PCI 3.0 graphics card with 28nm technology and another interesting feature is True Audio.
True Audio is part of the card itself via the in-built audio processor which allows the R9-290X to reduce the strain on your CPU in calculating audio. As a result, it boasts improved sound performance, including both surround and 3D sound.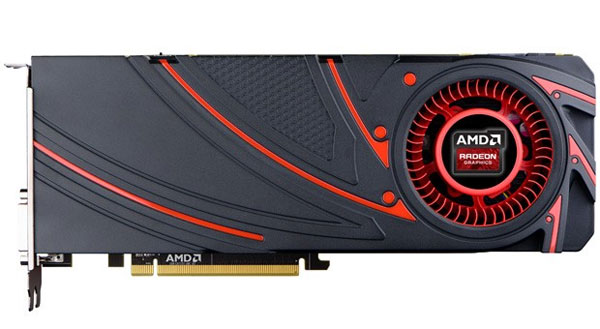 The end result is supposedly increased performance of your gaming as the CPU can then perform other activities. The card is also complaint with DirectX 11.2 which will really change the face of gaming when new games start supporting this new standard.
The card even supports better overclocking with PowerTune that allows high-end gamers and PC enthusiasts the ability to overclock their cards in order to get the most out of them. With some basic overclocking, our tests pushed the card to a 10% improvement in some aspects.
Then you have Mantle.
Mantle basically allows developers to directly access the GPU through its almost OpenGL-like platform for programmers. As a result it will allow for faster graphical performance and will make it easier for developers to port games between consoles and CPU's. According to AMD, it reduces the CPU overhead and improves rendering and optimization.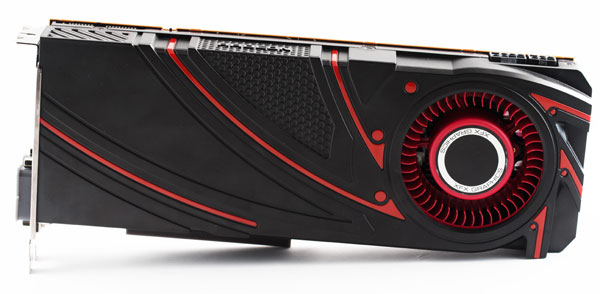 The R9-290X also boasts Ultra Resolution Gaming (4K monitor or multiple screens), improved software optimisation (including games), CrossFire (linked cards), better power consumption, simple overclocking plus 3D support. It's also one of the most powerful AMD graphics cards at the moment and boasts the following specifications;
Process: 28nm
Transistors: 6.2 Billion
Engine Clock: > 1 .00 GHz
Stream Processors: 2,816
Compute Performance: 5.6 TFLOPS
Texture Units: 176
Texture Fillrate: 176 GT/s
ROPs: 64
Pixel Fillrate: up-to 64 GP/s
Z/Stencil: 256
Memory Bit-Interface: 512-bit
Memory Type: 4GB GDDR5
Data Rate: 5.0 Gbps
Memory Bandwidth: 320.0 GB/s
With these specifications and features in mind, this card has been developed to give gamers a better experience and more importantly, give AMD's competition something to worry about, more particularly, NVIDIA's GTX Titan!
Installation
Once the card was installed in our Windows 7 test machine, we installed the latest AMD Radeon drivers for the R9-290X and our test system also had a clean install of the operating system. The hardest part of installation is physically installing the card into the system. With that said, the card is around 27.6cm long so you do need the appropriate PC case. The card has multiple outs such as DVI, HDMI and DisplayPorts.
The Radeon R9 290X uses a 6-pin power connection and also an 8-pin to power this beast.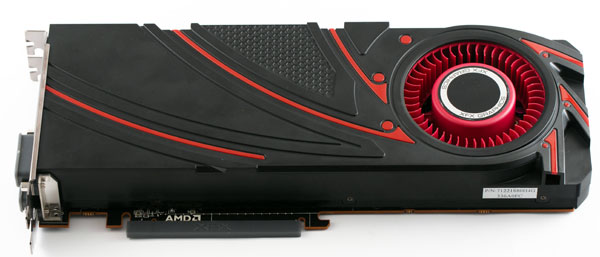 We tested the card on an Intel i7-4960X system with 16GB of Corsair Memory with Windows 7 64-bit. All our benchmarks were based on the FULL HD resolution of 1920×1080 at high or ultra-quality for all games. We did test the card with the illusive "4K" but it cannot compare to the frame rate of the FULL HD.
It did look amazing but performance wise, it was lacking.
Gaming Benchmarks
Bioshock Infinite
In this first-person shooter set in 1912, the player assumes the role of former Pinkerton agent Booker DeWitt, who is sent to Columbia to rescue Elizabeth, a young woman imprisoned there since childhood. He develops a relationship with Elizabeth, augmenting his abilities with hers so they may escape from a city literally falling from the sky. DeWitt learns to fight foes in high-speed Sky-Line battles, engage in combat both indoors and amongst the clouds, and harnesses the power of dozens of new weapons and abilities. This game not only played brilliantly but had graphics to die for!
Resolution 1920 x 1080 (Ultra Quality)
Score: 99.5 Frames per second
The  R9-290X performed flawlessly on this game.
Crysis 3
Set in 2047, Prophet is on a revenge mission after uncovering the truth behind Cell Corporation's motives for building the quarantined Nanodomes. The citizens were told that the giant citywide structures were resurrected to protect the population and to cleanse these metropolises of the remnants of Ceph forces.
Resolution 1920 x 1080 (Very High Quality)
Score: 90.1 Frames per second
Another win for the R9-290X!
Far Cry 3
Far beyond the limits of civilisation lies an island, a lawless place ruled by violence and human suffering. You're Jason Brody, backpacking with your friends around Asia, looking for fun and adventure. You end up on this beautiful island that's not on the map … You quickly find out that this place has forgotten right from wrong. It's a place where you must live by the principles of violence to survive.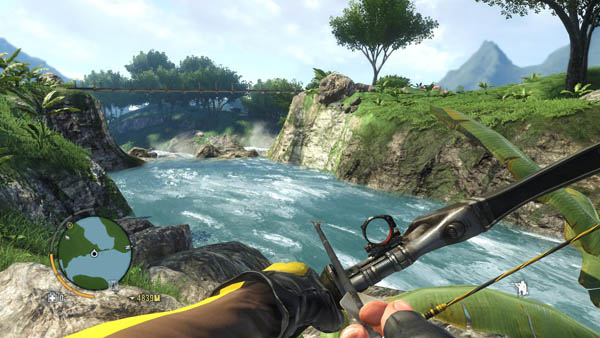 Resolution 1920 x 1080 (Ultra Quality)
Score: 89.9 Frames per second
Almost pushing 100 frames per second, this game looked silky smooth on the R9-290X.
Total War Rome 2
The award-winning Total War series returns to Rome, setting a brand new quality benchmark for Strategy gaming. Become the world's first superpower and command the Ancient world's most incredible war machine. Dominate your enemies by military, economic and political means. Your ascension will bring both admiration and jealousy, even from your closest allies.
Resolution 1920 x 1080 (Ultra Quality)
Score: 107.5 Frames per second
Even though this game is an RTS, the R9-290X performed very well. 
Tomb Raider
Tomb Raider is an Action-Adventure game that introduces players to the origin of one of the most identifiable video games icons of all-time, Lara Croft. The game features a blend of survival, stealth, melee and ranged combat, and exploration gameplay as a young Lara Croft is forced to push herself past her know limits to survive and unravel the dark history of a forgotten island. This game is just damn sexy when it comes to graphics and the card performed quite well.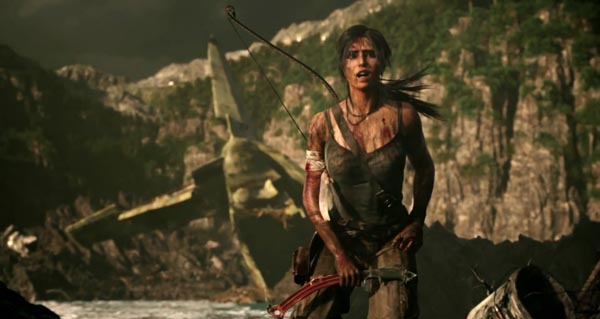 Resolution 1920 x 1080 (Ultra Quality)
Score: 105.4 Frames per second
This is what gaming is about thanks to the R9-290X… a beautiful animated and interactive Lara Croft!

We did test the card at the mythical higher resolution rates for 4K gaming but at present, you would need two cards to successfully run games at this insane resolution. The AMD Radeon R9290X works well at higher resolution but for console-like graphics, especially when it comes to smoothness, FULL HD is still the way to go.
One issue with the card and quite a few people have touched upon this is the temperature of the card itself. When running at full stress levels, the card can produce temperatures of 95 degrees and it should be noted that this is perfectly safe.
With that said, it would help to have the appropriate cooling in your PC to combat this. The idle temperature for us what 38 degrees Celsius. Thankfully the noise level of this card is relatively low compared to other cards.
Final Thoughts?
We believe that AMD are onto a winner with the Radeon R9-290X which really packs a punch when it comes to features, performance and the overall cost. More importantly, this card is actually future proofing itself, especially with its powerful features such as Ultra Resolution Gaming, Mantle, Eyefinity, App Acceleration, 3D and its powerful architecture such as its core clock of 1000Ghz and 4GB of GDDR5 RAM.
The titan killer has arrived!