Hardware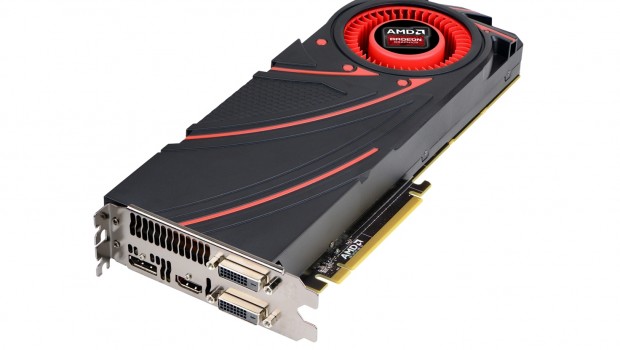 Published on October 24th, 2013 | by Admin
AMD Radeon R9 290X Graphics Card Pioneers a New Era in Gaming Experience
— AMD makes graphics leadership power move with AMD Radeon R9 290X GPU, the king of the Radeon R9 Series graphics cards, new GPUs for a new era in gaming —
(click here or the image above to
download high resolution images)
SYDNEY, Australia. — Oct. 24, 2013 — AMD today launched the AMD Radeon™ R9 290X graphics card, introducing the ultimate GPU for a new era in PC gaming. As the top AMD Radeon™ R9 Series graphics card, the AMD Radeon™ R9 290X GPU delivers breathtaking performance while pushing the boundaries of audio and visual realism for gamers who demand the best.
"As the pinnacle of our new AMD Radeon R9 Series graphics cards, the AMD Radeon R9 290X GPU embodies AMD's leadership as the ultimate graphics solution for an exceptional gaming experience, affirming that Radeon™ is gaming," said Matt Skynner, general manager and corporate vice president, AMD Graphics Business Unit. "The formidable combination of Graphics Core Next (GCN) architecture, Mantle and AMD TrueAudio technology raises the bar for breathtaking audio and graphics, and powerful performance, giving enthusiasts an unprecedented gaming experience."
With AMD's award-winning Graphics Core Next (GCN) architecture at its core, the AMD Radeon R9 290X graphics cards have an unrivaled advantage with Mantle, an industry-changing technology developed by AMD1. With Mantle, top game developers can harness the GCN-powered architecture found in both PCs and consoles, empowering them to speak the native language of the GPU core and benefit from an incomparable level of hardware optimisation that unlocks revolutionary performance and image quality.
Equipped with the new AMD TrueAudio technology and made for ultra resolution gaming, the AMD Radeon R9 290X GPU creates today's most immersive PC gaming experience2.
AMD TrueAudio technology brings a heightened level of revolutionary audio immersion, surrounding gamers with realistic audio environments through stereo headsets and speakers. Armed with a dedicated audio processor in the GPU, the AMD Radeon R9 290X graphics card will deliver a richer and deeply immersive soundscape, including true to life echoes, convolution reverbs and incredibly
realistic sounding environments.
Made to perform for UltraHD (4K)3 and AMD Eyefinity technology4, the AMD Radeon™ R9 290X GPU elevates visual experiences on current and upcoming PC titles with superior image quality and expansive, eye-opening displays.
Outstanding features of the AMD Radeon R9 290X graphics cards include:
•    2,816 stream processing units
•    Up to 1 GHz engine clock
•    4GB GDDR5 memory
•    Up to 5.0Gbps memory clock speed
•    320GB/s memory bandwidth (maximum)
•    5.6 TFLOPS Single Precision compute power
•    API support for DirectX® 11.2, OpenGL 4.3 and Mantle
Pricing and Availability
Manufacturer: AMD
Product Name: R9 290X
RRP: AU$699 ; NZ$849
Australian Distributors: Synnex
AU, Altech AU, Achieva
New Zealand Distributors: Synnex NZ, Altech NZ, PBtech, Dove
Availability: Now
Website: http://www.amd.com/R9
Supporting Resources
•    Learn more about the AMD Radeon™ R9 Series graphics cards
•    Blog: The four core principles of AMD's Mantle
•    Register for the AMD Developer Summit, APU13, to learn more about Mantle
•    Become a fan of AMD Gaming on Facebook
•    Engage with us on Twitter @AMDRadeon
•    Become a fan of AMD on Facebook