Hardware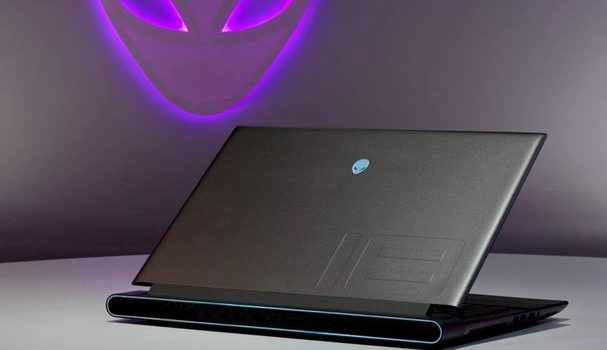 Published on October 20th, 2023 | by Adrian Gunning
AMD Launches Fastest AMD Radeon Laptop Graphics Ever Developed
Today AMD (NASDAQ: AMD) introduced flagship laptop graphics processor AMD Radeon™ RX 7900M, the fastest AMD Radeon GPU ever developed for laptops1. Built on groundbreaking AMD RDNA™ 3 architecture, the new high-performance GPU brings incredible gaming and content creation performance to mobile systems, delivering 7% on average higher performance than the competitive offering in select games at QHD resolution2.
In addition, today Alienware announced the latest member of the Alienware m18 laptop family featuring the new AMD Radeon GPUs. Powered by AMD Ryzen™ 9 7945HX processors and AMD Radeon RX 7900M GPUs and leveraging advanced AMD smart technologies3, the Alienware m18 is the ultimate AMD Advantage™ laptop, offering astonishing performance to power the most demanding games and content creation applications.
"The Alienware m18 is our most advanced and powerful AMD Advantage laptop, designed to deliver no-compromises, desktop-level performance for gaming and content creation applications," said Frank Azor, chief architect of Gaming Solutions and Marketing at AMD. "We worked closely with Alienware on the development of the system to offer the best mobile experiences possible, and we think customers will be absolutely delighted with what this system can do."
"The Alienware m18 delivers the best mobile gaming solutions with desktop-level performance driving a spacious 18-inch display," says Matt McGowan, Alienware Product Lead. "This performance juggernaut will transport you into your game-of-choice in style, and with full immersion."
The AMD Radeon RX 7900M GPU offers 72 AMD RDNA™ 3 compute units featuring new AI and second-generation raytracing accelerators, 16GB of high-speed GDDR6 VRAM, AV1 encoding and more to push the limits of gaming and content creation on the go. Key features include:
AMD RDNA 3 Architecture – Features redesigned compute units with unified raytracing and AI accelerators, second-generation AMD Infinity Cache™ technology and second-generation raytracing technology.
Dedicated AI Acceleration – New AI accelerators are optimized for the latest AI workloads. New AI instructions and increased AI throughput are designed to deliver more performance than AMD RDNA 2 architecture.
16GB VRAM for 1440P Gaming – 16GB of high-speed GDDR6 memory enables gamers to experience the latest titles at 1440p and beyond, and allows content creators to unpack high-resolution textures, and render complex 3D environments and animations in real time.
Improved Streaming & Ultra-High-Definition Encoding – Improved AMD encoders deliver enhanced visual quality when streaming and recording. AMD AI and content adaptive machine learning technology has also been integrated into the AMD Media Framework to enable sharper text when streaming at low bitrates and resolutions. In addition, the encode/decode media engine unlocks new multi-media experiences with full AV1 encode/decode support, wide color gamut and high-dynamic range enhancements4.
Key Product Specifications
| | | | | | | | |
| --- | --- | --- | --- | --- | --- | --- | --- |
| Model | Compute Units | GDDR6 | Game Clock5 (MHz) | Boost Clock6 (MHz) | Memory Interface | Infinity Cache | TGP |
| AMD Radeon RX 7900M | 72 | 16GB | 1825 | Up to 2090 | 256-bit | 64 MB | 180W |
Ultimate AMD Advantage Laptop
The Alienware m18 laptop is the latest addition to the AMD Advantage product family. AMD AdvantageTM certified laptops are designed and tested to deliver the ultimate platform for gamers and creators, offering state-of-the-art experiences with new levels of performance and responsiveness. They combine the latest AMD Radeon GPUs and AMD Ryzen processors with AMD smart technologies, AMD Software: Adrenaline Edition™ application features, and other advanced system design characteristics that deliver premium computing experiences.
In addition to the new AMD Radeon RX 7900M GPU, the Alienware m18 laptop includes an AMD Ryzen 9 7945HX processor with 16 cores and 32 threads for incredible gaming, productivity, and creativity performance with the leadership efficiency of the AMD "Zen 4" architecture.
The system also combines high-performance memory, the latest in laptop cooling technology and more to push the limits of gaming and productivity. It offers a selection of high-quality 18-inch QHD+ and FHD+ display panels featuring 3ms response time, 1000:1 contrast ratio, 300 nits brightness and up to 480Hz refresh rate. In addition, the system features a host of AMD smart technologies that elevate laptop performance and efficiency to new levels:
​AMD SmartShift Max7 – Dynamically shifts extra power between AMD Radeon GPUs and AMD Ryzen processors in real-time to help boost performance for gaming, video editing, 3D rendering and content creation workloads.
AMD SmartAccess Graphics – Automatically switches to the discrete AMD Radeon GPU for maximum gaming performance and reduced latency while maintaining AMD FreeSync™ technology8.
AMD Smart Access Memory™9 – Unlocks higher performance by providing AMD Ryzen processors with full access to the high-speed AMD Radeon graphics memory.
AMD SmartAccess Video10 – Intelligently divides the decoding and encoding workloads across AMD Ryzen processors and AMD Radeon graphics cards, delivering higher levels of performance.
Availability
The Alienware m18 with AMD Radeon RX 7900M GPU options is expected to be available today, starting at $2,799.99 (US) / $3,799.99 (CA) on Alienware.com. Contact Alienware for more information.