Hardware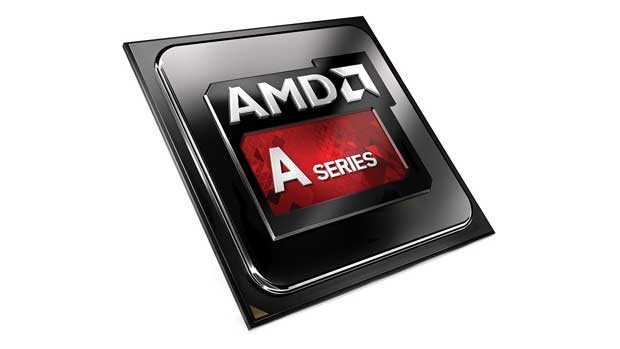 Published on August 28th, 2015 | by James Wright
AMD A8-7670K APU Review (A8-7600 Series)
Summary: The AMD A8-7670K APU is a great little home CPU/GPUT that is also an affordable entry level gaming system
Based on the new Kaveri architecture, AMD have released their A8-7600 series APU which successfully creates a hybrid CPU and GPU (Heterogeneous System Architecture) that has 4 CPU cores and 6 GPU cores using the 28nm fabrication process with 2.41 billion transistors.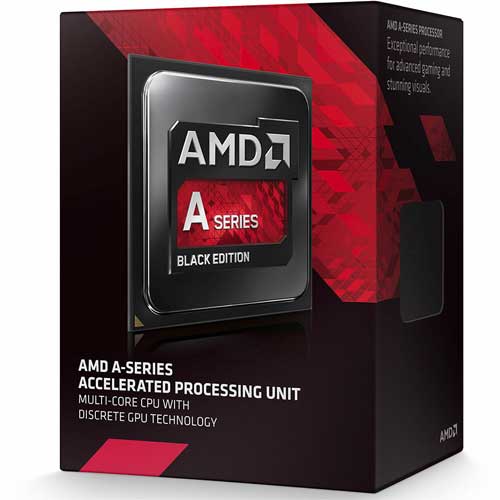 The model that Impulse Gamer reviewed was the A8-7670K which runs at 3600Mhz with a turbo frequency of 3900Mhz that measures at 4cm x 4cm. The integrated graphics is based on the Radeon R7 series with 384 shader cores with a base frequency of 757Mhz that is compatible with DDR3 RAM. The thermal design power is based around 95W but it can be tweaked to push the card.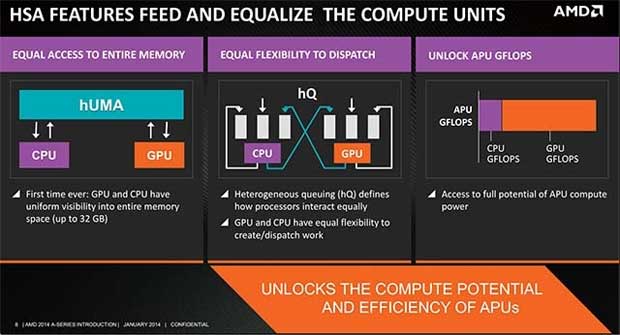 The APU also boasts DirectX 12/Mantle Support, AMD FreeSync Technology (which helps eliminate tearing) and Virtual Super Resolution which is basically Super Sampling Anti-Aliasing (SSAA) that increases video quality, even on a 1080p screen. It is also HDMI 1.4a compliant as well.
The APU is compatible with Windows 10 when you install the latest Catalyst Drivers which gives a slight boost to performance and even supports XBox One streaming. In terms of prices, the AMD A8-7670K ranges between $150 to $199AUD (August 2015) which definitely targets the price savvy user and gives you some great bang for your buck. The competition of this APU is Intel's Core i3-4160.
In terms of gaming, the AMD A8-7670K APU does let you dip your virtual feet into the gaming waters which offer users around 30 frames per second at 1080p but if you really want to get to the next level for performance, a dedicated graphics card is required. However for online gaming, AMD's own internal testing produced some great results for StarCraft II, League of Legends, DOTA 2 and Counter Strike at 1080p with maximum detail.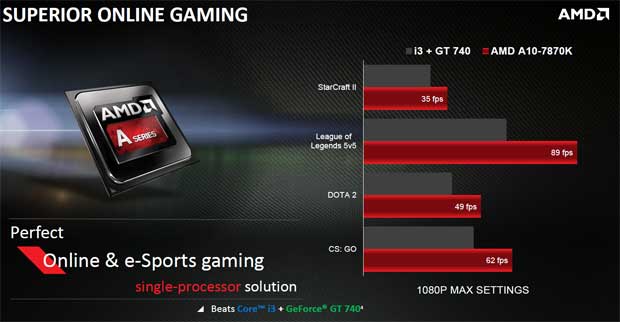 But where the A8-7600 series shines is that by installing a compatible graphics card, both the APU and the card will work together to give you a very acceptable gaming experience. Sure it won't beat other high end CPU's or APU's but it's a real alternative, especially for the price.
Software Benchmarks
In order to test the APU, our test machine had 16GB of DDR3 RAM installed and we tested three software "based" programs that included PCMark8, CineBench 11.5 and 3DMark 2013.
PCMark8 is a complete benchmarking tool that tests the "home and business" aspect of your PC through simulated real world test. CineBenchis a real-world cross platform test suite that tests CPU and graphics performance through rigorous tests. Lastly we used 3DMark 2013 that is the world's most popular gaming benchmark and graphics card test which gives the user a great overview of the APU.
Benchmark Results
PCMark8 – 3181
Cinebench 11.5 – 3.31
3DMark 2013 (Cloud Gate) – 3172
In terms of results, although the A8-7670K was on the lower end of the spectrum, however it did score slightly higher then its Intel competitor and I must admit that the graphical tests were on the higher end of the scale as well. All in all, these tests prove that the A7-7670K is a good little work horse for the home.
Gaming Benchmarks
For games we tested the APU with Just Cause 2, Tomb Raider and Battlefield Hardline. The first two games were third person titles with the Battlefield Hardline being a first person shooter. Surprisingly and without another graphics card, the APU performed quite well and even though the games are on the lower scale of frames per second, by tweaking the graphics (e.g. reducing the detail level), you can get the games to be quite playable at around 30+ frames per second.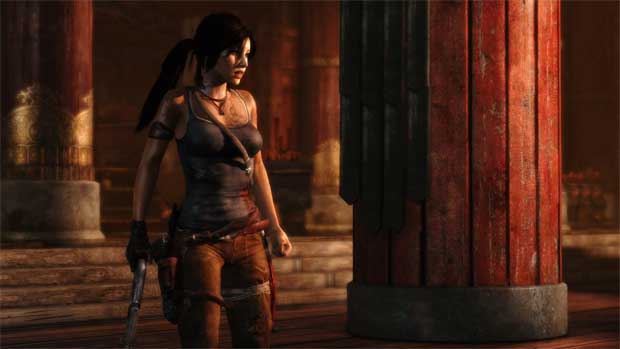 We even got Tomb Raider to run quite smoothly at around 45 frames per second and given the amount of graphical rendering, this was a good result.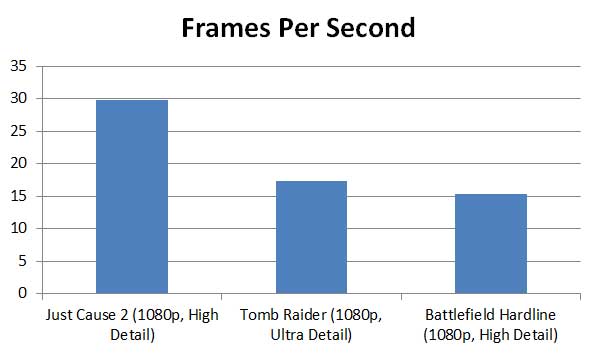 Final Thoughts?
AMD's A8-7670K APU is quite a decent APU (CPU/GPU) for the price, particularly with the inclusion of the Radeon R7 which does give users a very affordable alternative to get into gaming. Another highlight of the product is that it is compatible with a variety of motherboards that makes upgrading a relative pain free experience. So in the end, this APU is great for home use, business and entry level gaming with some tweaking.