Films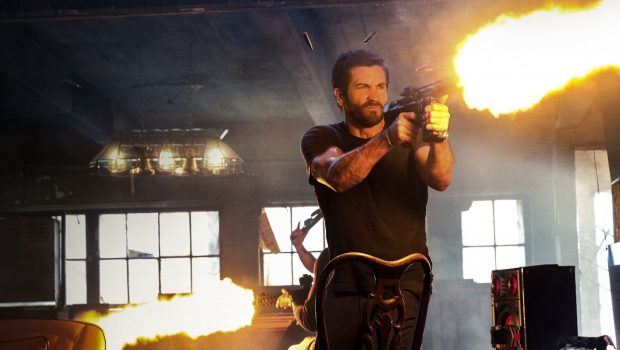 Published on April 8th, 2022 | by Harris Dang
Ambulance – Film Review
Reviewed by Harris Dang on the 6th of May 2022
Universal Pictures presents a film by Michael Bay
Produced by Michael Bay, Bradley J. Fischer, James Vanderbilt, William Sherak, and Ian Bryce
Starring Jake Gyllenhaal, Yahya Abdul-Mateen II, Eiza Gonzalez, Garret Dillahunt, and Keir O'Donnell
Cinematography Roberto De Angelis
Edited by Pietro Scalia
Music by Lorne Balfe
Running Time: 136 minutes
Rating: MA15+
Release Date: the 7th of May 2022
Ambulance tells the story of two adoptive brothers, Will and Danny (Yahya Abdul-Mateen II and Jake Gyllenhaal), who are tasked with pulling off a $32 million bank heist. Will, a disciplinary war veteran, desperately needs money for his wife Amy's surgery. Danny is a reckless life-long criminal who proposes Will work alongside him on the heist.
All is going well at first but a chance encounter involving a lovelorn cop makes the heist go awry. With the cop nearing death, the brothers run into Cam (Eiza Gonzalez), a dedicated EMT (emergency medical technician), renowned for her skill if not her empathy toward those she transports. Now the three are stuck together, along with the dying cop in the titular ambulance, and set off on a high-speed chase. Will the brothers figure out a way to outrun the law?
Ambulance is the latest film from Michael Bay, a renowned auteur who has made a name for himself thanks to his contributions to action cinema involving numerous pyrotechnics, propulsive visual style, and a deeply misanthropic sense of humour. He has gained many supporters and naysayers from his polarising work, but one thing is for certain: he has made films distinctly his own and they have a defined footprint in cinema that we will always remember.
In the case of Ambulance, Bay strays away from the 9-figure budget filmmaking and goes into small-scale (for him, anyway) filmmaking reminiscent of films such as Pain & Gain (2013) and 13 Hours – The Secret Soldiers of Benghazi (2016). In those projects, Bay showed passion due to their appealing subjects, including American jingoism, misanthropic worldviews, and the love of excess in present society. All these elements are amplified throughout Ambulance.
After the excess on top of excess that was 6 Underground (2019), Ambulance should feel like a dip down in adrenaline. However, thanks to the streamlined narrative that is contained in a chase scene and significant characters narrowed down to three leads, the overlong 120-minute runtime feels digestible. Bay and editor Pietro Scalia (who has worked on many Ridley Scott and Oliver Stone projects) have done a great job in keeping the turbo-charged momentum up. Meanwhile, the cinematography by Roberto De Angelis and the drone operating team brings maximum impact to the set-pieces and captures the characters' mindsets.
Funnily enough, Ambulance strays away from the exploitative lens toward Bay's female characters present in the Transformers films. Yet the same fetishistic [sic] look is laid upon many building structures, making them the film's eye candy. Much like how he discovered parkour in 6 Underground, Bay exploring the wonder of drone photography is a marvel to behold. Whenever drones fly through giant structures and through hallways and the surveillance from the authorities follow the leads, it feels like Bay is the eye of God overlooking the mayhem our characters are experiencing as he captures the destruction of the world and how hopeless it can be.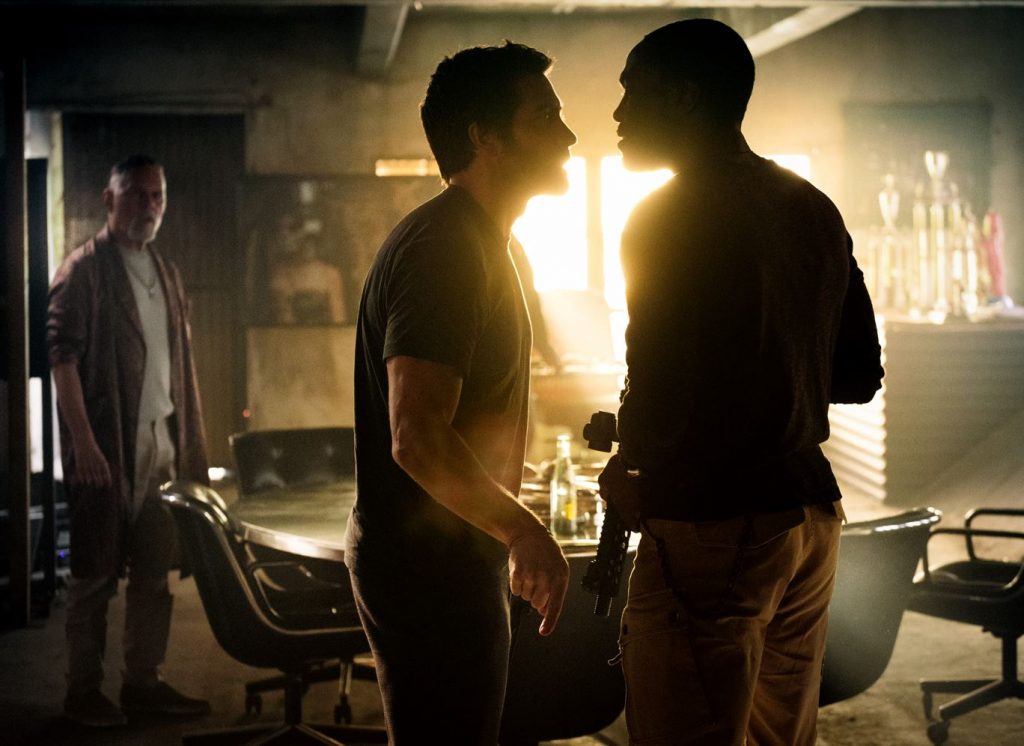 However, Bay wants you to see there is a warped sense of humanity in his world worth saving. He literally brings his camera close to the actors' faces and allows their eyes to do all the work. Somehow, even with all the hyper-realistic elements (including one surgical sequence during a high-speed chase involving numerous video calls), the political incorrectness (Hispanic criminals and Asian stereotypes), and self-aware moments (Bay manages to name-drop The Rock (1996) and Bad Boys (1995)), it manages to convince at times.
It helps the three leads lend great performances that imbue humanity and are aligned to Bay's method of madness. Abdul-Mateen II is the immovable object of righteousness as Will. He makes it easy to believe he is kind-hearted as he is conflicted over his loyalty to his brother and his love for his wife. He is the film's gravitas of the film and keeps the narrative and drama in check.
Gyllenhaal is a force of nature as Danny. He manages to keep up with Bay's maximalist style as he screams and flails with every aching muscle. He makes every oddity in the humour funny and the righteous fury that Danny has powerfully felt in more ways than one.
He is the symbol of the pyrotechnics of Bayhem [sic] and clearly the proxy of Bay himself and Gyllenhaal captures the misanthropic views of Bay in a compelling manner. He delivers lines like 'this was cashmere!' and 'I wish I didn't have herpes, but we work with what we got!' with such scenery-chewing gusto one cannot help but laugh at the absolute absurdity and conviction of his delivery.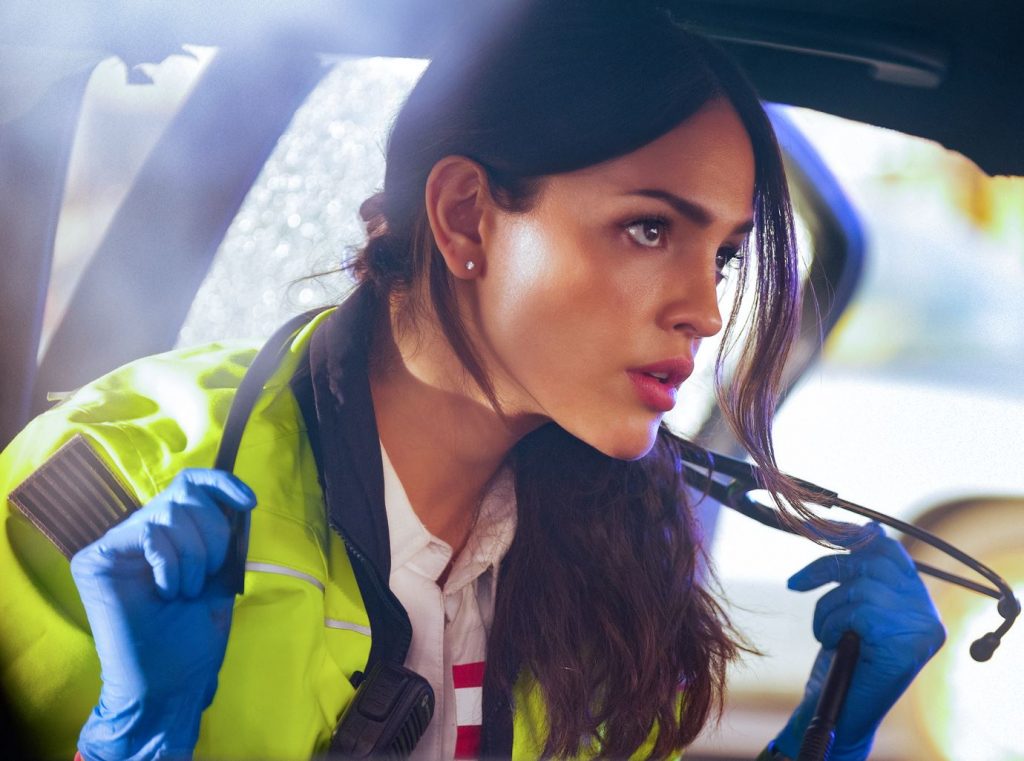 However, Ambulance's beating heart is Gonzalez. She exhibits absolute control and stoicism that makes it easy to believe Cam is as capable and conflicted as written. She also keeps a remarkably straight face during the excessive shenanigans Bay throws at his characters, including a surgical procedure involving numerous video calls from doctors playing golf, in the middle of a high-speed chase. Gonzalez reportedly worked with numerous firefighters, EMTs, surgeons, and everyone in the medical system. The preparation has paid off because she emerges unscathed as the film's emotional core with remarkable empathy and inner turmoil.
Ambulance is exactly what it says on the vehicle with Michael Bay at the wheel. It delivers all the high-octane action and uncongenial humour one would expect. However, with striking visual invention, committed lead performances, the lack of a misogynistic streak, and a streamlined narrative in check, Ambulance is one of Michael Bay's best films.
Summary: With striking visual invention, committed lead performances, the lack of a misogynistic streak, and a streamlined narrative in check, Ambulance is one of Michael Bay's best films.