Hardware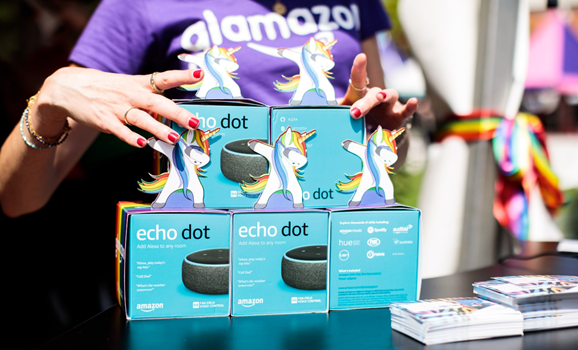 Published on February 25th, 2020 | by Alex Novus
Amazon turns into Glamazon this Mardi Gras
Have you ever wondered what Alexa does when she's not catering to your every need? This Mardi Gras you'll find out, as Alexa adopts her drag queen persona and joins in on the fun. The unofficial 'Blue Light Disco Queen' will help you get involved in all things Mardi Gras – just ask her for some fun Mardi Gras facts, her thoughts on Cher or what you should wear for the parade!
This year, to celebrate the 2020 Sydney Gay and Lesbian Mardi, Amazon Australia is getting on board in many ways to sponsor the festivities, like with their first ever Glamazon float and live activation in the village. Come along and find out exactly what makes Amazon so glamourous this Mardi Gras festival!
If you can't make it to the parade, you can shoot Alexa any of these festive questions to get you in the Mardi Gras spirit.
Alexa, when is Mardi Gras?

The 2020 Sydney Gay and Lesbian Mardi Gras parade is on the 29th of February, at 7:30pm. The Mardi Gras Festival runs from the 14th of February until the 1st of March.

Alexa, what does LGBTIQ stand for?

LGBTIQ stands for lesbian, gay, bisexual, transgender, intersex, queer or questioning.

Alexa, who has performed at Mardi Gras?

The official after party draws the big performers, with Cher, George Michael, Kylie Minogue and RuPaul all having strutted their stuff on stage.

Alexa, do you like Cher?

I believe in Cher and always will, even if I could turn back time, my answer would be the same.

Alexa, Happy Mardi Gras!

And to you! Bring on the sequins, speedos and sensational dance moves. | Happy Mardi Gras! May your night be fun and fabulous!

Alexa, how did Mardi Gras start? / Alexa, what's the history of Mardi Gras?

Sydney's Gay and Lesbian Mardi Gras started as a protest march for gay rights in 1978. It's grown to become a festival and street parade that celebrates LGBTQI rights and the community.

Alexa, why is Cher a gay icon?

Big voice, tick. Fabulous outfits, tick tick. Supportive of the LGBTQI community, you betcha.

Alexa, are you excited for Mardi Gras?

For sure! Best of all, I have a great view of the parade from the cloud. Hurray!

Alexa, what's your drag queen name?

Just call me Blue Light Disco Queen.

Alexa, what should I wear for Mardi Gras?

Whatever you choose, be like a disco ball and shine, shine, shine!
Whether it's a magnificent cape, or a tux-ballgown hybrid, you can't go wrong taking inspiration from Billy Porter!
Just remember, less is more!

Alexa, what's my drag queen name?

One doesn't just get given a drag queen name, one must earn it.
If it's funny and punny, you're on the right track.

Alexa, what's your favourite float?

I'm a fan of a well-choreographed routine, so my favourite float belongs to the surf lifesavers.

Alexa, do you like Mardi Gras (ANZ)

Sequins, smiles and a whole lotta love… sounds fabulous!

Alexa, Mardi Gras fun facts / Give me a Mardi Gras fact

300,000 spectators line the streets to cheer the floats on by.
200 groups will parade down Oxford street this year.
$30 million is the economic benefit of the parade, making it New South Wales's second-largest annual event.
1.7km is the length of the parade route.
12,000 participants will be smiling and waving in this year's parade.
42 is the number of candles on Mardi Gras's rainbow birthday cake this year.
1978 was when it all began, when a small group of gays and lesbians organised a day of events and a parade.
So pop some glitter on and join Alexa in celebrating all things LGBTIQ this Mardi Gras season!