Hardware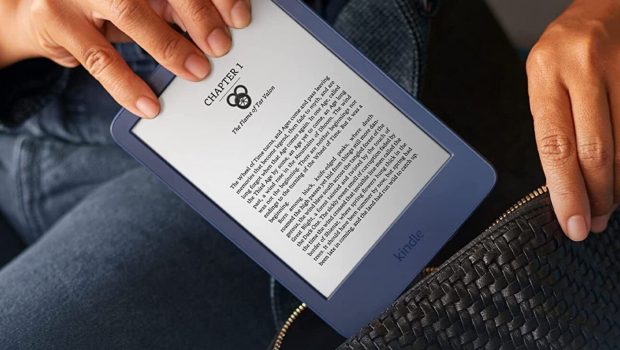 Published on February 7th, 2023 | by Andrew Bistak
Amazon Kindle (11th Gen) Review
Summary: The Amazon Kindle (11th Gen) is close to ePerfect as possible!
The all-new 11th generation of Amazon's Kindle devices makes an already great eBook reading experience even better with the latest version of this popular eReader. While I love reading paper books, the new Kindle has me questioning the pros of this old school medium because the text is clearer, it's lighter than most books and more importantly, it can hold up to 16GB of eBooks that allows you to store thousands of titles at your fingertips which could be over well 5000 books. Dusty tomes of fiction and non-fiction? Not so with the latest Amazon Kindle!
The new Kindle also comes in two colours that includes classic black and denim blue with both using recycled materials in their creation. So not only does it support the environment, it offers a colour choice that will hopefully match your personality. Price-wise, the Amazon Kindle 11th generation retails for just $179AUD (Feb 2023) which is excellent value for money and further, setup is super easy as is navigating your book library.
If you have an older generation of a Kindle, the 11th generation has a faster processor, is lighter and has an excellent battery life of  up to 6-weeks. It's also a small device that measures at 157.8 x 108.6 x 8.0 mm with a featherweight of just 158 grams. To help with the reading experience, it has a 6" 300ppi display for crisp text which makes it perfect for reading it in a variety of different environments, including a dark mode for night. However it's not all about the reading as the new Kindle supports Audible which are audio books and with the Bluetooth, it allows you to stream directly to your intended headset or earbuds.
Unboxing Gallery
Setup Gallery
The Setup
Setting up the Kindle is a simple that connects to your Wi-Fi network on either the 2.4Ghz or 5Ghz bandwidths that takes you through a relatively easy to follow wizard. So whether you're new to Amazon or need to link the new Kindle to our existing account, you'll be up and running in just a few minutes. As we have an Amazon account, we had to link the Kindle via a linking code. Once the setup was complete, we were ready to commence our reading experience.
The menu system is serviceable, however don't expect a smartphone or tablet experience but as
mentioned, it does the job and turning pages is slightly faster than turning a page in a real book. Nonetheless, it's about reading and this is where the Kindle shines. As a result, the 300ppi display is quite sharp and makes it perfect for reading opposed to the overtly sharp and bright tablets with the Kindle being more akin to a paper experience. In terms of book formats, the Kindle supports direct connectivity to Amazon Books plus Audible, including AZW, EPUB, HTML, MOBI, PDF, RTF and TXT files.
As you can see from the above images, the text on the Kindle is perfect for reading and you won't get any tired eyes either. To ensure you don't lose the page, the device remembers what page you're up to and a good fail safe is to push the power button which puts the Kindle into standby mode. Alternatively going back to the menu and swapping between books causes no issues.
Final Thoughts?
The Amazon Kindle (11th Gen) upgrades an already impressive eBook experience and if you're new to eReaders or want to upgrade from a tablet, smartphone or older Kindle, it's the perfect time!
Recommended!