Hardware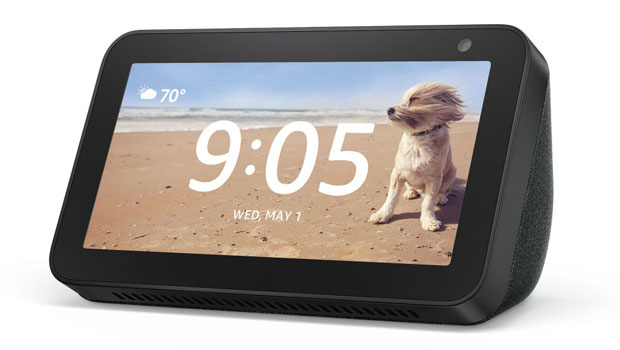 Published on July 24th, 2019 | by James Wright
Amazon Echo Show 5 Review
Summary: The Amazon Echo Show 5 take this smart technology and successfully compresses it into a very useful device!
Welcome to the Amazon Echo Show 5 which puts the "smarts" back into smart devices. The new Amazon Echo Show 5 boasts a wealth of features from its compact design, high quality touch-screen display, smart-home integration, ability to play videos and of course Alexa integration that so far makes this one of the best devices of 2019. Oh… the Amazon Echo Show 5 is also affordably priced at just $129AUD (July 2019) which is great value for money. So before we jump into our review, let's check out the official features from Amazon.
The new Amazon Echo Show 5 puts the "smarts" back into smart devices
Features
Compact 5.5 smart display ready to help manage your day, entertain at a glance, and connect you to friends and family.
Follow step by step recipes. Easily update to-do lists and calendars. Glance at weather and traffic on your way out.
Ask Alexa to show you movie trailers or the news. Or listen to radio stations, podcasts, and audiobooks.
Voice control compatible devices or manage them on the easy-to-use display. Ask Alexa to show you security cameras, control lights or adjust climate control.
Call friends and family who have the Alexa app, an Echo device with a screen, or Skype. Make announcements to other devices in your home.
Choose the clock face that fits your style best. Use your favourite photos on the home screen. Create morning routines to start your day.
Turn off the microphone and camera with the press of a button. Slide the built-in shutter to cover the camera.
Well-packed from Amazon, the Echo Show 5 is an aesthetically looking device when unpacked and is quite a compact product (148 x 85 x 73mm) that also has a 5.5" in touch-screen with a resolution of 960 x 480 that is exceptionally clear with vibrant colours and is great for streaming videos. It's also quite a responsive screen that comes with a 1MP camera for video calling (including a privacy cover), a 1.65" and 4W speaker. For additional privacy, you can disable both the microphone and the camera via button on the top which is near the volume buttons.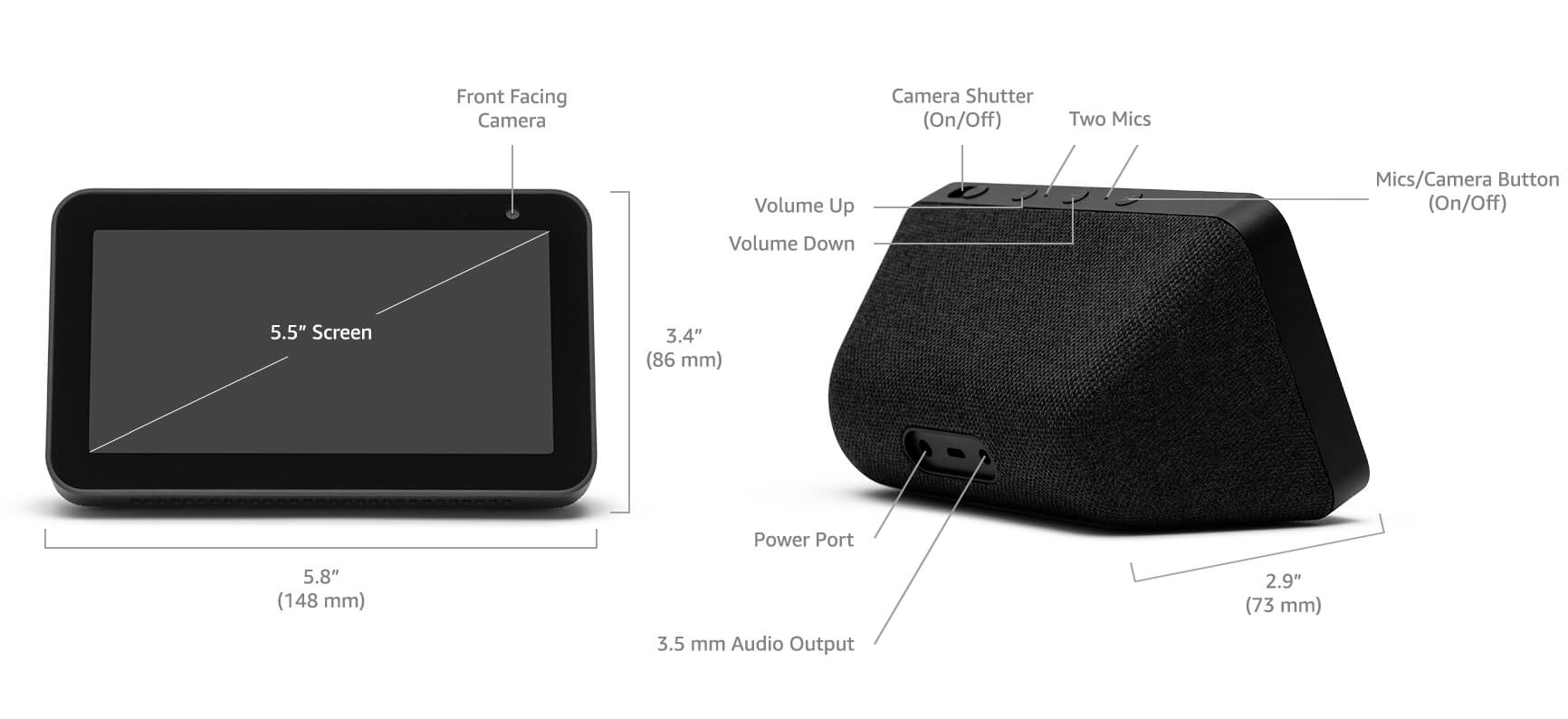 At its core, the Amazon Echo Show 5 is an interactive smart-device that is controlled by your voice (primarily) or the touch screen to give you content and information. This is done through "Alexa Skills" such as "turn on Philips hue smart lights" or custom commands like "what is the weather tomorrow"… oh, being a smart-home fan, I even managed to connect my Ring Video Doorbell 2 which allows for 2-way communication.
…the Amazon Echo Show 5 is an interactive smart-device that is controlled by your voice (primarily) or the touch screen
You can also link the device to online streaming services such as Amazon Music or even Deezer, so you can ask Alexa to play Ed Sheeran or the Wiggles. As this device has a video screen, you can stream videos and even browse the internet with its browsers. Add in games, relaxation videos and even news broadcasts and the Amazon Echo Show 5 will soon become your new go-to device. The Echo Show 5 also comes in two different neutral colours that are of charcoal (reviewed) and sandstone. As people are concerned about privacy, Amazon address this issue by giving users a physical slider that disables the camera. Once you slide it to the orange colour which is a great physical cue, the device also informs you that privacy is enabled.
Setting up the Amazon Echo Show 5 is indeed child's play and we didn't even need to use the instructions that are included with this smart device. Once plugged into the mains, you simply follow the wizard and use the touch screen to complete the setup that includes entering your WI-FI password and linking it with an existing or new Alexa account. There is even a tutorial video and the entire process, including the update of software just took a few minutes and Alexa kept us informed at all stages.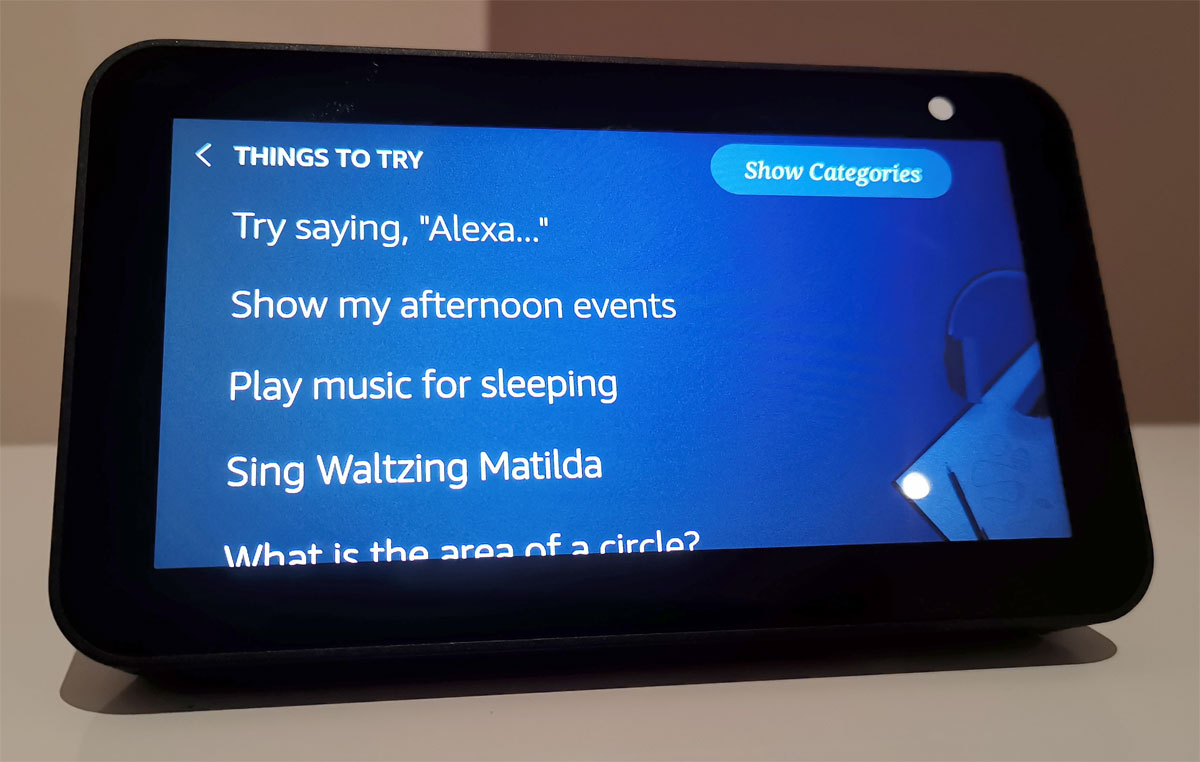 Needless to say, it's hard to believe that the Echo Show 5 is an entry-level smart device due to its quality build and clever features. The interface of the Echo Show 5 is very easy to navigate and most users will be able to master this system in just a few settings. You can even customise the home screen and add your own photos or let Alexa manage it like displaying the latest news headlines.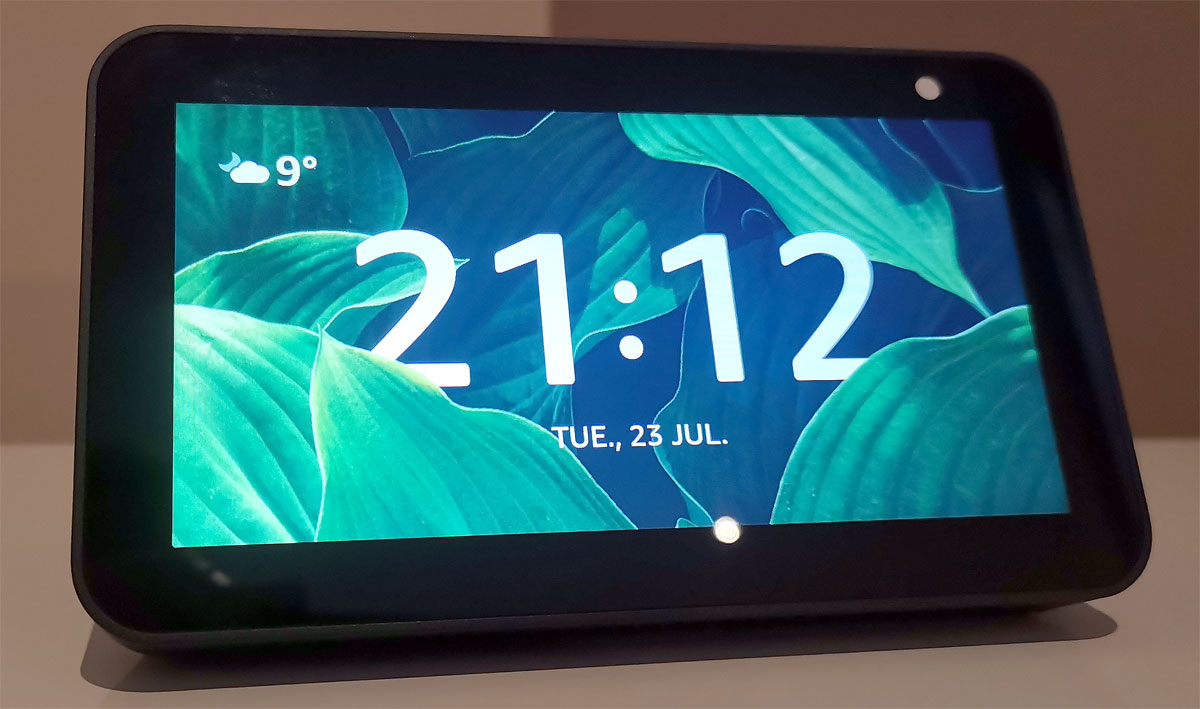 While the Echo 5 may look like a smart alarm clock and as you can see, it's considerably more powerful, however it does have alarm features, including an ambient sunrise feature to help make the transition from sleep to consciousness a much more pleasant experience. In reference to sleep, there are also videos, music and sounds to help you get to sleep and when you do wake up, you can even ask Alexa to tell you your calendar for the day.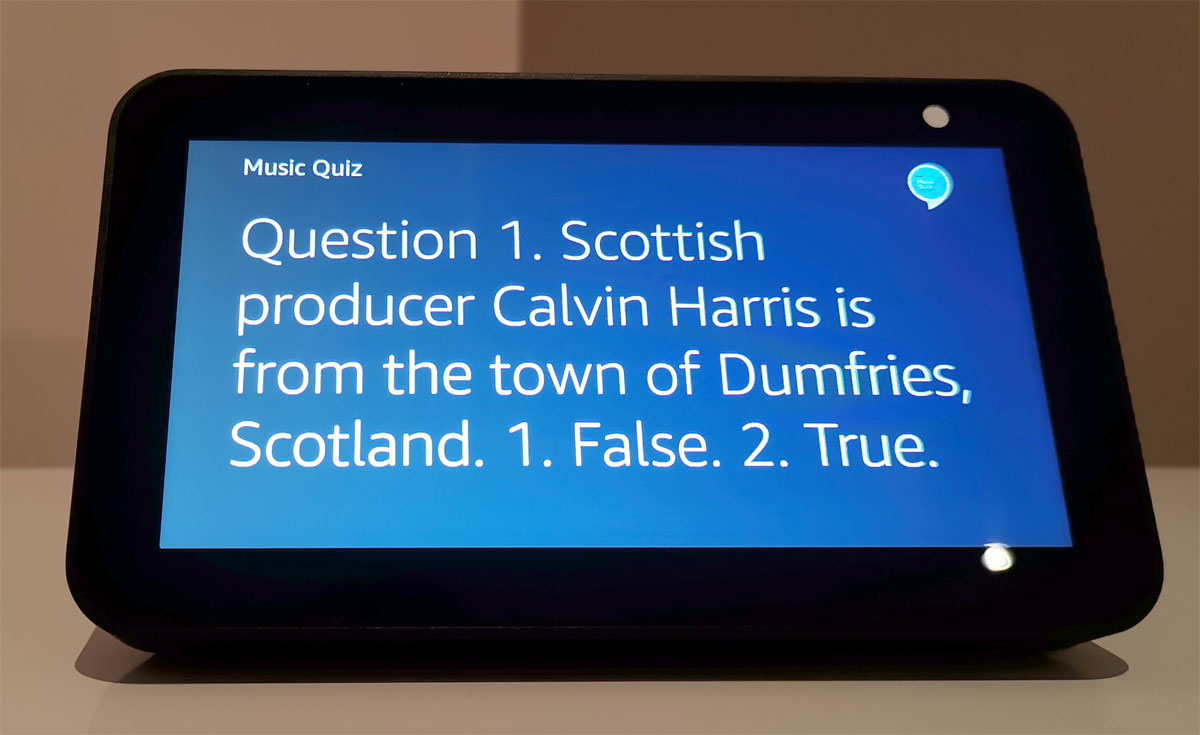 While the Echo 5 may look like a smart alarm clock and as you can see, it's considerably more powerful
Speaking of audio, the quality is quite impressive for such a small device and while it does lack some volume, overall Amazon should be commended on this aspect. If you have multiple Alexa devices in your home, communication between them is also possible which is great when you want to get your kids attention. Speaking of kids, there's plenty of Alexa skills for kids such as … and for adults, you can even play games such as music (I'm terrible) and movie quizzes.
"Alexa, set my alarm for 6:15am"
"Alexa,, Play Ed Sheeran from Deezer"
"Alexa, call my Echo Dot"
"Alexa, play Song Quiz"
"Alexa, play Sleep Sounds"
"Alexa, start 7-minute workout"
"Alexa, what happened on this day 100 years ago?"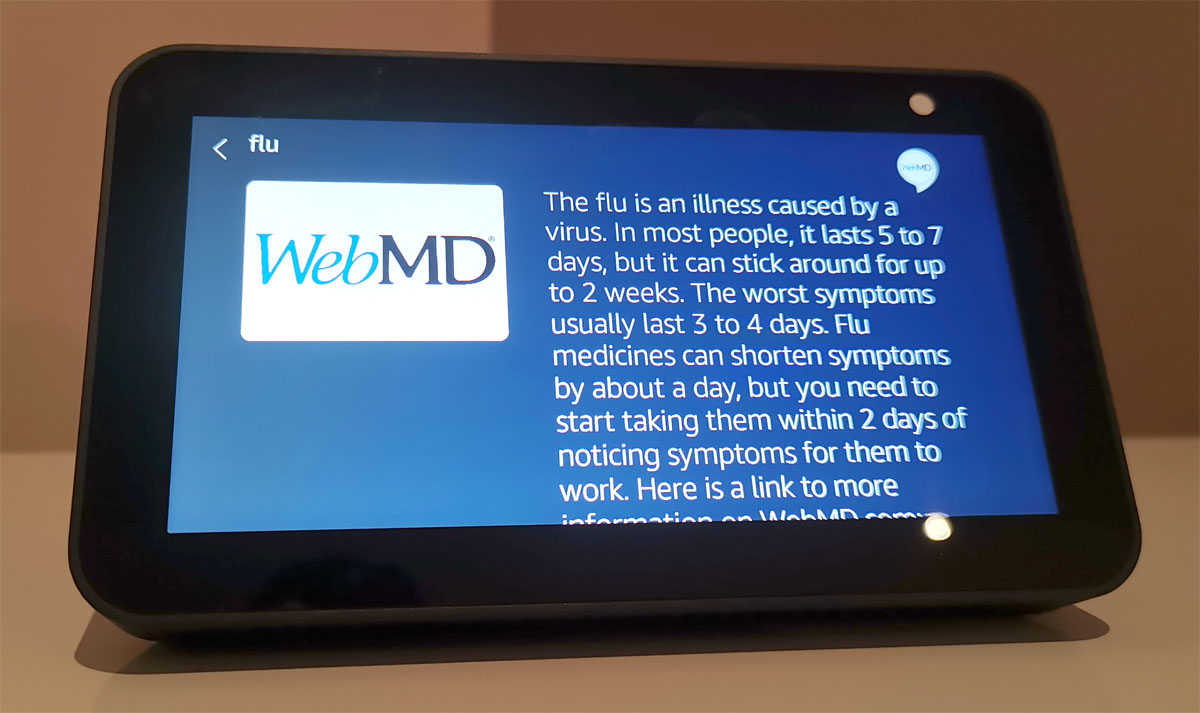 Final Thoughts?
We loved the Amazon Echo Show 5 and for the price of just $129AUD (July 2019), we really cannot fault this smart device. It's compact, it's clever and more importantly, it allows for video that makes this the perfect produce for your bedroom, office or even on a small table next to your chair or couch in your lounge room. So while it looks like an alarm clock, this mild-mannered device (much like Clark Kent) is actually a Superman or is that Superwoman that successfully connects to your smart devices in the home and the internet. The only thing that we would include is battery support but hey, for the price you really can't complain.
Highly recommended!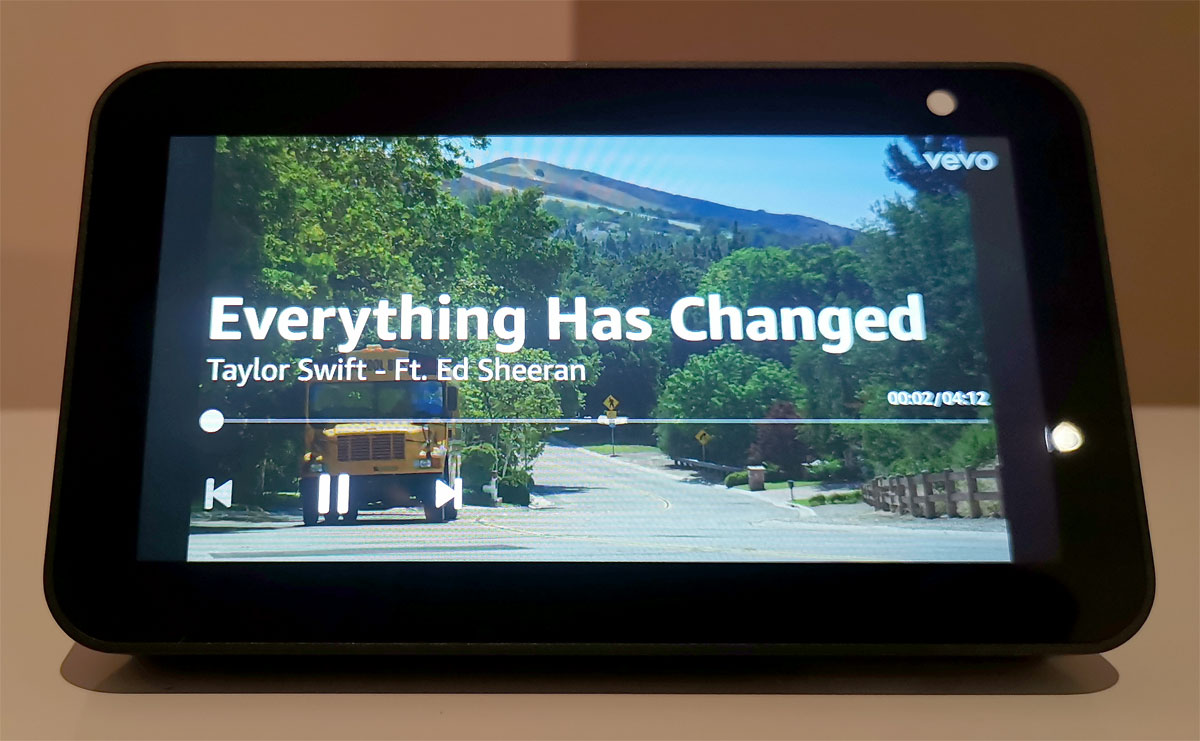 For more information or to purchase an Amazon Echo Show 5, please visit https://www.amazon.com.au/Echo-Show-5-Compact-smart-display-with-Alexa-Black...