Hardware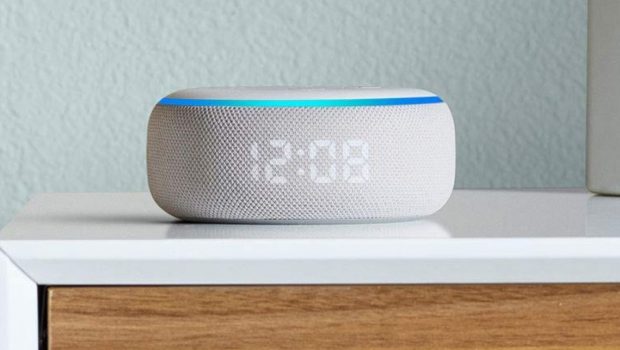 Published on November 17th, 2019 | by James Wright
Amazon Echo Dot with Clock Review (2019)
Summary: Amazon Echo Dot with Clock merges a traditional alarm clock and turns it into a fully fledged smart home assistant!
Welcome back to the Echo, one of the world's smallest smart home assistants and while it is an entry-level product from Amazon, it still packs a mighty punch! In terms of competitors, the Amazon Echo Dot is similar priced to Google's Home Smart Speaker but personally, the Echo Dot with Clock is a far superior device. It just works…. and more importantly, it works very well! So as you may have guessed, the biggest change to this device is the inclusion of a clock!
Alexa, switch on the lights please
So what exactly is the Amazon Echo Dot with Clock? At its core, it is a smart home device that not only allows you to control other smart home products like lights or vacuum cleaners but you can ask it questions (similar to visiting google.com), set-up Alexa skills (e.g. tailored functionality), play music, talk to other people and even play games as some of clever functions that the Echo Dot with Clock can do. Oh, if your friends and family are connected, you can even make calls to them as well. However Amazon have thought outside the square in terms of this version as it now boasts an LED clock on it. As a result, it makes it the perfect bedside companion and besides display the time, it can even display the weather plus other functions like timers .
Alexa, what's the weather?
Gallery
The Amazon Echo Dot with Clock is also named "dot" for a reason and while it could be considered the same shape as a "dot", it is quite small at 43 x 99 x 99mm with a weight of just 300 grams. It comes in four colours that include Charcoal Fabric, Plum Fabric, Heather Grey and Sandstone Fabric. Setting up the device is super simple and if you don't own any Amazon Echo products, you simply download the app and go through the setup wizard, including linking this service to your e-mail account.
Alexa, play trivia
Needless to say, we were up in just a few minutes and Alexa was ready for us! While there are elements of AI involved with Alexa, this useful smart home device even has a sense of humour and when we told her that we loved her, she chirpily sung us a song. Speaking of music, you can link Alexa with streaming services such as Amazon music or our personally favourite Deezer. "Alexa… play Dinosaurs by Ruby Fields" and as this device is linked to my Deezer account, Alexa quickly fetched this song for me.
Alexa, tell us a joke!
In terms of design, there are navigation buttons on the top of Alexa Echo Dot which are four buttons for volume up, down, microphone on/off plus a button for Alexa which activates her opposed to using just your voice. There's also lights on top that flash when Alexa is activated and on the back of the device is an auxiliary 3.5mm jack that allows you to connect an external speaker to create stereo audio. The LED display that displays the time has two dots on it with the top one being for the timer indicator and the bottom for the alarm indicator.  If the alarm goes off, you can even tap the device to snooze!

Alexa, tell us the news headlines
For a device this small, I was surprised at how good the audio quality is. Sure, it cannot compare to the more expensive smart home assistants but a product this small, it's quite clear and can be quite loud as well.
Final Thoughts?
With a recommended retail price of $99AUD (November 2019), the Amazon Echo Dot with Clock is a very handy and fun device to have in your home which does make your life easier. With the doomsdayers stating that smart technology can be malevolent and that Amazon is "listening" and relaying information back to this company, you can easily go into Settings, Alexa Privacy & Manage your Alexa Data where you can "untick" Help improve Alexa which prevents any of your recordings from being manually read. So rest assured that your privacy is safe and more importantly, the Amazon Echo Dot with Clock will become your favourite tech device in no time!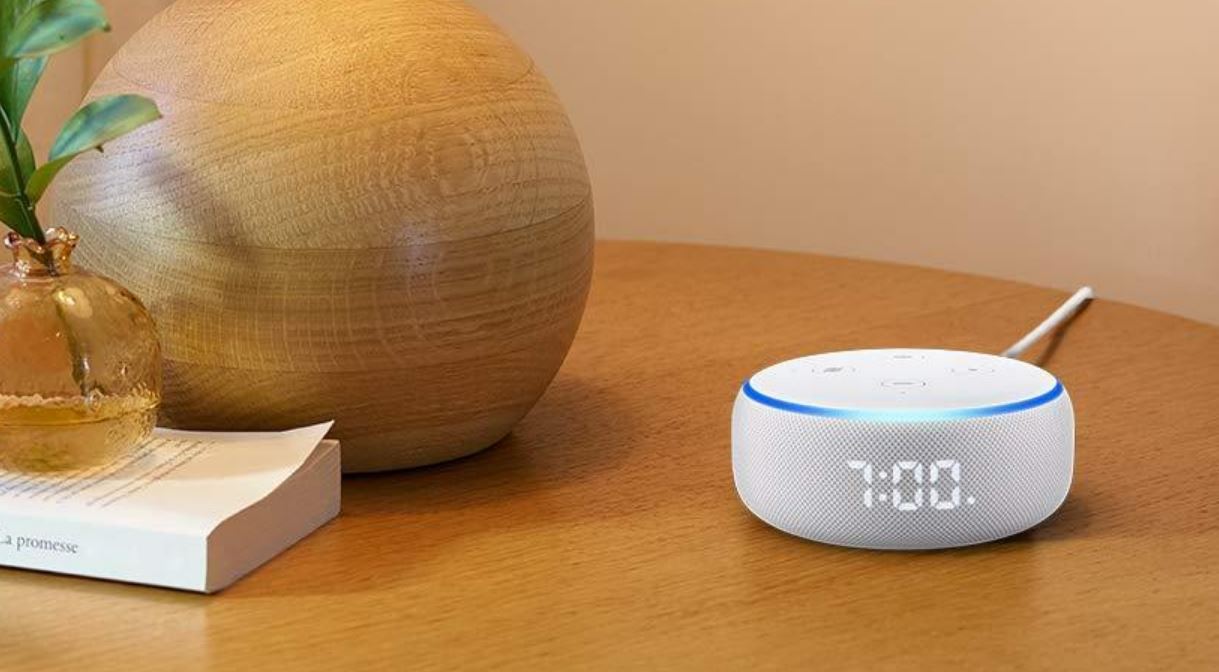 Specifications
| | |
| --- | --- |
| Size | 43 x 99 x 99 mm |
| Weight | 300 grams Actual size and weight may vary by manufacturing process |
| Wi-Fi connectivity | Wi-Fi required. Dual-band Wi-fi supports 802.11 a/b/g/n/ac (2.4 and 5 Ghz) networks. Does not support connecting to ad-hoc (or peer-to-peer) Wi-Fi networks. |
| Bluetooth connectivity | Advanced Audio Distribution Profile (A2DP) support for audio streaming from your mobile device to Echo Dot or from Echo Dot to your Bluetooth speaker. Audio/Video Remote Control Profile (AVRCP) for voice control of connected mobile devices. Hands-free voice control is not supported for Mac OS X devices. Bluetooth speakers requiring PIN codes are not supported. |
| Audio | Built-in speaker for voice feedback when not connected to external speakers. 3.5 mm stereo audio output for use with external speakers (audio cable not included). |
| Display | LED display |
| System Requirements | Echo Dot comes ready to connect to your Wi-Fi. The Alexa app is compatible with Android and iOS devices, and also accessible via your web browser. A list of supported operating systems can be found here. Certain skills and services are subject to change, may not be available in all areas and may require separate subscriptions or other fees. |