Hardware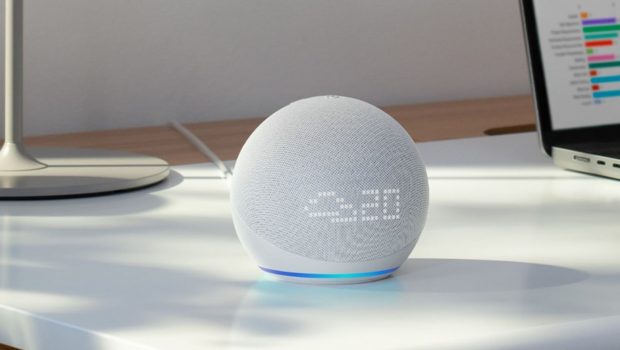 Published on November 19th, 2022 | by James Wright
Amazon Echo Dot with Clock (5th Gen) Review
Summary: The Amazon Echo Dot with Clock (5th Gen) is even smarter than previous generations
Welcome to the latest incarnation of Amazon's Echo Dot "with clock", its 5th generation iteration of this popular device that also includes an improved LED display that adds a strong yet subtle visual element to your smart assistant experience.
The LED is ideal for displaying song titles, the time, local weather and even your alarm as some of its functionality. In terms of appearance, like other Echo Dots, it still retains that small circular / orb design that makes it ideal for limited spaces or in bedrooms and won't look out of place in your home of office.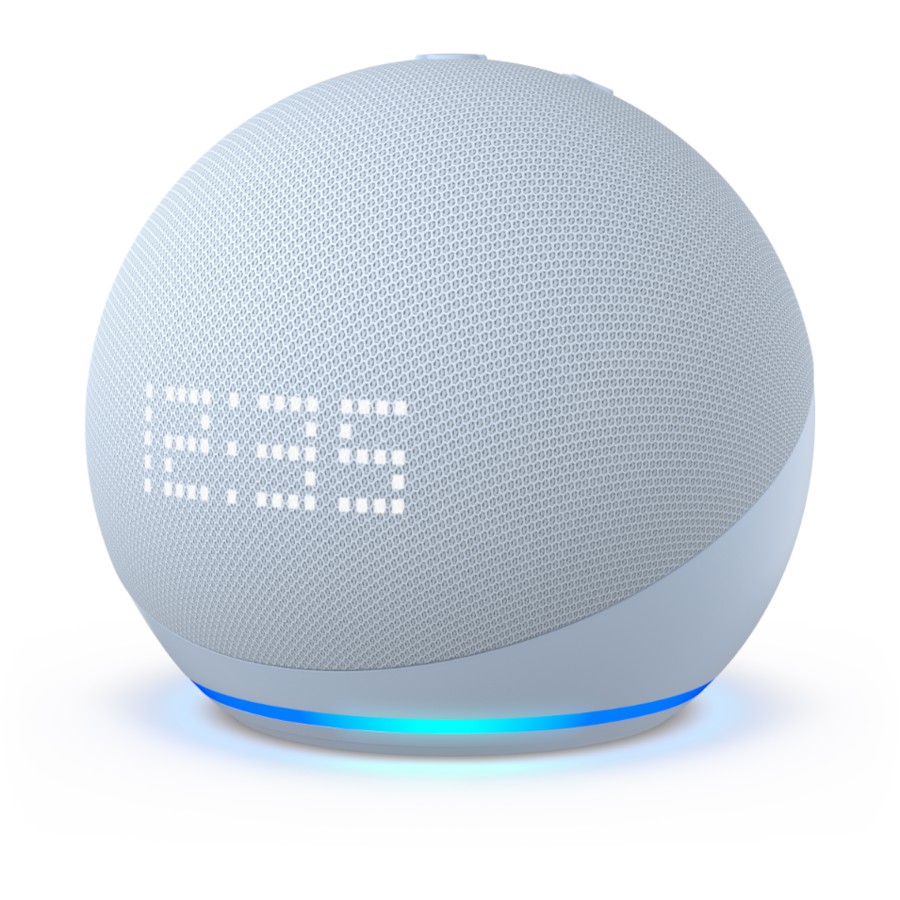 Additionally, the Echo Dot 5 features improved audio for crisper music, including a touch of bass so whether you're asking Alexa to play the latest Taylor Swift album or read you an audio book, it's quite a pleasant listening experience as the audio driver is slightly larger than previous models.
Setting up the Echo Dot is a breeze and once you have downloaded the Alexa App for your smart devices, you simply go through the wizard process that connects the device to your Wi-Fi network. It couldn't be simpler, especially if you have other devices already on your network.
Unboxing
Similar to other Alexa devices, you can control various smart elements in your home such as switches, lights, temperature settings or other items with smart assistant capabilities that make your life simpler.
"Alexa, TV on"
It also has new motion sensors that adds an extra layer of interactivity such as taping the top of Alexa to pause music… of course, you could always ask Alexa to pause it. Oh, it even has motion detection as well!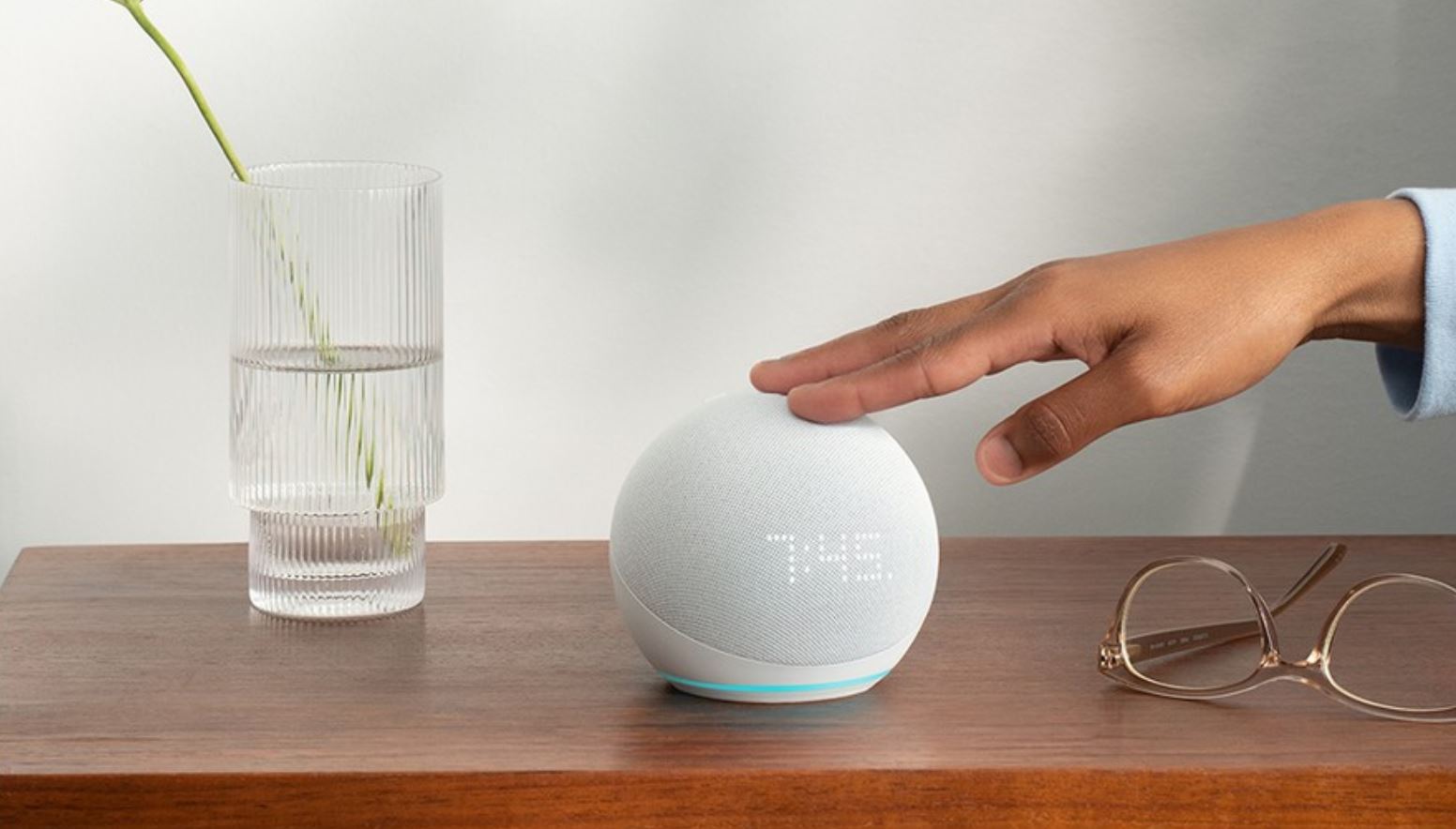 "Alexa, tell me a joke"
"Alexa, set an alarm for 6am"
"Alexa, play meditation music"
"Alexa, what is the population of Earth"
"Alexa, play Taylor Swift Midnights"
"Alexa, turn study lights on"
"Alexa, Merry Christmas"
As you can see, Alexa is able to perform a myriad of tasks!
Best of all, the Echo Dot with Clock retails for just $99AUD (November 2022) that makes it excellent value for money.
In terms of design, Amazon keeps it very simple with a power plug connection (no 3.5mm audio) and four buttons on the top of the device that include action, volume up, volume down and a mute button for the microphone).
There is also a light ring around the base which glows blue when you ask Alexa a question or give her a task to perform that makes you aware she is listening. Amazon also feature easier privacy options so you can be rest assured that no one is listening to your conversations.
Further, you can link the Echo Dot to a plethora of streaming services such as Deezer, Apple Music, iHeart Radio and Audible. Additionally it can be linked to other Alexa devices in the home and Amazon include a new Wi-Fi mesh feature which increases the range of this device and others across your network. Needless to say, it's a small and very clever device that produces exceptional audio for a device so small.
Final Thoughts?
The Amazon Echo Dot With Clock (5th Gen) is an excellent and affordable upgrade over its predecessor that again cements why Alexa is one of the best smart assistants around. Another faultless smart assistant experience from Amazon!
Key Features
Amazon's Best Sounding Echo Dot Yet – Enjoy an improved audio experience compared to any previous Echo Dot with Alexa for clearer vocals, deeper bass and vibrant sound in any room.
Check The Time and More at A Glance – The improved LED display shows you the time, alarms, weather, song titles and more.
Your Favourite Music and Content – Play music, audiobooks, and podcasts from Amazon Music, Apple Music, Spotify and others or via Bluetooth throughout your home.
Alexa Is Ready to Help – Ask Alexa to show you weather and song titles, set hands-free timers, get answers to your questions and even hear jokes. Need a few extra minutes in the morning? Just tap your Echo Dot with clock to snooze your alarm.
Keep Your Home Comfortable – Control compatible smart home devices with your voice and Routines triggered by built-in motion or indoor temperature sensors. Create Routines to automatically turn on compatible lights when you walk into a room or start a fan if the inside temperature goes above your comfort zone.
Do More with Device Pairing – Fill your home with music using compatible Echo devices in different rooms or create a home theatre system with Fire TV.
Designed To Protect Your Privacy – Amazon is not in the business of selling your personal information to others. Built with multiple layers of privacy controls including a mic off button.