Hardware
Published on December 19th, 2018 | by Andrew Bistak
Amazon Echo Dot (3rd Generation) Review
Summary: The 3rd generation of Amazon's Echo Dot is your perfect virtual assistant and gives you access to some amazing capabilities and endless music! It's truly part of the smart-home revolution!
With three main tech companies providing smart speakers for the home, we were given the chance to test, play and review Amazon's latest Echo Dot which is the third generation of this clever voice-controller device. So by saying 'Alexa' to the Amazon Echo Dot, you can ask it a variety of questions (e.g. what's the weather in your area, when was Arnold Schwarzenegger born and even tell me a Star Wars joke) and more importantly, control other smart technology in your home like smart lights, Nanoleaf Light Panels and even your TV.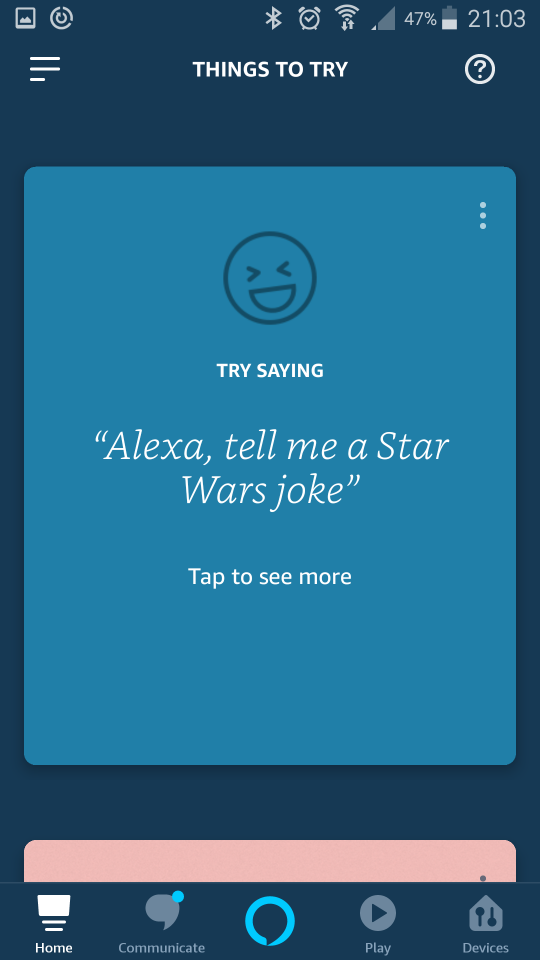 I also linked the Amazon Echo Dot to a smartplug in order to turn on and off our Christmas tree lights plus I tested it with our Nanoleaf Light Panels which is almost too cool for school. In terms of price, the Amazon Echo Dot retails for a very affordable $79.00AUD (December 2018) and comes in three colour that include Charcoal (reviewed), Heather Gray and Sandstone.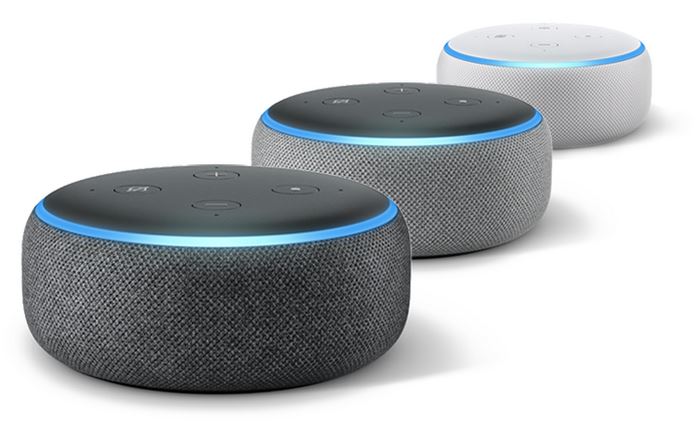 Amazon Echo Dot Key Features
Echo Dot Amazon's most popular voice-controlled speaker and the third generation unit has improved sound and a new design.
Ask Alexa to play music, answer questions, read the news, check the weather, set alarms, control compatible smart home devices, and more.
Stream songs from Amazon Music, Apple Music (coming soon), Spotify, Pandora, SiriusXM, and others through the improved speaker for richer and louder sound.
Call and message almost anyone hands-free. Instantly drop in on other rooms in your home or make an announcement to every room with a compatible Echo device.
Alexa is always getting smarter and adding new skills like tracking fitness, playing games, and more.
Can hear you from across the room and is compatible with Echo devices in different rooms, you can fill your whole home with music.
Pair with a second Echo Dot (3rd gen) for stereo sound, or connect to your own speakers over Bluetooth or with a 3.5 mm audio cable.
Use your voice to turn on lights, adjust thermostats, lock doors, find TV shows, and more with compatible connected devices.
Apart from listening to music, the Amazon Echo Dot even supports online radio stations, podcast and what I'm excited for is Audible which are audio books. Then you have the smart features of the device that allows you to control your smart TV, turn on lights or the ability to use Skype and speak with people anywhere in the world.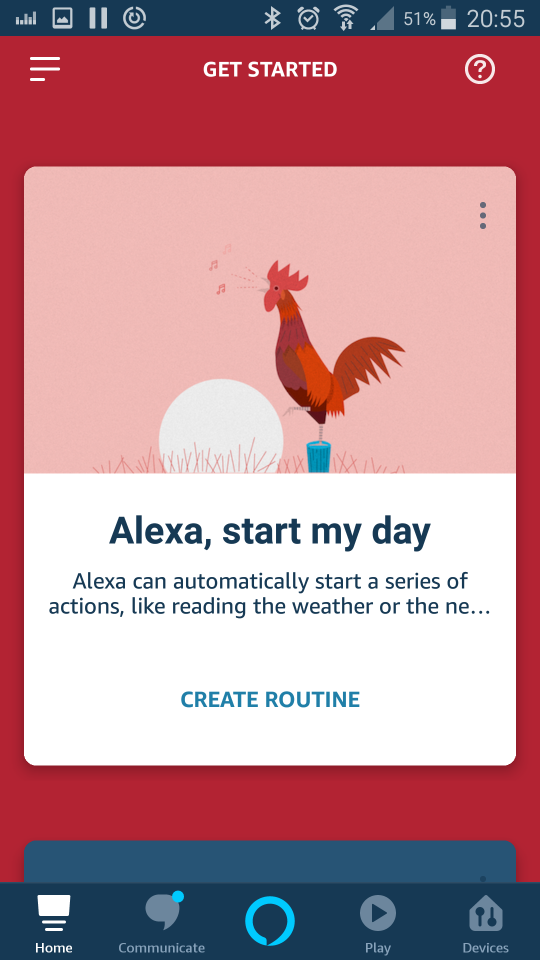 My wife was also thoroughly impressed with the ability of the Amazon Echo Dot's ability to set reminders and even shopping lists which is brilliant! However in order to use some of these features, you do need a smartphone and the Alexa app. Furthermore and according to Amazon, Alexa has more 50,000 skills that she can help you with and compared to Google, we found the latest generation of the Echo Dot a much more intuitive smart device.
The skills of Alexa are quite varied and it might be something simple like Alexa give me a meal idea or place an online food order or something more educational like Alexa what happened 50 years ago on this day. Another feature is the ability to create routines in order for Alexa to inform you at a particular time or day. Still confused, just ask Alexa what she can do!
Technical Specification
Size: 3.9" x 3.9" x 1.7" (99 mm x 99 mm x 43 mm)
Weight: 10.6 oz. (300 grams) Actual size and weight may vary by manufacturing process
Wi-Fi connectivity: Dual-band Wi-Fi supports 802.11 a/b/g/n/ac (2.4 and 5 GHz) networks.
#: Does not support connecting to ad-hoc (or peer-to-peer) Wi-Fi networks.
Bluetooth connectivity: Yes
Advanced Audio Distribution Profile (A2DP) support for audio streaming from your mobile device to Echo Dot or from Echo Dot to your Bluetooth speaker. Audio/Video Remote Control Profile (AVRCP) for voice control of connected mobile devices. Hands-free voice control is not supported for Mac OS X devices. Bluetooth speakers requiring PIN codes are not supported.
Audio: Built-in speaker for voice feedback when not connected to external speakers. 3.5 mm stereo audio output for use with external speakers (audio cable not included)
System Requirements
Echo Dot comes ready to connect to your Wi-Fi. The Alexa App is compatible with Fire OS, Android, and iOS devices and also accessible via your web browser. Certain skills and services may require subscription or other fees.
Setup Technology
Amazon Wi-Fi simple setup enables customers to connect smart devices to their Wi-Fi network in a few easy steps. Wi-Fi simple setup is another way Alexa is always getting smarter. Learn more
Warranty and Service
90-day limited warranty and service. Optional 1-year, 2-year, and 3-year extended warranty available for U.S. customers sold separately. Use of Echo Dot is subject to the terms found here.
Accessibility Features
The Alexa app and Alexa-enabled products include several features for customers with accessibility needs related to vision, hearing, mobility, and speech. Learn more about Alexa accessibility.
Unboxing Photos
Well packed from Amazon, the Echo Dot comes with everything you need to get this device up and running in no time which includes the Echo Dot, a power adapter (15w), a quick start guide, Amazon Echo Dot things to try card and a warranty booklet. Setup was very easy and all we had to do was download the Alexa app and setup an Amazon account and pair the Echo Dot with your smartphone and Wi-Fi . You can also link the Echo Dot through your PC at alexa.amazon.com.au, however this process does take longer.
Web based Alexa setup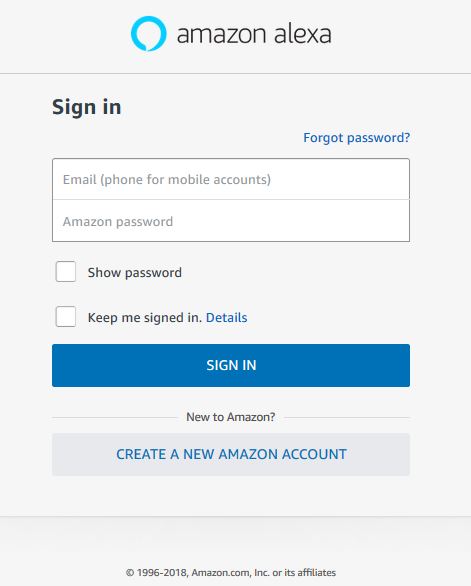 Smart Phone installation screenshots
The appearance of the Amazon Echo Dot does look high-end and given the colours choices, there's definitely an Echo Dot for your home or office with its pleasing aesthetics. In terms of physical controls, the Echo Dot has four buttons that translate to volume up, volume down, microphone off and a button to help 'interact' with the product. There's also a multi-coloured ring that lights up around the top of the Echo Dot as a visual cue for the owner and there is even a 3.5mm audio output connection as well.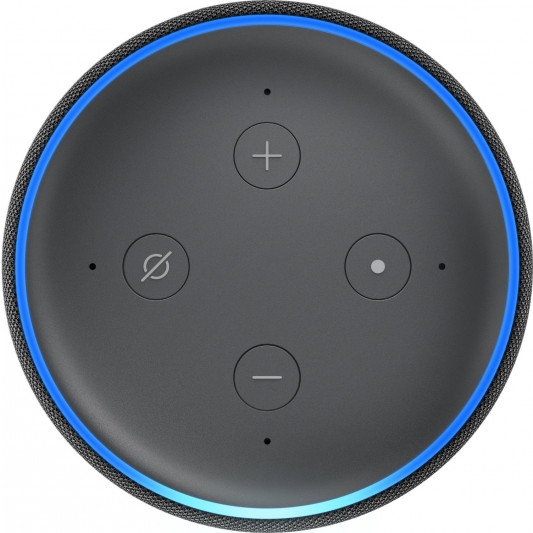 Like other smart speakers, there is some small print which for the Amazon Echo Dot is … Amazon processes and retains audio, interactions, and other data in the cloud to provide and improve our services. Alexa allows purchasing by voice using your default payment and shipping settings. You can require a speakable confirmation code, turn off voice purchasing, and review product and order details before each purchase in your Alexa app or on alexa.amazon.com.au. Alexa also allows you to call and message your Alexa contacts. Learn more.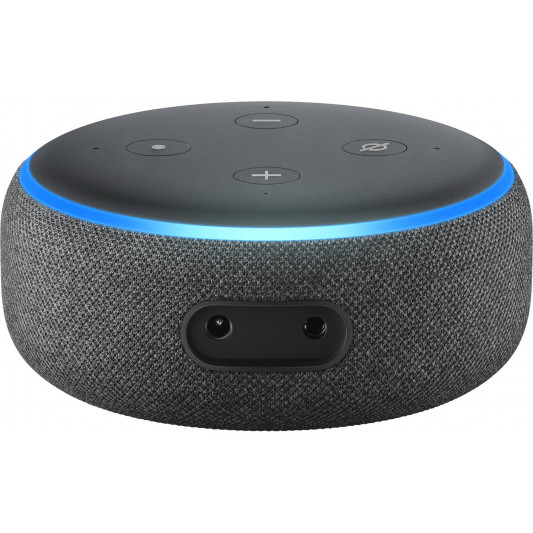 The audio quality of the Amazon Echo Dot is quite good for the size of the device that did produce some clear sound and you can even connect external speakers to this smart speaker in order to increase the quality. Music genres such as rock, pop, classical and heavy metal were all done justice by the Amazon Echo Dot, even audio books and of course Alexa herself.
While this is a one speaker system, you can connect another Echo Dot in order to create a stereo experience. With two dots connected, you can use the system as an intercom system which is pretty cool. Adding to this element was the in-built microphone that for the majority, Alexa easily understood what we were saying, although at times, she had some difficulty with our song choices, we so we had to swap around the song for the artist and vice versa.
Final Thoughts?
If you're looking for a virtual assistant, it's really hard to pass up Alexa, especially with the amazing skills available and the almost endless information that you can access. It's also a device for the entire family and with the ability of connecting smart devices like lights, TV's or even door locks, it truly smartifies your home. Then you have the music capabilities, reminders, ability to talk to others and wow… this is one product that should be in every household.
Highly Recommended!
For more information please visit https://www.amazon.com.au/Amazon-Echo-Dot-Generation-Black/dp/B07456NHZ6