Hardware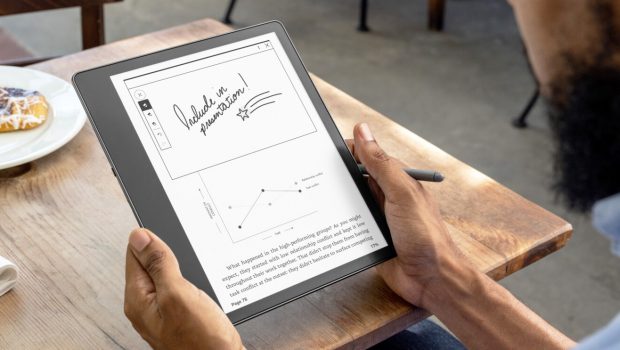 Published on May 23rd, 2023 | by Andrew Bistak
Amazon Announces New Kindle Scribe Features
Since launching the Kindle Scribe, Amazon has been releasing over-the-air updates in direct response to customer feedback. We're excited to share that today, Kindle Scribe is rolling out the final update in its first series of ongoing improvements, including the ability to convert handwritten notebooks to text when you export, a lasso select tool and PDF reading improvements.
New Kindle Scribe Features (available starting today):
Convert to Text in Export: Easily convert your handwritten notebooks to text when you export, so you can edit and share the notebook with yourself or friends, family, or colleagues over email. In the Share menu, customers will have the option to "Convert to text and quick send" and "Convert to text and email" their standalone notebook as a .txt file. For the latter option, customers will be able to preview, review, and edit their notebook converted to text before sharing over email to up to 5 email addresses.
Lasso Select Tool: The new lasso select tool works anywhere you can write: notebooks, sticky notes, as well as PDFs uploaded to your Kindle library via Send to Kindle. With the new lasso select tool simply circle your handwritten text or pen strokes, then you can resize or move your selection within a notebook, sticky note, or PDF. You can also cut, copy, and paste your selection across your notebooks, sticky notes, and PDFs.
PDF Reading Improvements: For PDFs uploaded to your Kindle library through Send to Kindle, including the new Send to Kindle from Microsoft Word (using the "like a printed document" option), on Kindle Scribe customers can now switch between portrait and landscape view mode, crop margins to increase font size, and select text to make structured highlights with your finger or pen, add text notes, or look up dictionary definitions, translations, and Wikipedia results.