Hardware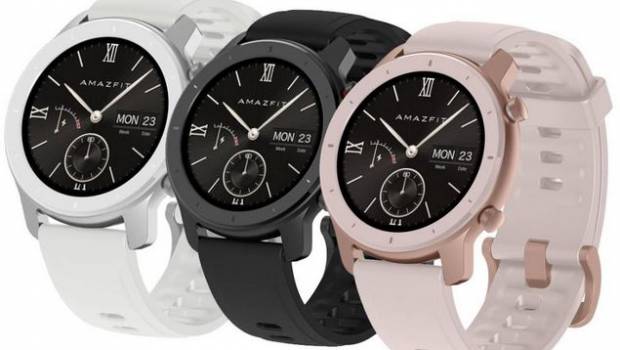 Published on January 17th, 2021 | by John Furness
Amazfit GTR Smart Watch Review: Fantastic Value for Money
Summary: The GTR is perfect for those that want a fitness tracker that looks more expensive than it actually is.
Produced by Huami and backed by Chinese tech giant Xiami, the Amazfit GTR offers fantastic value for money.  Its strengths lie in its strong, stylish design, its excellent battery life and its affordability.  I trialled the GTR for a couple of weeks and while it has its limitations, it is still an excellent option in the increasingly competitive smart watch market.  The following review looks at the Design, Functionality and Smartwatch features of the Amazfit GTR.
Specifications
Amazfit GTR 47mm
Amazfit GTR 42mm
Size
47.2 x 47.2 x 10.75 mm
42.6 x 42.6 x 9.2 mm
Weight

(without strap)

Aluminum alloy:Approx. 36g
Stainless steel:Approx. 48g
Titanium:Approx. 40g
Approx. 25.5g
Water & Dust Resistance Grade
5 ATM
5 ATM
Screen
1.39″ AMOLED, Resolution 454×454, 326 ppi
1.2″ AMOLED, Resolution 390×390, 326 ppi, Always-On Display
Touch Screen
Corning Gorilla 3 tempered glass + Anti-fingerprint coating
Corning Gorilla 3 tempered glass + Anti-fingerprint coating
Types of Standard Watch Straps
Aluminum alloy: Brown leather strap
Stainless steel: Brown leather strap
Titanium: Fluororubber strap
Starry Black: Black Silicone Strap
Cherry Blossom Pink: Pink Silicone Strap
Moonlight White: White Silicone Strap
Coral Red: Red Silicone Strap
Glitter Edition: White Leather Strap
Strap Width
22 mm
20 mm
Sensors
BioTrackerTM PPG biological tracking optical sensor, 6-axis acceleration sensor, 3-axis geomagnetic sensor, Air-pressure sensor, Capacity sensor, Ambient light sensor
Positioning
GPS+GLONASS
Connectivity
BT5.0 BLE
Battery
410mAh LiPo
195mAh LiPo
Charging Method
Magnetic charging base, 2Pin Pogo Pin charging
Theoretical Charging Duration
Approx. 2 hours
Battery Life
Typical usage scenario: 24 days

Heart rate always on, sleep monitoring,
150 pushed notifications with screen light-up,
lift the wrist to see the screen 30 times,
run or exercise 3 times a week for 30 minutes with GPS on, and 5 minutes for other operations.

Basic watch mode: 74 days

Turn off Bluetooth, heart rate, and other features, and raise your wrist to see the screen 100 times a day.

Typical usage scenario: 12 days

Heart rate always on, sleep monitoring,
150 pushed notifications with screen light-up,
lift the wrist to see the screen 30 times,
run or exercise 3 times a week for 30 minutes with GPS on, and 5 minutes for other operations.

Basic watch mode: 34 days

Turn off Bluetooth, heart rate, and other features, and raise your wrist to see the screen 100 times a day.

Body Materials
Metal, microcrystalline zirconium ceramics, polymer materials
Supported Devices
Android 5.0 and above, iOS 10.0 and above
Accessories
Magnetic charging base, user manual
App
Zepp App (formerly known as the Amazfit App)
Design/Display 
The GTR comes in 2 variations – the larger and more robust-looking 47mm face and the smaller sleeker 42mm.  The body of the 47mm GTR, although a little bulky (it is  approximately 1cm thick) has a well made and polished appearance.  The watch looks more traditional/classic than previous smart watches I've owned.  It is little on the heavy side (approx 50 grams) and unlike my previous watch I could actually feel its weight on my wrist.  There are 2 buttons on the right side of the watch face.  The buttons give the watch a traditional look and there is something reassuring about having solid sturdy buttons to press instead of a touch screen.  The top button is the on/off control.   The bottom button gives flexibility in that it can be programmed to perform one of several options (Timer/Workout/Notifications/Heart Rate/Weather etc).  I loved this feature as I was able to play around with preferences and eventually settled on a preferred one (currently 'Workout').
There is also the option of leaving the display screen on for a specific duration or permanently, however the latter more quickly drains battery life.  There is a further option for setting the timing to 'always on display' whereby the screen automatically switches back to sleep mode during night hours.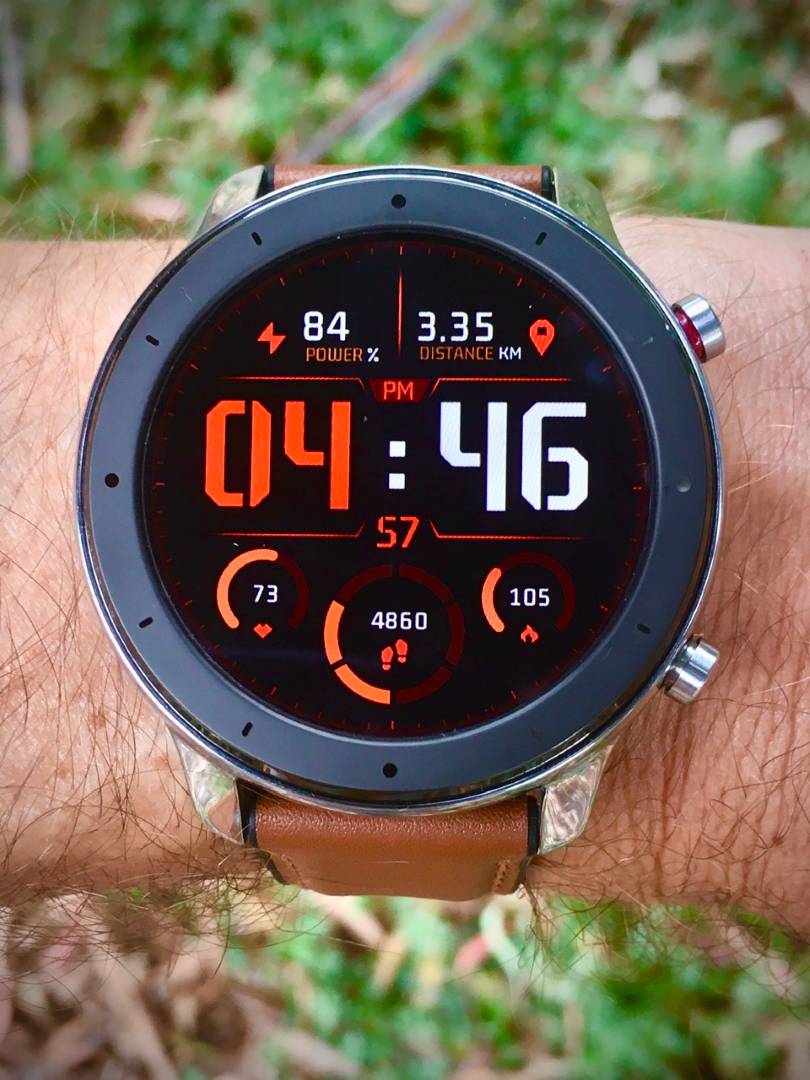 The 47mm screen is fantastic quality.  It is an impressive 454 x 454, 1.39-inch AMOLED display delivering great quality at 326 pixels per inch, the same resolution as the iPhone 11.  The display is sharp and easily viewed on even bright days.  I was a bit worried about using such a bright screen for night viewing, but I discovered there is a dimming function to accommodate for this.
I love the look/feel of the faux leather strap with its comfortable silicon strap on the underside.  The strap is easy to remove too.  The screen uses Corning Gorilla 3 tempered glass as protection and in my view does a good job as I have been deliberately a little  rough with it but not noticed any marks/scratches. A large variety of watch faces can be downloaded through the App however only 3 faces can be stored on the watch at anyone one time.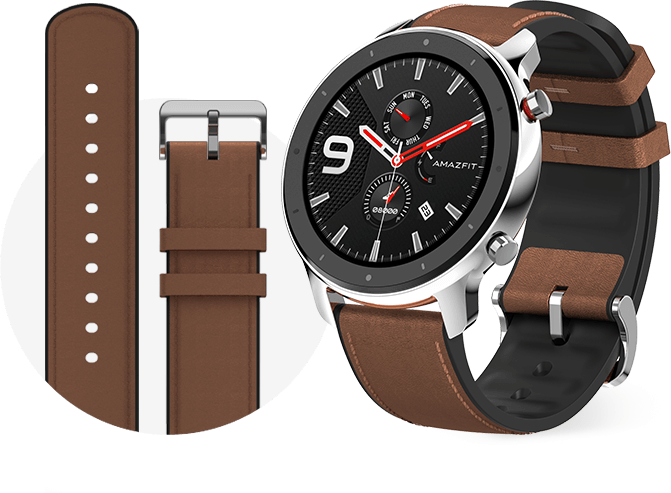 Functionality
This is another area in which the GTR excels.  The watch face comes to life with the upward turn of the wrist.  Unlike other watches I've owned that use a similar mechanism, the GTR is consistently reliable.
To access the GTRs menu and functions, a finger swipe is required – either left or right for heart rate (HR) and step count, or up for other options.  There are some short cut functions available on the watch – swiping down brings up a quick menu of commonly used functions such as todays weather, torch, battery saver mode and the night dimming option.  I found the torch a surprisingly useful function.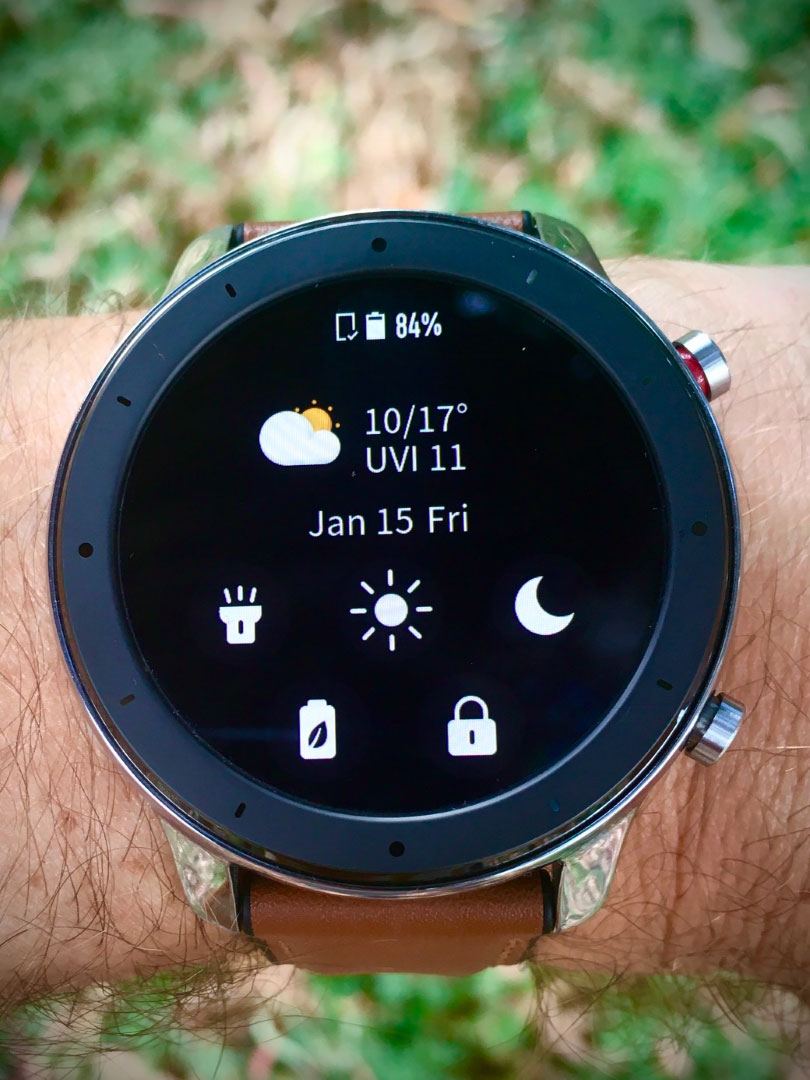 Interestingly there wasn't any audio produced from the watch itself – even for setting alarms.  Having said this, the vibrations are plenty strong enough to wake me up each morning.  Music can be manipulated through the watch – volume and moving between tracks however there are unfortunately no options for storing music
The 'find my mobile' function is a clever inclusion.  I'd love something similar for finding my keys!
The heart rate function, when compared to a hospital grade HR Oxygen Saturation monitor is sometimes a little on the high side, but generally fairly accurate.  The watch can be set to vibrate if the HR goes to high.
Smart Watch Features
It took me a while to work out why I wasn't receiving text message notifications.  These don't happen automatically and need to be enabled through the App.  Phone calls can be detected through the watch but unfortunately it isn't possible to answer an incoming call.  As the GTR runs proprietary software, rather than Wear OS, notification formatting is quite different to how it appears on the phone and some data (such as emoji's don't appear at all).
Built-in Apps such as 'Find my phone', 'Weather' and 'Compass' are reliable and useful.
Exercise

A great feature of most modern smart watches is to provide data on activity.  This may be through measuring HR, steps or exercise intensity.  The GTR utilises a measure called PAI (Personal Activity Indicator) where-by activity is analysed throughout the day.  It combines several areas of data including HR and activity intensity to give a daily score.  According to a reference outlined on the App a daily score above 100 has been shown to reduce the risk of death through cardio-vascular disease and increase life expectancy.  I found this motivating to some degree but wasn't completely sure how running or even walking would sometimes give me a better score than a fairly intense gym workout.  Step counting itself was fairly accurate on the GTR.  Like most smart watches, step counting can be set to a particular goal.
Activities
There are 12 different Workouts that can be selected.  If an activity is an outdoor exercise (such as cycling/swimming/running) then GPS will automatically be selected.  Clicking on the 'Activity' icon will bring up the history of the previous activity including GPS data (such as a map of your route), as well as a break down of HR (divided into zones of intensity – Relaxed, Light, Intensive, Aerobic, Anaerobic).  Opening the App breaks the activity down further with a more detailed map, speed, altitude etc.  I generally monitored my workouts during either outdoor running/cycling or in the gym.  Interestingly there was no gym option, but there was an all-encompassing 'Freestyle' option that I could use for my gym workouts.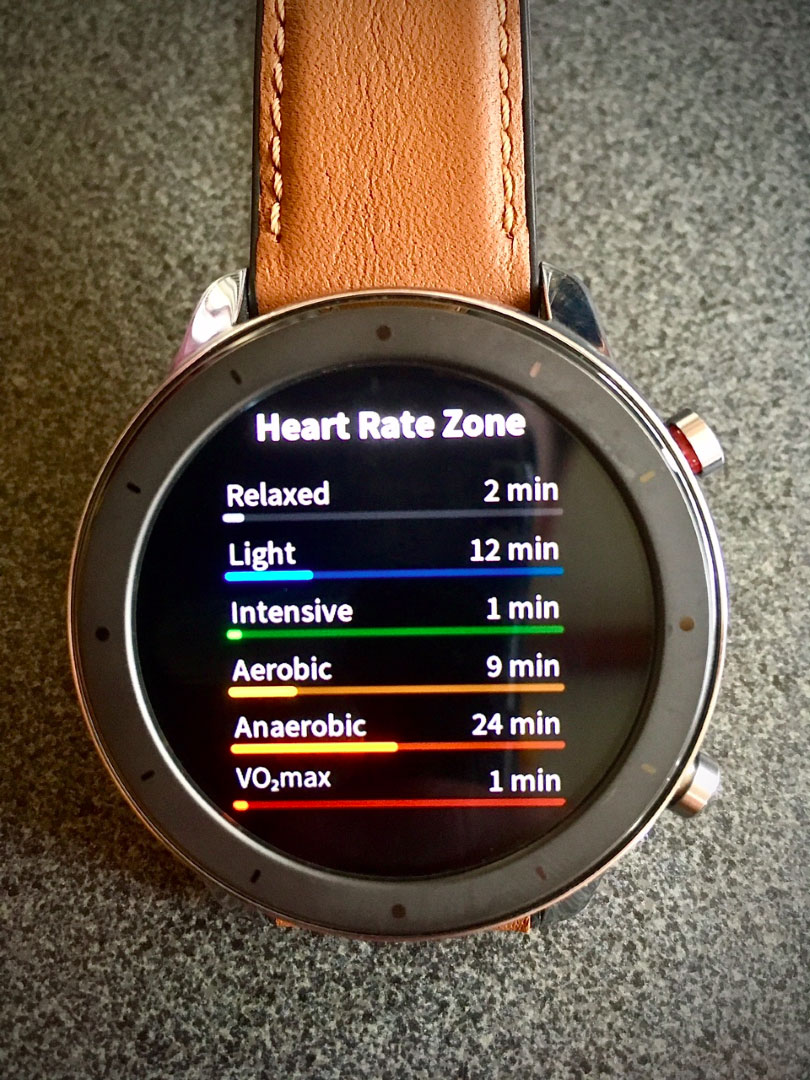 Sleep tracking, if accurate, is an interesting and potentially extremely useful addition to the smart watch functionality.  Being someone who suffers from insomnia I was particularly interested in how accurately this function would measure my sleep and wake times.  Generally it was fairly reliable although I did find it sometimes indicated I had fallen asleep earlier than  I actually had.  I believe the GTR measures HR to gauge sleep patterns – differentiating between stages of deep and light sleep.  I wonder if more accuracy would be achieved if body temperature could also be measured to assist in this calculation.  My Deep Sleep times were consistently low, perhaps this is the case – hard to verify unless I undergo a sleep study.  Sleep information is accessible the following morning via the App.  I would have loved the sleep data to have been available for review on the watch itself.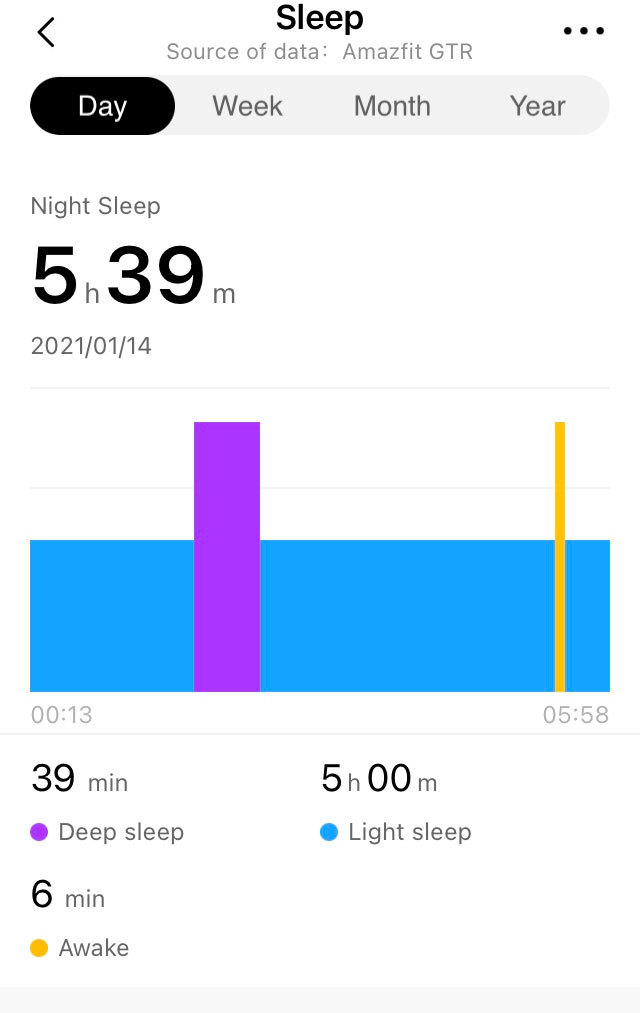 Battery life
Battery life is perhaps the GTR's most impressive feature.  The GTR uses a 410mAh LiPo battery and Amazfit claim the watch has an almost unbelievable 24 days of typical use in a single charge.  Various functions can impact how long a charge will last – such as screen-timeout duration, screen brightness, use of the torch, frequency of GPS, and although I couldn't replicate Amazfits promised 24 days, I was more than happy with the achieved 13.5 days.  To last almost 2 weeks on a single charge is impressive by any standard and would challenge even the most pricey of smart watches.
Cost
Available from various outlets, at $239 from Amazon Australia the GTR is a real bargain.
https://www.amazon.com.au/Smartwatch-Stainless-Waterproof-Bluetooth-Notifications/dp/B07VD43Y3H/ref=redir_mobile_desktop?
In Summary:
The GTR is perfect for those that want a fitness tracker that looks more expensive than it actually is.  The GTR can be worn comfortably in the gym, to bed or in more formal environments. Its best features are its highly impressive battery life and sharp, crisp display.  While it does miss some of the features of more expensive smart watches (such as music storage) what it does do it does well. It has practical functionality, good looks and gives you great bang for your buck!  It's accurate and reliable in the standard features of a smart watch: step tracking, phone notifications and heart rate monitoring.