Hardware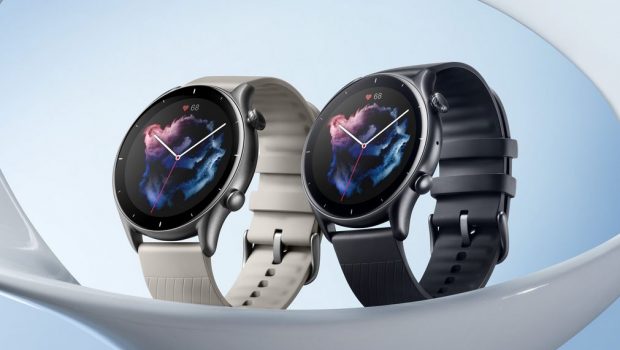 Published on February 8th, 2022 | by James Wright
Amazfit GTR 3 Review (2022)
Summary: The Amazfit GTR 3 is great value for money and offers a plethora of useful features!
Official Blurb: The Amazfit Smartwatches are nothing but the quintessential sports watch. With its 21 day battery life and classic thin and light body design, the smartwatch will improve day to day activities with ease. Some of the features it has are its monitoring system; Blood-oxygen, heart rate, stress levels and sleep. It can test 4 health metrics in 1 tap, has a handsfree Alexa built in, 150+ built in Sports modes, 5 satellite navigation systems and so many more features to explore.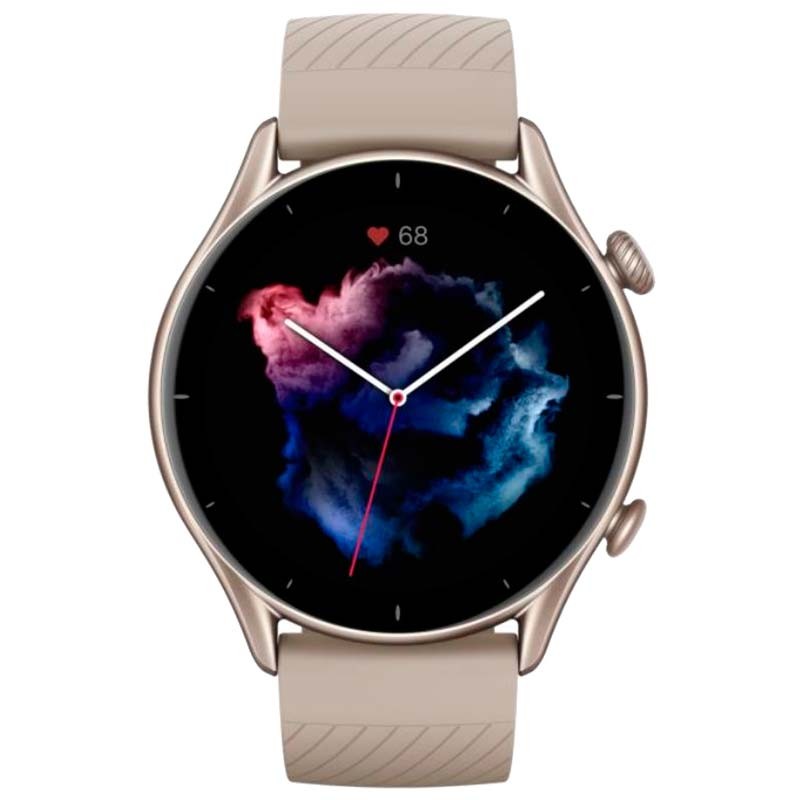 Amazfit GTR 3 Review
Amazfit released their GTR 3 in 2021 which was one of their premium smart sports watches and today, we're checking it out!
The Amazfit GTR 3 is powered by their Zepp OS which features an advanced biotracker PPG 3.0 biometric sensor to oversee your health and physical activity, including the ability to monitor 150 different sports and an ultra-long battery life (up to 21 days) that of course is dependent on what features you use. The health metrics of this watch is quite holistic as it monitors you heart (beats per minute), sleep, bloody oxygen and stress levels which makes this smart device ideal for monitoring your overall health, whether being physical, resting or just doing your day to day activities.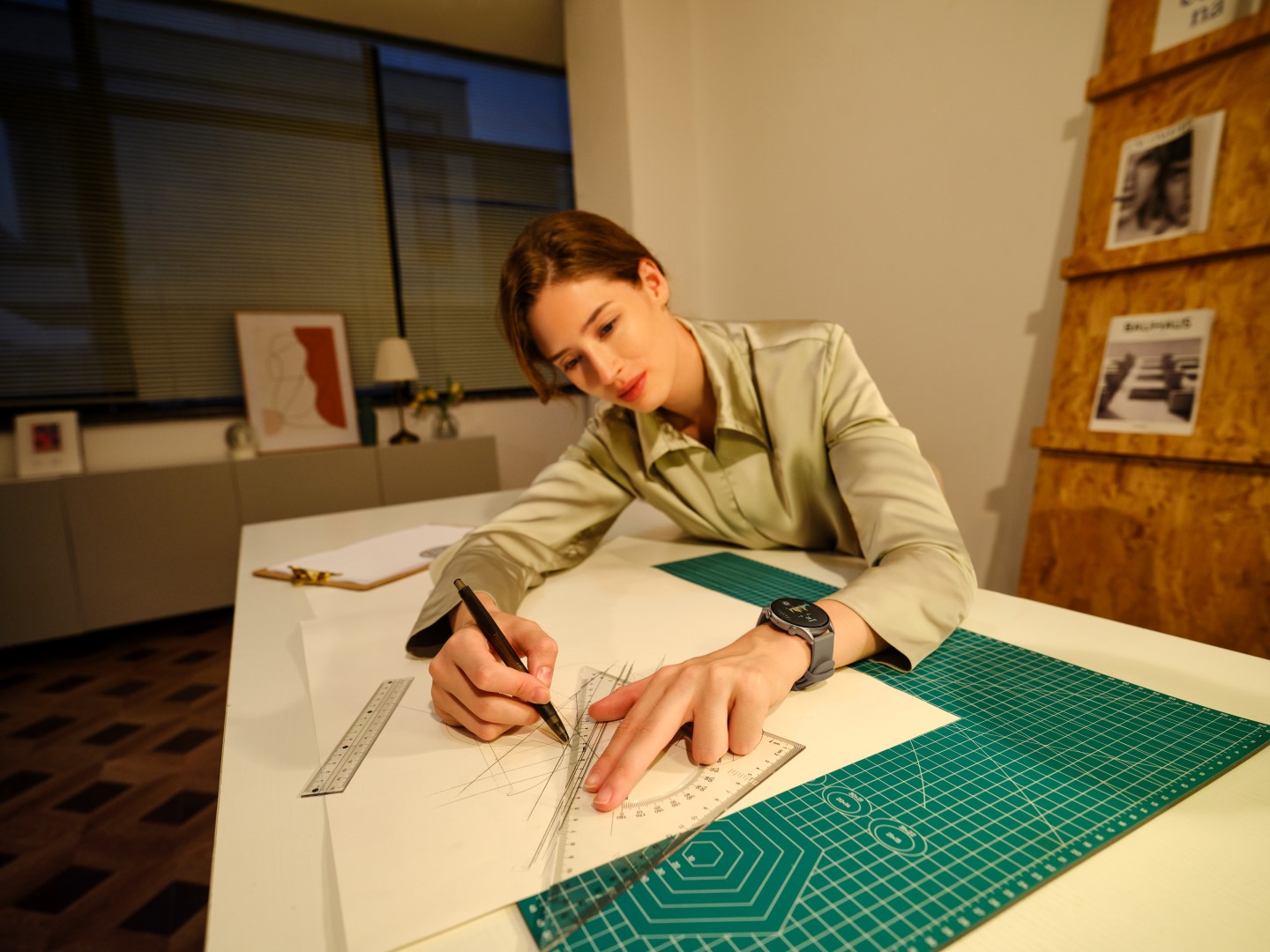 Another highlight of the Amazfit GTR 3 is its professional alloy build quality with its stylish aesthetics that makes it look like a real timepiece opposed to those sometimes gaudy looking smartwatches like the Apple Watch. It comes in two colours Moonlight Grey (reviewed) and Thunder Black plus the bands can be easily replaced. Additionally, its lightweight design at just 32 grams makes it great for wearing it 24×7 and it is waterproof (5 ATM) that means you can take the Amazfit GTR6 swimming! The dimensions of the watch are 45.8 x 45.8 x 10.8mm.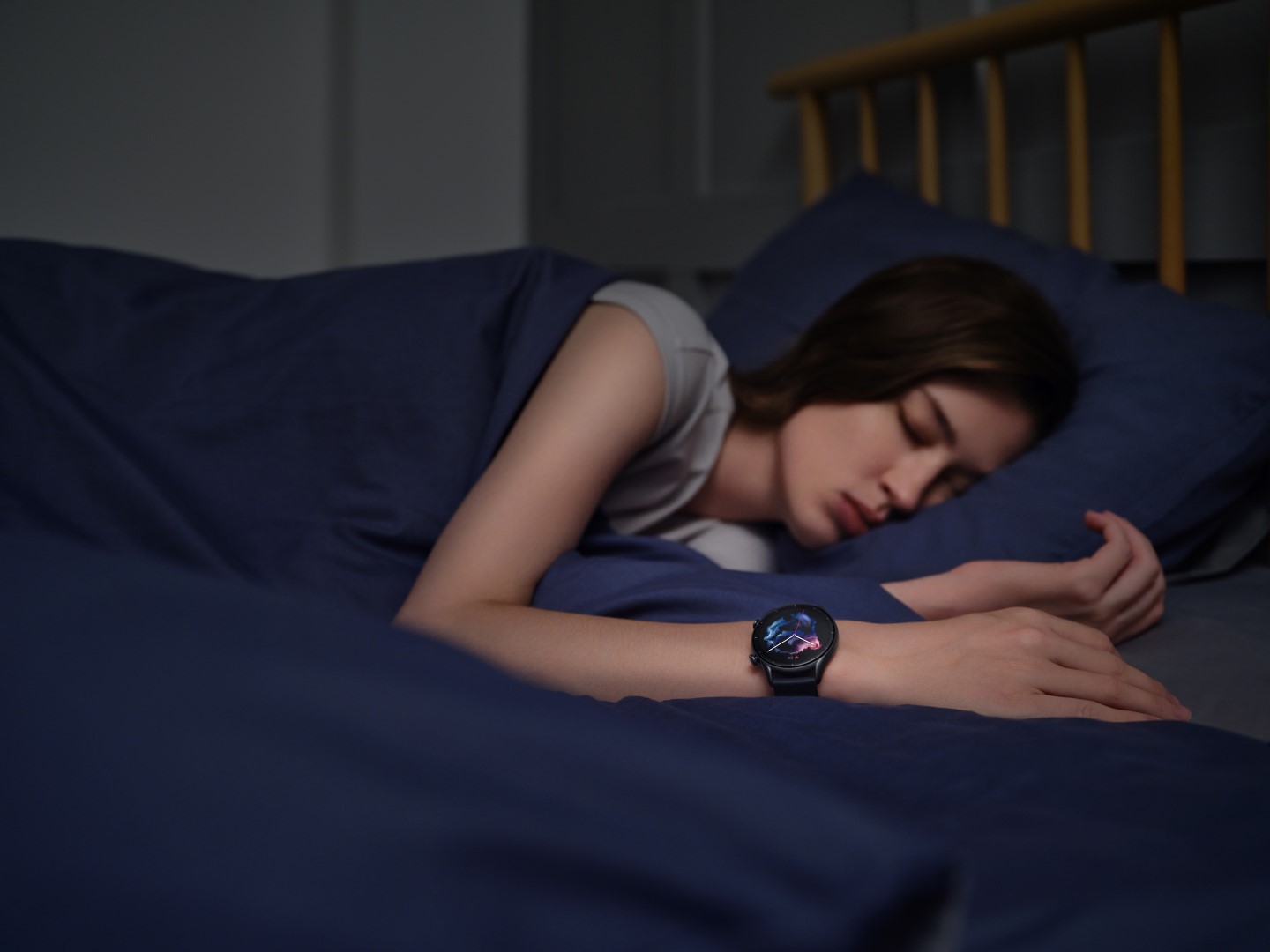 The 22mm wide strap is made from silicone that is adjustable, has a quick-release feature and boasts a classic pin buckle. Additionally the screen comes with an AMOLED 2.5D tempered glass 1.39″ display with a resolution of 454 x 454 that produces crystal clear text, images and vibrant colours that can be seen in all lighting levels.
The 1000nit of the display makes the watch very bright (sometimes too bright at night) that again makes everything vibrant and colourful. While the majority of controls are done through its intuitive touch screen, there are also two buttons (or crowns) on the right-hand side of this smartwatch which allows you to navigate the menus. Lastly, the anti-fingerprint coating helps keep the display clean as well.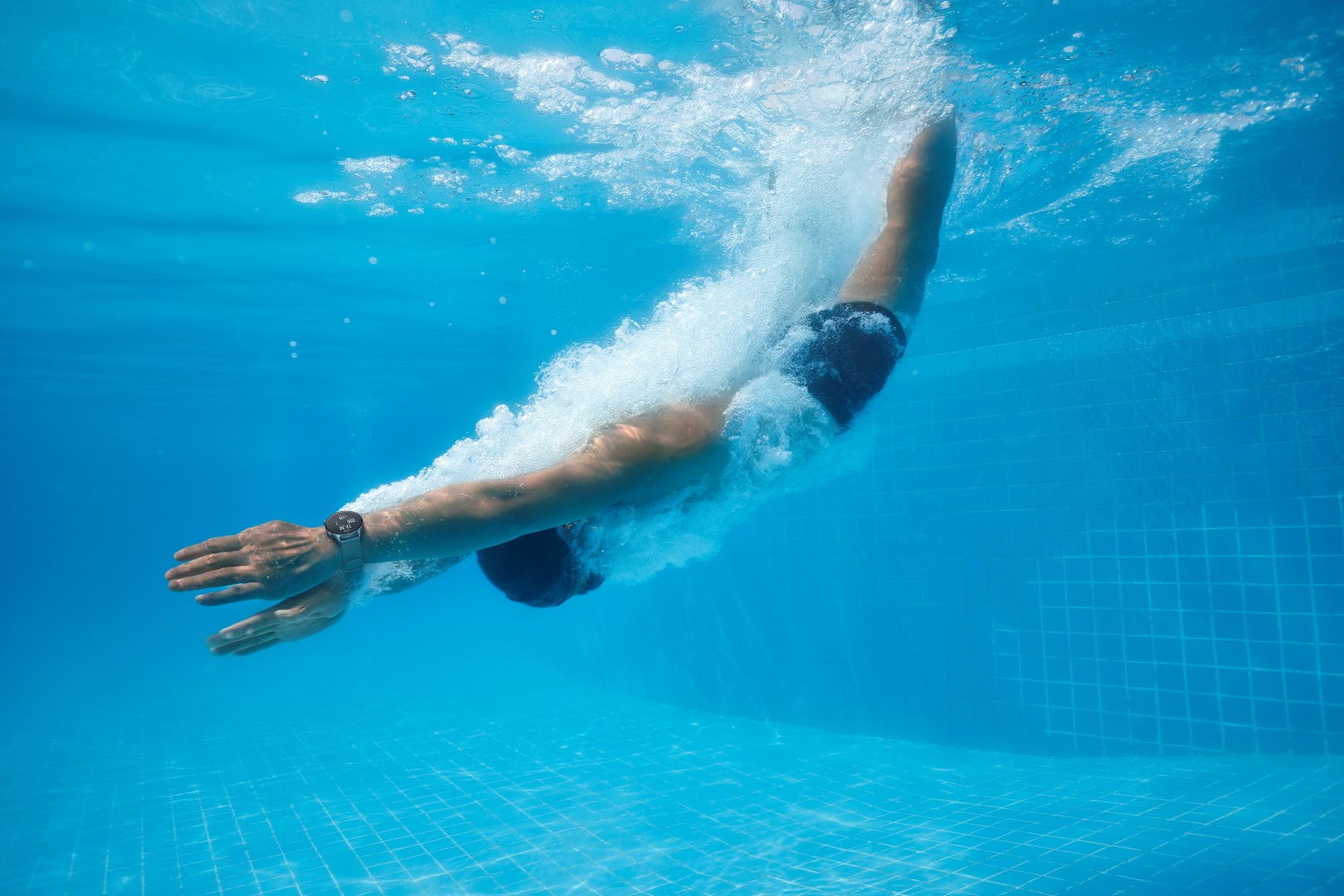 In terms of compatibility, the watch works on any android devices running version 7.0 or higher and Apple devices running iOS 12.0+ and higher which require the user to download the Zepp companion app. Speaking of companions, the watch supports Amazon Alexa which allows you to use this voice assistant directly through your watch which then links to your smartphone. Needless to say, there are a wealth of features available on the Amazfit GTR 3, including 100+ watch faces, including animated ones, a handful of editable ones and even the option of uploading your own photos.
Unboxing
Well packed from Amazfit, they definitely nail the premium packaging and it comes with everything (almost) you need which includes the GTR 3 itself, the charging base plus a manual. A mains adapter would have been nice, however this is an additional purchase or you might be able to use the one that came with your phone, more so for Android users or any other spare USB port.
As mentioned the overall quality of the exterior build of the GTr3 is great and the thin bezel around the watch face gives you great screen real estate that makes it easy to see the content from the watch itself, especially notifications. There is also an always on option, however this will drain the battery faster if enabled, however the time-out of the screen can be adjusted.
Setting up the watch is a relative easy process and once you connect the watch to the charger, it will prompt you to select your language (e.g. English) and then display a QR code which then allows you to download the Zepp app. When the app is installed on your phone, you need to create an account, enter your statistics (e.g. gender, date of birth, height and weight), add the device which then proceeds to pair it with your Bluetooth connection to phone.
When the watch detects the pairing process, you do need accept this connection from the GTR 3 directly. The last step is download the latest update for the phone which was 7.31.1.1 that is a very length process and took around 75-minutes. However while it is updating the watch, you can still use it which is a benefit, especially if you want to get straight into it. While there has been some criticism of the Zepp app, it may not be as user friendly as the Fitbit or the Huawei Health app and for me, navigation was easy and quite self-explanatory. One caveat with the app is that you always need to be running it, especially if you want updates or more importantly notifications.
If you have used a Huawei smartwatch before, then navigating the GTR 3 is a very similar experience. Navigating the watch is done through a series of swipes (e.g. swipe right or up) plus the touch screen display which is quite sensitive that makes it a speedy little device. To enable Alexa, this is done by a long press of the top button or via one of the menus which then allows you to speak to Alexa directly by asking her a question or setting up reminders for example. However like the watch app, you also need to run Alexa in the background to use this feature.
Below are most of the swiping functions for the Amazfit GTR 3.
Swiping Up
Notifications
Swiping Down
Find Phone
Torch
Night Mode
Theatre Mode
Screen, always on or delay
Date / Calendar
Brightness
Battery percentage and Battery Saver
Find Phone
Lock Watch (#: Unlock – hold both buttons)
Settings ->
Watch Face & Time
Display
Vibration
Workout
Preferences
System
Swiping Left
Steps, Stand, Minutes Active
Heart Rate
Weather
PAI Score
Sleep Data
Amazon Alexa
Weather
Forecast
PAI
Alarm
Sleep
Heart Rate
Activity
Blood Oxygen
Shortcuts
Swiping Right
Amazon Alexa
Weather
Forecast
PAI
Alarm
Sleep
Heart Rate
Activity
Blood Oxygen
Shortcuts
Sleep Data
PAI Score
Weather
Heart Rate
Steps, Stand, Minutes Active
By pressing the top physical button the watch, you have access to;
PAI
Heart Rate
Blood Oxygen
One-tap measuring
Workout
Workout History
Workout Studios
Stress
Activity
Sleep
Weather
Music
Alarm
Calendar
Settings
More
Sun & Moon
Compass
Barometer
Cycle Training
Breathe
Stopwatch
Countdown
Find My Phone
World Clock
To Do
Pomodoro Timer
Camera Remote
The bottom button allows you to access all the workouts of the GTR 3 such as Outdoor Running, Skiing, Esports, Swimming, Dance, Chess, including workouts that have been categorised such as Running & Walking, Cycling, Winter Workout and even Board & Card games. So as you can see, the GTR 3 has a whole wealth of activities that it can monitor and with up to 150 available to the user, most people should have no issues whatsoever in finding their favourite activities.
It also has smart recognition of 8 different sports that includes outdoor running, indoor walking, walking, treadmill, outdoor cycling, rowing machine, Elliptical and Pool Swimming which is great as it all counts to your daily activity totals. Runners will be pleased to know there is a GPS function (which of course uses more battery) and hikers with the in-built barometric altimeter which monitors altitude and air pressure. Himalayas here we come, whereas gamers will enjoy the ability to race against themselves with a virtual pacer.
For the traditional exercises such as running or swimming, the watch compares quite well to its more expensive brethren such as the Apple Watch and Huawei GT Watch 3 Pro. Further to this, there is a Personal Activity Intelligence (PAI) feature which reviews your activity over a week that awards points in order to motivate the user by keeping their fitness levels regular. I also like the one-tap health metric that checks your Heart Rate, Stress Levels, Blood Oxygen and Breaths Per Minute in just 45 seconds.
Like other watches, the GTR 3 will monitor your sleeping (including naps) and not only does it track your sleep and breathing quality but gives you positive sleep recommendations. Apart from monitoring your stress, female users will be pleased to know it monitors your menstrual cycles, including giving you reminders. There are also reminders if you sit too long such as walking prompts.
While the watch does boast a 21-day battery life (after some tweaking) and not monitoring everything, you can easily achieve a good 10 to 14 day balance if you reduce the constant tracking. To charge, Amazfit state that it takes 2-hours to fully charge the watch and while USB-C would be nice, the battery on this smartwatch will beat most of its competitors.
Comfort wise, Amazfit GTR 3 is super comfortable thanks to its lightweight design and comfortable silicone band. So hopefully no red marks on your wrist! It's also easy to remove the band and replace it, however the band that comes with the GTR 3 is quite stylish.
Final Thoughts?
All in all, the Amazfit GTR 3 is a good all-round smart activity tracker that is great value for money if you don't mind, tweaking a few features here and there and ensuring the relevant apps are running in the background. The watch retails from around $299AUD (Feb 2022) and I love the ability to check your blood oxygen levels which in today's day and age of the pandemic is great as COVID-19 can affect your oxygen saturation levels and this watch monitors you 24×7. While the menu system on the watch and app could be more streamlined, the watch still ticks most of the right boxes and best of all, looks great on you.