Comics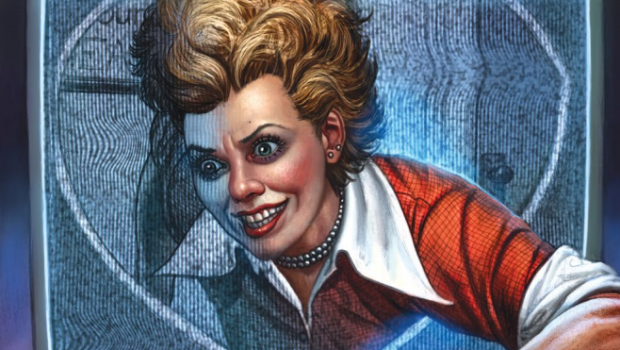 Published on September 12th, 2017 | by Dana Folkard
AMERICAN GODS: SHADOWS #7 REVIEW
Summary: On the road to Kayro!
Lost and confused after being rescued from the brutal interrogation by Mr. Wood and Mr. Stone, Shadow wanders aimlessly into heavy woodland where he encounters a messenger who delivers a rather cryptic memo. This surreal journey continues, as Shadow tries to make contact with Mr. Wednesday and the old gods.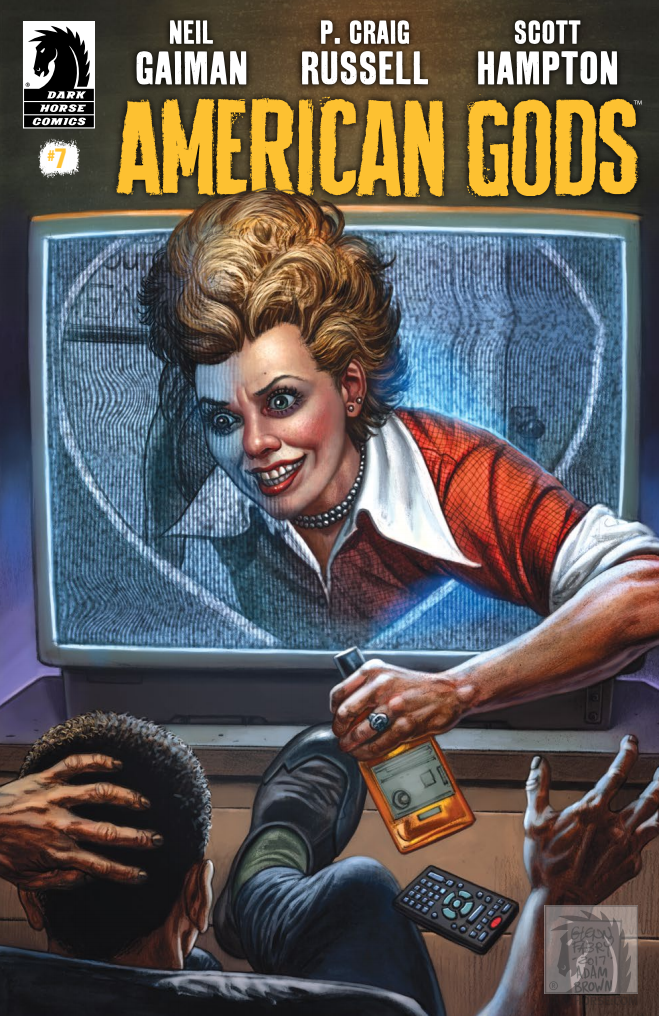 This issue of American Gods begins with Shadow shell-shocked and anxious after the recent encounter with his dead wife at the freight train siding. He hides as he watches several black jeeps and a helicopter race past, most likely on their way to clean up the massacre that was left behind from his escape. Shadow is numb from the inside out and this triggers him to question his life and the choices he has made, as he desperately wishes things to be "normal" once again. He then comes across a stream and begins to follow it, which leads him into heavy woodland, whereupon he encounters a talking raven perched atop the carcass of a fawn. The raven, a messenger from Wednesday, tells Shadow to make his way to "Kay-Ro" where he will find Jackal. A rather cryptic message that leaves Shadow somewhat perplexed. After finding a small burger joint, where he is told where to find Kayro, he buys some food and a cheap "piece of shit" car, which allows Shadow to begin his journey towards Kayro. Exhausted from sleep deprivation, Shadow pulls over and takes a nap, where he dreams of the buffalo-headed god again. He is suddenly awoken from his slumber by a stray hitchhiker called Sam, who is keen to grab a free ride.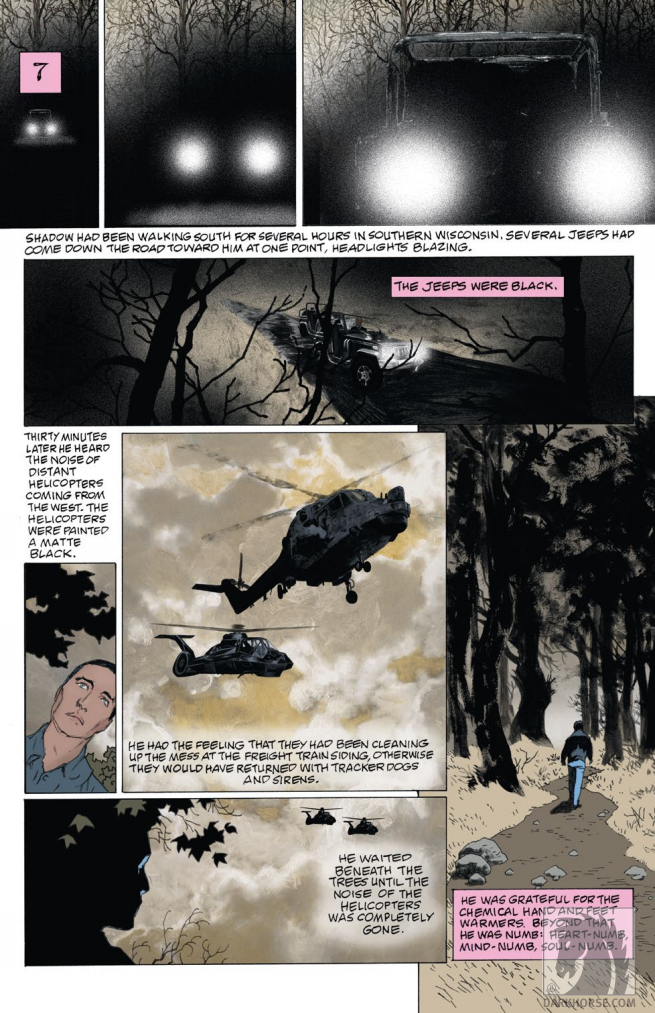 This was a slower-paced issue, but nonetheless still filled with lots of interesting encounters and exchanges for Shadow. Seeing Shadow make his way across this eerie and mysterious landscape, in a lost and confused state reveals a curious side to him that we haven't seen a lot of. Shadow is vulnerable and alone, and the constant encounters with Laura, combined with the trauma of travelling with Mr. Wednesday is beginning to take its toll on him. For the first time, we see him really question himself about what it is that he wants out of all of this. Prior to this, he was just happy, albeit somewhat reluctant, to tag along for the ride, which I've always thought was a way for him to bury his grief after losing his wife. This deep sense of unease is reinforced by his encounter with the buffalo-headed god in his dreams, which is symbolic of something pertaining to Shadow's destiny. The overall tone is lightened by the introduction of Sam, who is a bright and bubbly encounter for Shadow, and a temporary respite from all the chaos he has encountered recently. Their light-hearted banter is funny and I enjoyed their stories about the gods.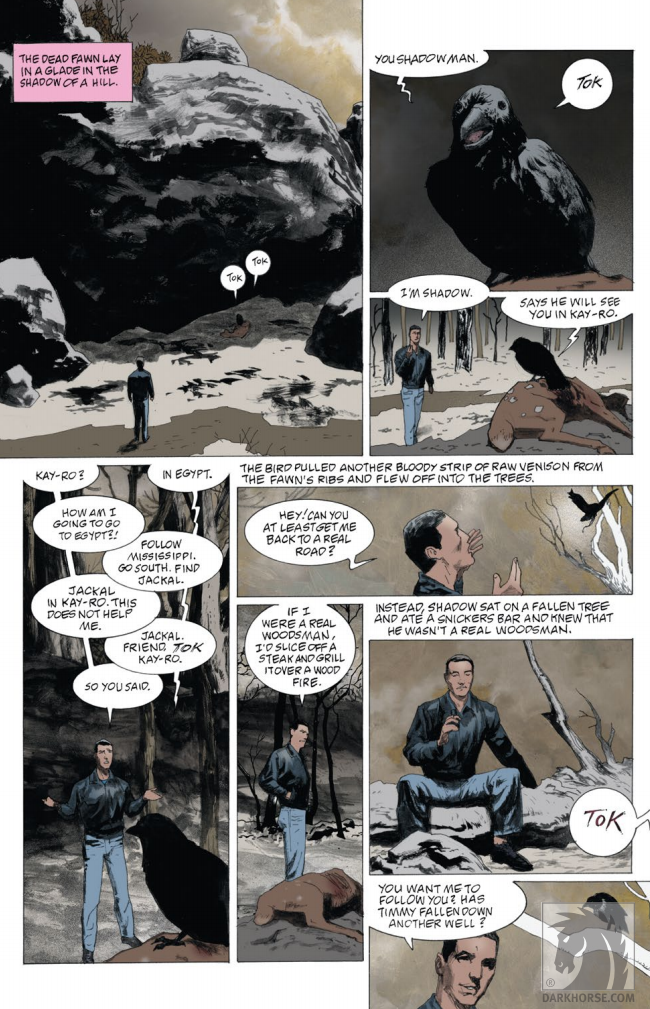 Artist, Scott Hampton heightens the troubled and conflicted tone in this issue through his atmospheric and moody illustrations. Shadow is confused, and you really get the sense of the anxiety he is experiencing through his strained and tormented expressions. I also find that the painted quality to Hampton's art works really well with capturing the menacing nature of the surrounding landscape that Shadow is travelling through. There is a haunting and evocative quality to these scenes, and I particularly enjoy the moments that pull back allowing us to take in the landscape. The scenes where we see Shadow and Sam recount old tales about Pan and Odin offered an interesting visual change in the narrative, as they created a break from the gloominess, bringing a brighter and more light-hearted dynamic to the story. I should also mention the arrival of Lucille Ball, a.k.a. the God of Media, in all her spectacular black and white glory. This was a great moment, as her animated and friendly face contrasts dramatically with the menacing nature of her appearance. The colouring works with the art to reinforce the overall mood that is flowing through this issue, and I found it to be effective in framing Shadow's overall unease and apprehension.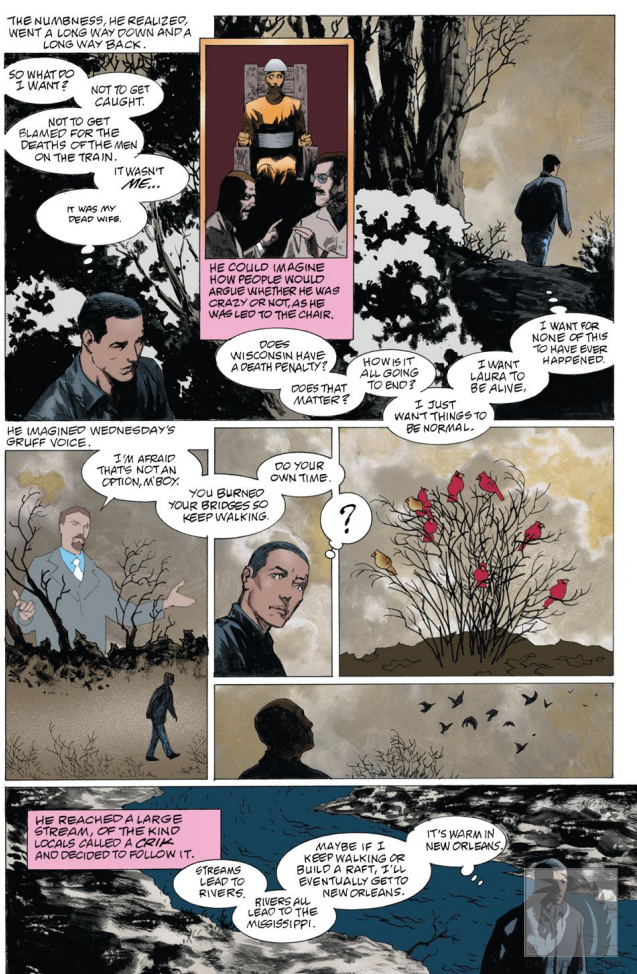 I really liked this issue, as I felt that it captured the ominous and uneasy tone that is driving the narrative forward perfectly. As Shadow's journey unfolds, we learn more about him and his destiny, and this for me is what keeps me coming back. Also, P. Craig Russell has handled Neil Gaiman's novel with a level of delicacy and respect that I believe deserves commending and this coupled with Scott Hampton's art makes for an enjoyable and engaging read. If you're looking to escape into Shadow's surreal journey as he makes his way across the American landscape, then grab a copy ASAP!
I'm giving this issue 5 out of 5 stars!
---
COMIC DETAILS
CREATIVE TEAM: Neil Gaiman, P. Craig Russell, Scott Hampton and Rick Parker
PUBLISHER: Dark Horse Comics
PUBLICATION DATE: September 13, 2017
REVIEWER: Dana Folkard