News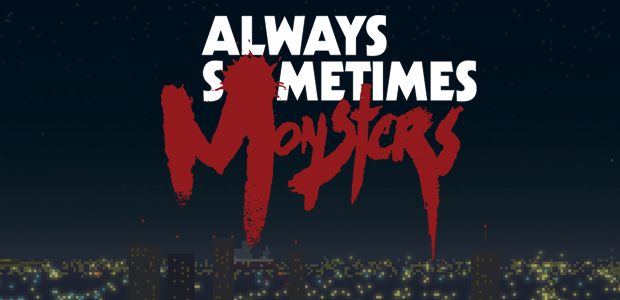 Published on May 22nd, 2014 | by admin
ALWAYS SOMETIMES MONSTERS TUGS AT YOUR HEARTSTRINGS TODAY, AVAILABLE NOW ON STEAM
Game About Life, Love, and The Pursuit of Both
MELBOURNE, AUSTRALIA – Independent developer Vagabond Dog and rogue publisher Devolver Digital have released Always Sometimes Monsters, an unconventional story-driven RPG about life, love, and the lengths that we will go to find happiness in both, on PC via Steam, GOG, and Humble. Inspired by always sometimes true-life events, Always Sometimes Monsters features an incredibly touching and engaging emotionally driven narrative as players struggle with tough life choices and the harsh reality of modern life.
Players will assume the role of a down-and-out character on the verge of collapse after learning the love of their life is set to marry someone else. Selecting from characters of different gender, race and sexual orientation players will encounter a world that reacts uniquely to who they are as they live through common experiences and unique hardships.
With time working against them, players set out on a unique cross-country journey filled with memorable and countless choices. Each playthrough is filled with a staggering number of diverging paths, creating a narrative tailored to the individual playing, their choices, and their personal ethical compass.
"Always Sometimes Monsters is an expression of our common struggle to exact choice in a reality where circumstance does not always provide us with the opportunity to do so. It is an experience heavily influenced by our personal journeys in life and the multitude of people whose roads have crossed ours," said Justin Amirkhani from developer Vagabond Dog. "Our hope is that in playing the game you come to question what defines the decisions you make, not just in games but in life as well."
Always Sometimes Monsters is now available on Steam, GOG and Humble via AlwaysSometimesMonsters.com with a 10% discount for a limited time during launch.