Hardware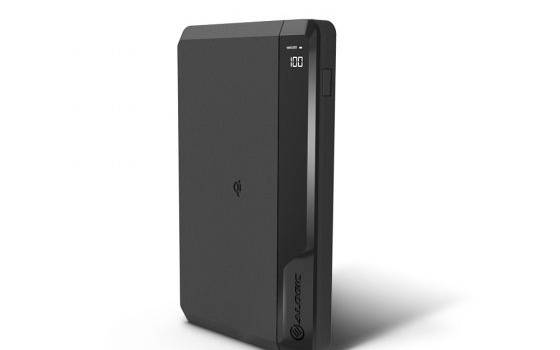 Published on January 13th, 2020 | by Scott De Lacy
ALogic 27,000mAh Power Bank Ultimate – Hardware Review
Summary: A serious contender on the market. Charge 4 devices at once!
The ALogic 27,000mAh Power Bank Ultimate with Wireless charging is a premium product from ALogic, which offers USB-C power charging, and two USB ports and an additional wireless contact charging.
The storage capacity of this battery is quite significant, it is no misprint, it is 27,000 mAh capacity. In comparison to many other products, where a typical capacity would be between 5,000-10,000 mAh, this one packs some serious punch.
Firstly, let's take a look at the posted technical specifications.
1x Single USB-C port as an input and output

Battery input charge:

5V @ 3A

9V @ 3A

12V @ 2.5A

20V @ 1.5A

Output:

5V @ 3A

9V @ 3A

12V @ 3A

20V @ 3A

2x USB outputs

5V @ 2.4A per output

(5V @ 3A combined)

1x wireless charging surface

10w Max,

5V @ 1A

9V @ 1.1A
This product is designed to be able to provide power to multiple devices at once. You can very well charge a phone via the wireless charging surface and USB port, whilst powering a laptop or similar device via USB-C.
This is all well and good, but of course, consideration needs to be given as to whether the intended devices are suitable for charging when all devices are in use. Based on the description though, the power output is maintained as per the above table when charging these devices, which brings us to testing.
To be upfront, it was difficult to put this device through all of its paces, there were aspects I could test and measure, and some I could only perform limited testing. For the most part, it was difficult to obtain enough devices to legitimately test and run. Some would argue that perhaps there are heaps of devices, phones, Raspberry Pi's, Arduinos and the like, but even then, it is difficult to measure the power draw simultaneously from all devices individually at once, in turn.
First up, the unboxing, it is well presented a folding door and clear window to inspect the product. Inside the box there is an included USB-C cable, but no charger, forcing you to ensure that you have or purchase one that can output at least 5V @ 3A to USB-C. This was a bit disappointing that it was not included, especially when you consider the price point of this device, which is significantly higher than most other devices on the market. Personally I think this is a mistake and missed opportunity of ALogic not to include it.
There are also limited instructions included and they are not a page turner. There is not much of a need for them with this product, but for what it is worth, they are poorly written or perhaps poorly translated to English and could be difficult for some to understand.
The product itself is quite well presented; it has some sexy curves, no sharp or pointy edges, an almost borderless seam between the top and bottom, no screw holes whatsoever and a well-appointed and bright 3×7 segment LCD to represent the charge percentage.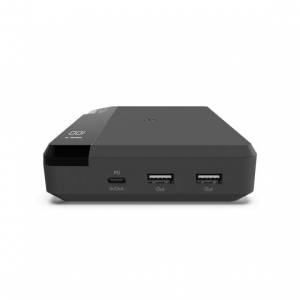 Initial impression
The percentage LCD does indicate 100 at first, but will typically settle as 99 when fully charged.
The battery has some charge initially so only a few hours was needed for the first charge. A few partial charges of my Android phone took the battery down to around 95%, eventually across a few days I was able to bring the charge down below 50%. The following charge, for some reason, the charger was knocked or lifted a little loose from the power board, so the charge took longer than it should have; it's unknown how long it should have taken. After a few charges, it would seem to be for sure an overnight charge at minimum. Of course this would all depend on the charger you use.
With the weight of the battery and its construction, it certainly feels like a solid, quality product. But how did it perform?
Testing
As mentioned, it was difficult getting devices to test with, just to validate the basic functions. Most especially was the wireless charging, out of 20 people including myself, it seems nobody had this functionality in their phone or carry any other device capable. Nevertheless, I did manage to find a smart watch and an iPhone and can confirm wireless charging works, and works quite well. I was not able to verify the power output of this function, as I was unwilling to take the device apart and could not conceive an apparatus to otherwise measure it.
I can confirm that charging a single device, such as a phone from the USB-C and USB-A ports work as expected. But I wasn't content to leave it there. I had to get the oscilloscope out and probe the outputs.
I also had access to a UD18 USB tester at the same time which was invaluable. If I had more than one and the appropriate adapter cables, it would have performed more comprehensive testing, but this was sufficient to take some readings.
As the pictures indicate, I was able to connect the UD18 to the USB-C and USB-A ports respectively, whilst charging a phone and measure the pass-through output voltage and amperage through the UD18. I was also able to probe the UD18 output in series, and the power bank directly from the USB-A ports with the Oscilloscope.
A good power source should be consistent in providing power and not fluctuate wildly, which could possibly damage some devices. It is possible to take a measurement of the rise-time with the oscilloscope which would show how 'fast' the unit responded and provided power to the device(s), however in this case it would be splitting hairs. The device responds imperceptivity fast, well and truly within <500ms with USB-C negotiation, but all of this will depend upon the devices you connect. Suffice to say, it was not slow in any sense that would give rise to take such a measurement.
The main concern was, if there was any movement in the output signal of any consequence, or even worse, if there was any noise on the output. I measured a mostly consistent 50Hz sine wave that did vary +/- 5hz within ~20mV for brief moments, that being said, the testing rig and the oscilloscope frequency calculation should be taken into account. These tests were conducted after a full charge and the power bank was displaying ~100-98 on the LCD. The images were captured whilst the scope was running, without any devices being connected or removed at that time.
The UD18 also gave a decent resolution for the voltage and amperage. I observed a fairly consistent output which did reduce only towards the completion of the charge for the phone, even whilst connecting two devices at once, disconnecting devices and the scope. Some effort was made to try and push the unit to its limits with what was available at the time, but it held firm. The UD18 showed only small movements in the 2nd and 3rd decimal areas which is absolutely more than reasonable even for non-battery devices.
For good measure, at the time of writing I also confirmed the 50Hz sinewave with a small portable and less accurate oscilloscope, with the battery at 9% charge.
So this testing demonstrates that the unit produces exclusively a 50Hz sinewave output to all outputs and that, there does appear to be the occasional variance of around +/-20mV output and variance of +/-5Hz to the sinewave. Studying the pictures, where the variance can be seen, it would seem that these variances occur within 50ms.
All this perhaps does not matter to most consumers, as most devices you would ever want to use would be happily compatible with this power bank, typical phones, monitors, laptops etc. But it should be said that if you have a device that expects and requires a 60Hz sinewave, or voltage outside of the spec, then that device should not be used with this power bank.
Throughout all testing and usage the unit did not overheat, however it did get warm along the circuit board end during charging, especially as this battery does require a reasonable amount of time to charge. Towards the end of the charge cycle the heat will be at its greatest. It also caused the charger to get hot. Therefor as everyone will use a different charger, charging should be done in a well ventilated area with the device on a hard surface and should be checked periodically.
Final thoughts
This power bank is actually a fairly well built and extremely powerful device. From my perspective, the power output is noiseless and mostly steady. It was able to provide 3-4 full phone charges and it also did not appear to diminish its charge if unused over several days.
The only downsides with this product were the poor included documentation, the failure of ALogic to include an appropriate charger, and the LCD remaining brightly lit whilst charging. Ideally it should dim after a minute to a low power mode, which would further reduce needless power consumption.
This power bank is ideal for applications where you need more than two days of power for your phone, or if you need to power multiple devices at once. It is also advertised as being airplane friendly and could be a very handy companion whilst traveling. It is a pretty decent power bank!