Games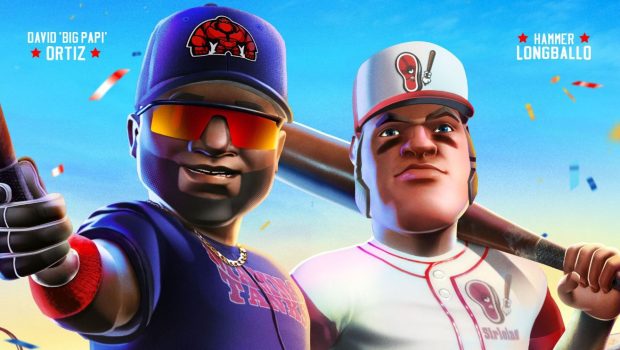 Published on June 3rd, 2023 | by Adrian Gunning
ALL-STAR STUDDED SUPER MEGA BASEBALL 4 NOW AVAILABLE WORLDWIDE FEATURING OVER 200 BASEBALL LEGENDS
Today, Electronic Arts Inc. (NASDAQ: EA), EA SPORTS™ and Metalhead™, are thrilled to announce the worldwide launch of Super Mega Baseball™ 4, the latest installment in the critically acclaimed Super Mega Baseball™ series. Super Mega Baseball 4 delivers new  levels of excitement and authenticity with the inclusion of real-life Baseball Legends and visual lighthearted fun that fans have enjoyed throughout the franchise. Super Mega Baseball 4 arrives on PlayStation®5 and Xbox Series X|S for the first time, with cross-play in Pennant Race and Online Leagues across all platforms including Xbox One, PlayStation®4, Nintendo Switch™ and PC via Steam®.
Super Mega Baseball 4 takes the beloved franchise to new heights, offering immersive and vibrant gameplay that stays true to the Super Mega Baseball franchise that players love. With Baseball Hall of Famer David "Big Papi" Ortiz as the franchise's first-ever cover athlete for Super Mega Baseball 4, more than 200 larger-than-life baseball legends like Babe Ruth, Hank Aaron, Jose Bautista, Randy Johnson and more are ready to step into the diamond with beloved Super Mega League All-Stars experience.
"We are incredibly excited to launch Super Mega Baseball 4 alongside EA SPORTS and bring the joy of visually-lighthearted baseball to players worldwide," said Scott Drader, Studio Director and Senior Producer, Metalhead. "With exciting new community requested features and content, deep customization options, and a ton of the most notable legends in baseball, we can't wait for players to swing for the fences!!"
Super Mega Baseball 4 brings the most significant presentation upgrade in franchise history. Every corner of the game will look and feel better than ever, packed with stunning graphics, enhanced player animations, and gorgeous new stadiums. The game includes an array of new features across foundational modes like Exhibition, Franchise, Pennant Race, Season and Online Leagues including:
Baseball Legends: Over 200 baseball legends are integrated across Super Mega Baseball 4, alongside beloved Super Mega Baseball Play in a league of baseball legends with teams organized by era, or mix things up with Shuffle Draft, a new feature that allows you to draft both Legends and Super Mega All-Stars to create a unique roster.
New Platforms & Cross-Play: Super Mega Baseball 4 is expanding to PlayStation®5 and Xbox Series X|S for the first time, including all-important cross-play in Pennant Race and Online Leagues on new platforms, as well as PlayStation®4, Xbox One, Nintendo Switch™, and PC.
Top Community Requests: From Franchise mode improvements to the brand-new Shuffle Draft deckbuilding-inspired feature, to expanded Player Traits and a new Team Chemistry system that add a new layer of strategy; dozens of fan-requested upgrades – automatic walks and runners, two-way players, expanded bullpens, customizable free agent pools, and more – combine to add new gameplay depth.
Creators Classic League: A brand-new league players can choose to play with, consisting of some of the biggest names in the world of baseball fandom including Jomboy Media, Mighty Goat, Koogs46, Shelfy, Fuzzy and many more!
Overhauled Visuals: Experience authentic, cinematic baseball, powered by new cameras, cutscene animations and lighting providing a true-to-life environment in every stadium.
Upgraded Audio: New crowd, voiceover, and foley effects give audio throughout the game a big upgrade from home plate to the bleachers. Plus, players will be immersed in the sounds of baseball with an all-new soundtrack with licensed and original music.
Baseball fans can stay up to date on all-things Super Mega Baseball 4 by following Twitter: @supmegbaseball, Instagram: @supmegbaseball, Facebook: Super Mega Baseball, TikTok: @supmegbaseball and YouTube: @supermegabaseball
EA SPORTS Super Mega Baseball 4 is developed in Victoria, British Columbia by Metalhead for PlayStation®4, PlayStation®5, Xbox One, Xbox Series X|S, Nintendo Switch™  and PC via Steam®. EA Play† members on Xbox, PlayStation, and Steam will unlock a 10-hour trial of Super Mega Baseball 4.