Films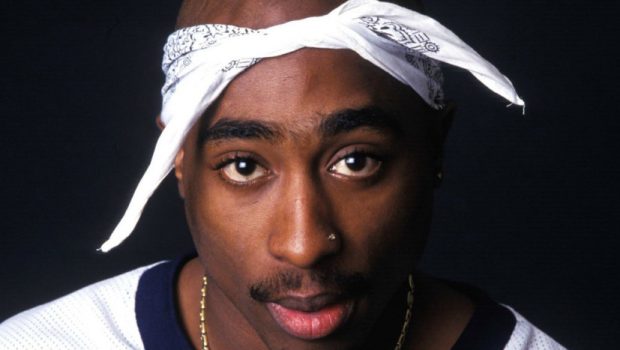 Published on June 14th, 2017 | by Curtis Mayfield
All Eyez on Me – Film Review
Reviewed by Curtis Mayfield M-H on the 9th of June 2017
Roadshow Films presents a film by Benny Boom
Written by Jeremy Haft, Eddie Gonzalez & Steven Bagatourian
Produced by David Robinson, L.T. Hutton & James G. Robinson
Starring: Demetrius Shipp Jr., Kat Graham, Lauren Cohan, Hill Harper & Danai Gurira
Music by John Paesano
Cinematography: Peter Menzies Jr.
Edited by Joel Cox
Running Time: 140 minutes
Rating: MA15+
Release Date: the 15th of June 2017
Biopics are never an easy type of film to make. How do you cram the life of a well-known personality into a two-hour movie without alienating fans and somehow include the novices? It's a task that few would undertake. For the first time ever the life and times of the late, great rapper Tupac Shakur, a.k.a. 2Pac, is being shown on the big screen. For years there's been rumours of seeing Pac's life play out on-screen, including whispers of Sylvester Stallone possessing a script about the late rapper's unsolved murder. With All Eyez on Me we're spared from Sly's version of gangsta rap storytelling and instead have been given the Benny Boom-directed flick that attempts to compress and respectfully showcase 2Pac's eventful life into one movie.
After the success of N.W.A.'s life story being eaten up by the masses with 2015's Straight Outta Compton, it looks like movies about rappers might become the latest trend right next to live-action Disney flicks and the unstoppable comic book movies. All Eyez on Me is no where close to being as good as N.W.A.'s movie treatment but it is held down nicely by some extraordinary acting, particularly that of Demetrius Shipp Jr., who not only slips into the role of 2Pac like he was born to be the extremely complicated rapper's doppelganger in appearance and in mannerisms but also makes his movie debut.
All Eyez on Me never quite finds its footing as far as the pace of its own storytelling. One of the first scenes of the film begins with shots of a prison with 2Pac's 'So Many Tears' thumping over the speakers. 'Pac sits down to do an interview with a TV journalist and talks about his life growing up as a child of the Black Panther movement, his beginnings in the music industry, and eventually becoming America's public enemy number one through his provocative music—all of this is done through flashbacks. These key points in the life of Tupac Shakur would be exciting to watch for both hip-hop fans as well as the casual moviegoer. Unfortunately, the thrill is lost amongst the jumbled storyline and the paint-by-numbers storytelling. Just like 2Pac himself this movie boasts a whole heap of talent but squanders it with poor choices. Watching Shipp navigate the complexity of a troubled artist who had the weight of the world on his shoulders before his untimely death at just 25 years old is interesting enough. It's just there's energy missing from the story to live up to the movie's real-life subject, along with a whole mess of contrived dialogue.
Watching 2Pac as a child saying "I'm going to become a revolutionary" is more cringing than inspiring and would be better placed in a daytime movie instead of getting the silver screen treatment. Danai Gurira's portrayal of Afeni Shakur, a Black Panther who was in prison while pregnant with Tupac, is on point for the most part but there's a whole heap of overly dramatic scenes with her. And it's not just Gurira who's subjected to filling scenes up with lots of tears, snot and shouting. It seems like every character shown must say at least one or two melodramatic lines that are jam-packed with Oscar bait. But what else can you expect from a movie about a person's life who only experienced hardships and obstacles? Luckily, there are moments of comic relief sprinkled throughout to show that Pac wasn't just one mound of hardened clay and in fact was just a human (I know right!). Having a little white girl approach 2Pac and in front of her father tell him that her favourite song of his is 'F*ck the World' may be one of the greatest things to happen in cinema.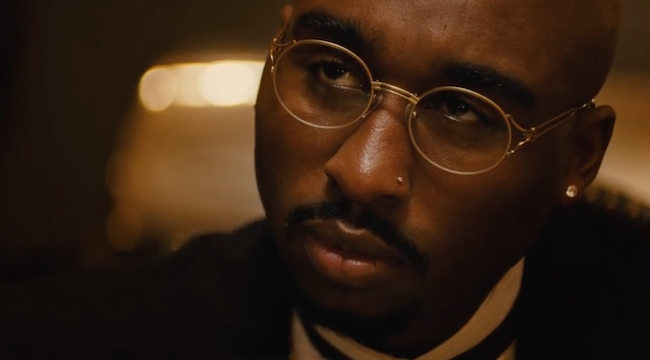 Even though All Eyez on Me has its moments of daytime movie cheese there are still some very interesting aspects of Shakur's relationships with others, particularly women. Screenwriters Jeremy Haft, Eddie Gonzalez and Steven Bagatourian did not leave out the people that shaped the rapper's life and music. Besides the relationship with his life-coaching mother, the most interesting onscreen interactions we see are between Tupac and Jada Pinkett (played by the very talented Kat Graham). The friendship between the two started in high school where 'Pac studied acting along side Pinkett, who pops up at different times during the film and acts as a moral compass for Tupac from his humble beginnings to his dramatic lows and much too soaring highs. Watching this great, loud, colourful and sometimes scary character reach new highs only to be dragged back down is tragic to watch but also accurate of how 2Pac lived, at least through the eyes of the public and the media.
Though he found fame, money and love, 2Pac never safely landed on any steady ground. In order to get bailed from prison, a deal with the devil was put in place with the infamous Suge Knight (played menacingly by Dominic L. Santana) paying for Pac's legal troubles and signing him to the equally notorious Death Row Records. There are a lot of odd creative choices made throughout this movie. One being the casting of Jamal Woolard as the rapper Biggie Smalls, a one-time friend of Pac and eventual foe. In real life the two eventually became the main players in the bloody East versus West mentality that plagued mainstream rap in the 1990s. Woolard's talents are unquestionable as he plays the role well but it's just strange to see him reprise his role as Biggie a second time after he already played him in the 2009 biopic Notorious. Another casting mistake goes to Jarrett Ellis who's meant to be playing Snoop Dogg but looks more like he's dressed up as the lanky rapper for Halloween. Also, this can't be confirmed but it also seems like the studio didn't use Ellis' real voice in the movie and instead had a very accurate Snoop impressionist dub over the original sound which just comes off as weird and unsettling.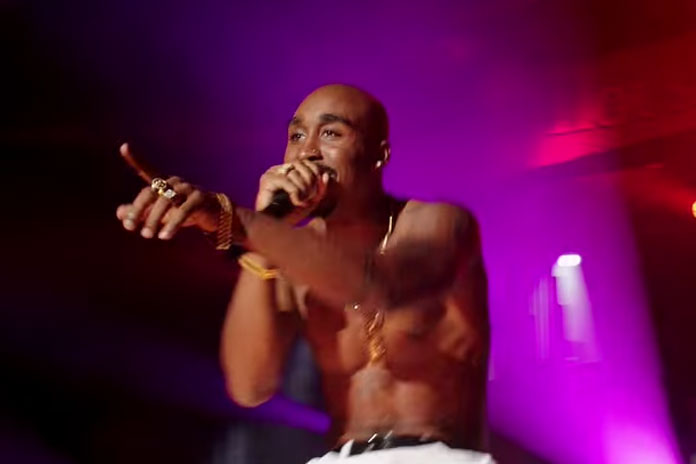 All Eyez on Me isn't a terrible movie but it's far from being a great film that does justice for long time 2Pac fans. It's clear that after decades of rumours of a Tupac Shakur movie that this one was rushed after Straight Outta Compton's international success. Benny Boom does a decent job of representing Pac as the intricate public personality that he was, fulfilling the parts of poet, actor, jokester, son, thug and performer. To his credit Boom doesn't gloss over the negative side of 2Pac but the director definitely knows who the paying audience has come to see so 2Pac still comes off looking like a hero. Overall, the cast is an extremely talented one with a slew of great actors jammed into this overcrowded movie. Shipp Jr. slips perfectly into the main role and shines during the recreations of some of Tupac's music videos, waving his hands and moving just like the late rapper did.
It's too bad that the movie itself is convoluted and covered in so much sop that it comes off as a little cornball. Watch out for Shipp Jr. since there's a strong chance that this is only the beginning for the young actor. This movie won't win over hardcore 2Pac fans but it will wet their appetite for something more focused in the future, especially since this movie has a very sketchy ending. There is a lot of inside baseball dialogue that might leave the non-informed viewer feeling left out but enough onscreen drama and talented performances to keep them engaged. Even though the movie isn't a triumph, you still have to give it up to the filmmakers for trying to capture a real-life person onscreen who was a complete paradox. 'Pac both flew and fell at the sometime and that's exactly how you'll feel watching this hit and miss movie.
Summary: 'Pac both flew and fell at the sometime and that's exactly how you'll feel watching this hit and miss movie.