Hardware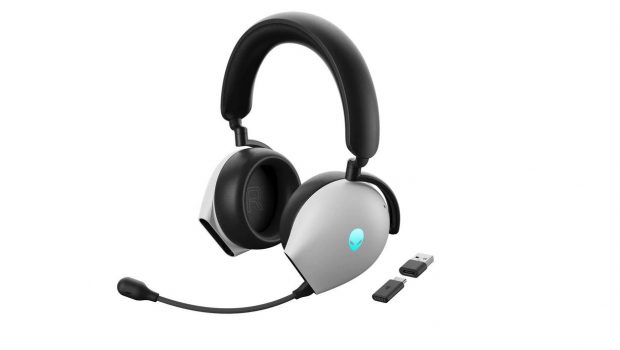 Published on August 23rd, 2022 | by Andrew Bistak
Alienware Tri-Mode Wireless Gaming Headset Review (AW920H)
Summary: Impressive... most impressive is the Alienware Tri-Mode Wireless Gaming Headset with superb comfort and excellent audio!
Welcome to the Light Side of the Moon!
The Alienware Tri-Mode Wireless Gaming Headset are one of the funkiest looking headsets to date which really sets itself apart from its competitors, particularly from an aesthetic point of view. It also channels that distinct Alienware "look" from its stylish design, clever use of curves and of course the subtleties such as the small alien head built into the earcups and AlienFX lighting (*) to light up your real-world. Further, it actually looks alien in its design and more importantly the leatherette memory foam earpads gives you unparalleled comfort for endless hours of gaming to level up your virtual immersion factor with excellent audio quality to match.
Additionally it has Active Noise Cancelling (ANC) and an AI-driven Noise-Cancelling microphone to keep you focused while you game. The headset is available in two colours which is Lunar Light (white) and Dark Side of the Moon (black). What about price? The current online price through Dell is $394 (August 2022), however they are running a massive 39% discount at the moment that makes it quite affordable at just $237AUD.
(*) Alienware Command Center required for AlienFX lighting.
Official Gallery
When it comes to connectivity, Alienware gives you all the options for a myriad of devices thanks to its Tri-Mode technology that includes Bluetooth 5.2, a USB-C Dongle for PC wireless or the ability to use a 3.5mm jack. As a result this allows you to use the Alienware Tri-Mode Wireless Gaming Headset on a plethora of devices from your PC to smartphone and consoles. In terms of wireless, the headset lasts up to 55 hours and with a 15-minute quick charge via USB-C, it gives you access to 6 hours of additional battery life. The audio of this headset is also powered by 40-mm Hi-Res Certified Drivers to produce crisp clear and well balanced audio, including access to Dolby Atmos Virtual Surround Sound that in turn creates a 3D audio experience.
Unboxing
Super well packed from Alienware, the first thing that I noticed about this headset was the exceptional build quality that feels professionally built with well positioned controls, once you have mastered them. The headset even talks when you are pairing them to other devices which helps again with connectivity. For measurements, the AW920H has a height of 209.55mm, a width of 101.09mm and a depth of 172.99mm with a weight of 300 grams. While it's not the smallest or lightest headset on the market, it does feel very well balanced and comfortable to wear. Further complementing the design is the integrated unidirectional microphones, including a detachable boom mic that captures your voice perfectly.
Setup via the USB dongle or Bluetooth is flawless and once detected by your PC, console or smartphone, you're ready to commence your sound journey. The design of the headset also creates an element of additional noise cancellation which greatly reduces background audio interference that is perfect for gaming when matched with the Active Noise Cancelling (ANC). For controls, the headset has touch controls on the right earcup which allows you to adjust the volume, track skipping, answering/hanging up calls, active noise cancellation on/off and tweaking the AlienFX lighting,
However where the headset shines is through its excellent audio quality and the 40-mm Hi-Res Certified Drivers produces great lows, mids and highs with distorted free bass. So whether I was listening to music, streaming from Disney+ or playing Halo Infinite, Call of Duty Vanguard or Horizon Forbidden West, I could not fault this headset one iota. The boom mic worked well and I had no issues at all with online gaming in Fortnite or World of Warcraft. To level up your audio, you can enable Dolby Atmos for some amazing virtual 3D sound in your gaming worlds. That's also an experience in itself.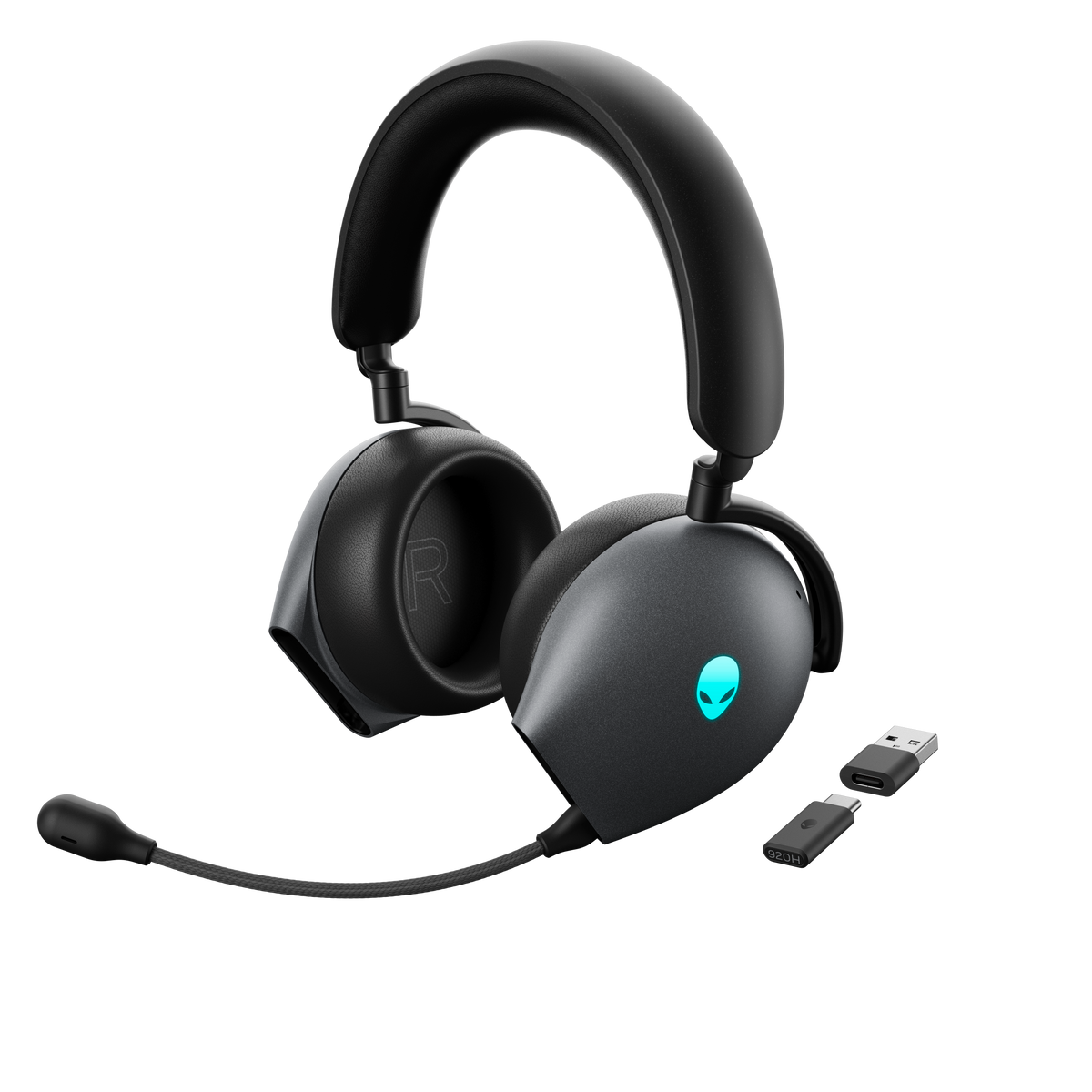 Final Thoughts?
There's no doubt about it, the Alienware Tri-Mode Wireless Gaming Headset is impressive and does come with a wealth of features, is well designed and produced exceptional clear audio from games to movies, calls and music. However it is pricey at the full price but wow, it is good! So if price is not an issue and you want to look amazing while you're gaming, streaming or listening to music, the Alienware Tri-Mode Wireless Gaming Headset (AW920H) is a good fit and also comes with a limited 2-year warranty for additional peace of mind!
Highly Recommended!
Product Highlights
Unprecedented immersion
New Dolby Atmos® Virtual Surround Sound delivers crystal-clear audio with three-dimensional precision, so you can react faster and more accurately to off-screen targets even as you make your way through the most chaotic of battlefields.
Tuned for perfection High-End Sound
40-mm Hi-Res Certified Drivers deliver a wide range of frequencies and help detect the slightest of in-game sounds.
Hear Every Step
When victory is on the line, you need to be able to focus. Active Noise Cancelling helps you do that, with four integrated microphones that work harmoniously to drown out external noise.
Relay Any Command
Use an AI Noise-Cancelling Microphone to clear out ambient noise and improve communication between you and your squad.
Charge quickly, go anywhere Fast-Charging Capabilities
Enjoy up to 55 hoursi of play on a full charge or get up to 6 hours of use after a quick 15-minute USB-C fast-charge.i
Tri-Mode Connectivity
Experience crisp, lag-free audio when using our USB-C Wireless Dongle to pair the AW920H with your PC. Plus, by using Bluetooth 5.2 or a 3.5mm jack, you can also connect the headset to your phone or other consoles, respectively.
Endless comfort
Leatherette memory foam earpads, intuitive volume control, integrated microphones, a detachable boom mic and a slim, firm-fitting headband provide a comfortable and secure listening experience—perfect for gaming, talking on the phone or listening to music on-the-go.
Legendary style Premium Design
Available in an envy-inducing Lunar Light colour option, the AW920H rocks the iconic Alienware Legend 2.0 design, for a modern, unforgettable look.
Light It Up
AlienFX lighting syncs with Alienware Command Center so you can customise your lighting or toggle the RGB lighting on/off using the touch interface, no matter where you are.
Battle-Ready
Die-cast headband sliders make the AW920H sleek, durable and ready for all your gaming.