Hardware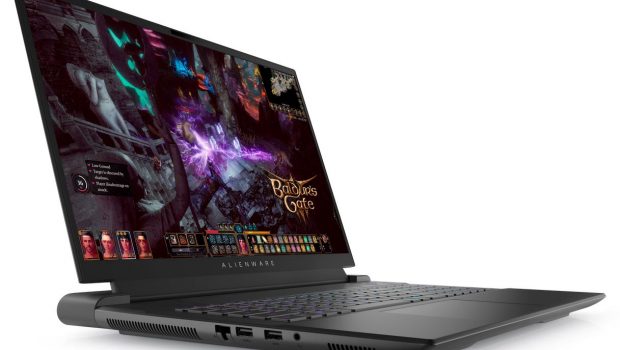 Published on November 5th, 2023 | by Andrew Paul
Alienware m18 Review (Your gaming desktop rig just got worried)
Summary: The Alienware m18 is a pure performance driven gaming laptop
Welcome to one of the most impressive gaming laptops of 2023 with the Alienware m18 that boasts a whopping 18″ QHD+ display and is powered by the Intel Core i9-13980HX processor with 64GB of RAM that comes with the NVIDIA RTX 4090 GPU (16GB)… and yes, your gaming desktop rig should be worried because the Alienware m18 packs a true performance punch! It also comes with a 2TB NVMe SSD with Windows 11 Home, Killer Wi-Fi 6E + Bluetooth and a 6-cell battery (97W) that are just some of the highlights of the new Alienware m18.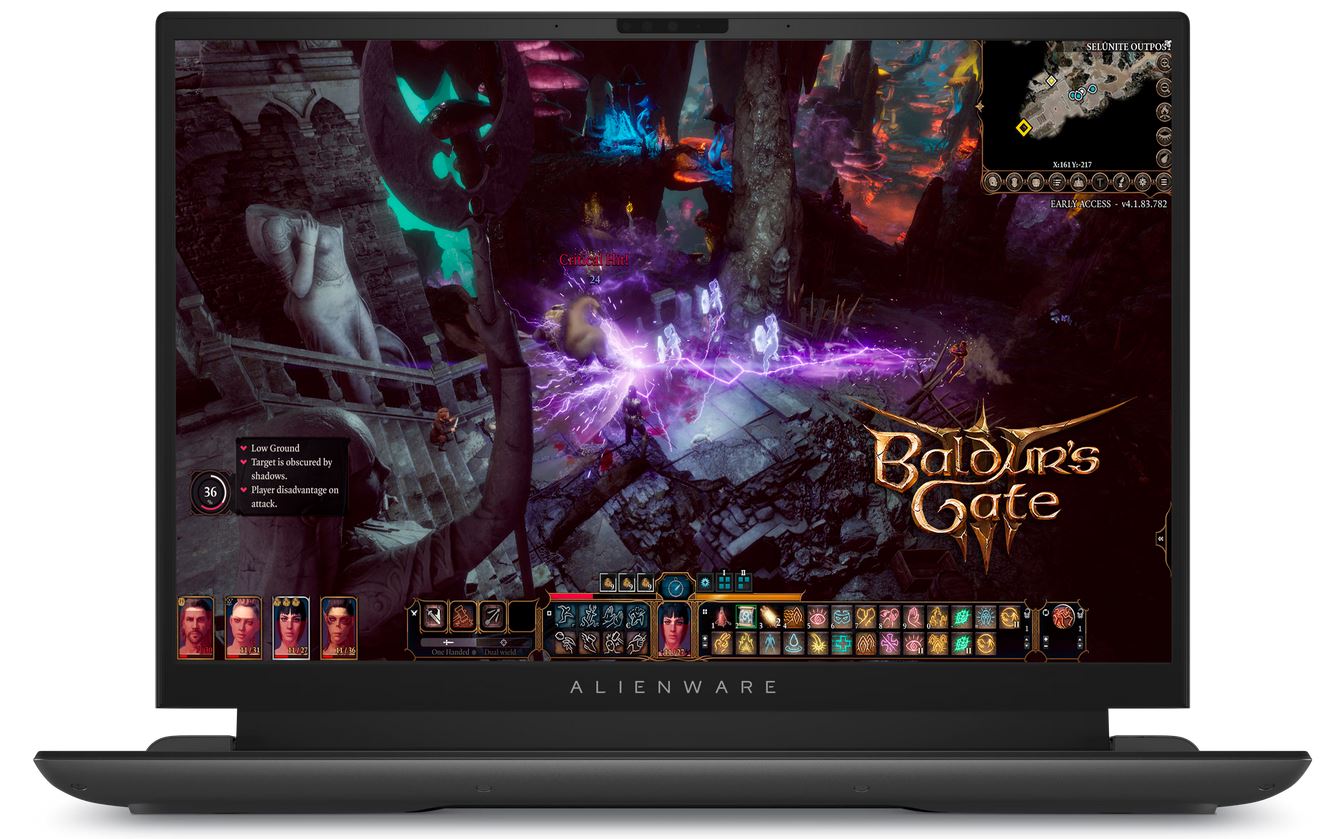 It's basically a gaming desktop minified into a laptop!
The build quality of the Alienware m18 screams gamer from its RGB lighting, Cherry MX Mechanical keyboard and stylish accents that sets itself from its competitors. Like other Dell and Alienware products, you can customise the components of their computers and laptops which is great for those wanting more or less, depending on budget and need. The m18 also comes in a colour called "dark metallic moon", including a metallic lid which includes the Alienware logo that makes it look quite distinct and more importantly, it means gaming business.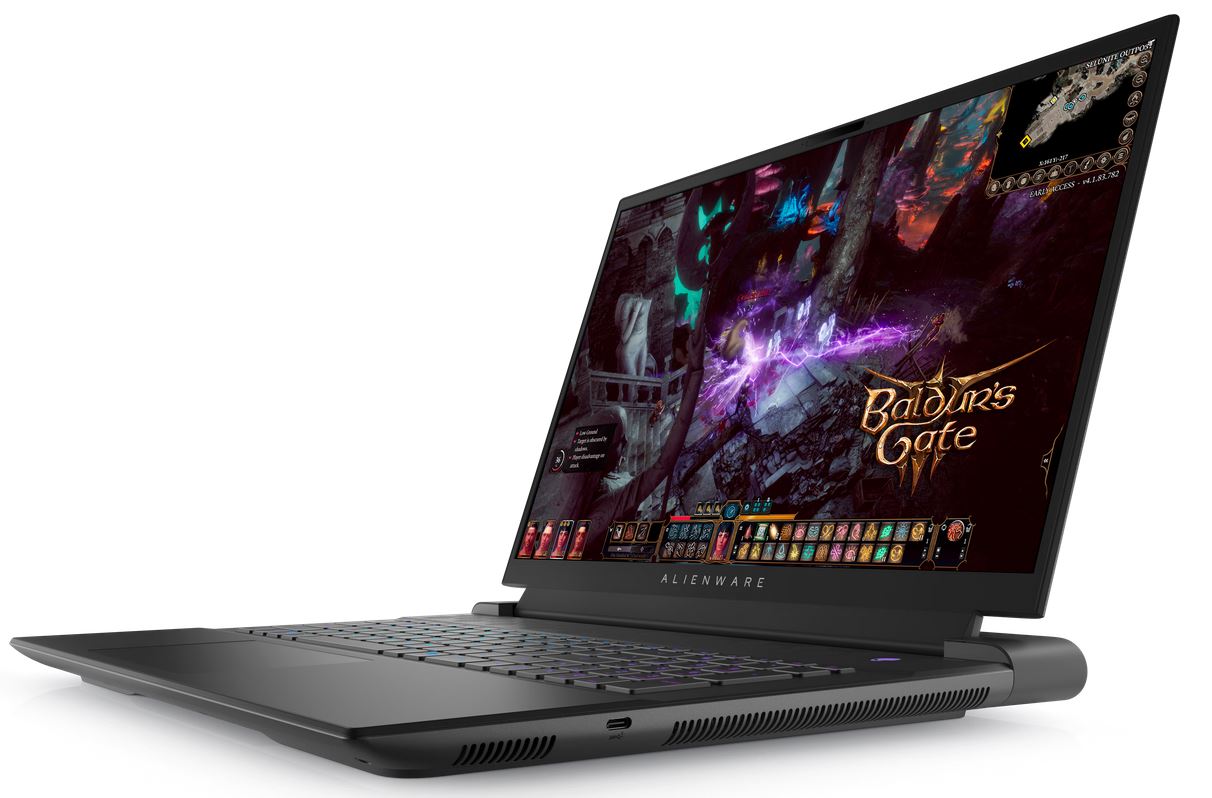 Alienware m18 Specifications
Processor
13th Gen Intel® Core™ i9-13980HX (36 MB cache, 24 cores, 32 threads, up to 5.60 GHz Turbo)
Operating System
Windows 11 Home, English
Video Card
NVIDIA® GeForce RTX™ 4090, 16 GB GDDR6
Display
18″ QHD+ (2560 x 1600) 165Hz, 3ms, ComfortView Plus, NVIDIA G-SYNC + DDS, 100% DCI-P3, FHD IR Camera
Memory
64 GB: 2 x 32 GB, DDR5, 4800 MT/s
Storage
2 TB, M.2, PCIe NVMe, SSD
Camera
1080p at 30 fps FHD IR camera
Dual-array microphones
Audio and Speakers
Stereo speakers, 2 W x 2 = 4 W total
Realtek ALC3254
However all this portable gaming goodness does come at a cost which is around $5666AUD (November 2023) for the high-end model but if you're looking to replace your desktop or seeking a more portable solution with an 18" screen, then the Alienware m18 definitely fits that criteria.
While it is a gaming laptop, it is large at 410.30mm (width) x 319.90 (depth) x Height (rear): 25.10 mm / Height (peak): 26.70 mm / Height (front): 24.10 mm and is quite heavy at 4.04 kg. Yes you can play it lounging on the couch, however it is more a portable desktop replacement due to the size.
Speaking of screen quality, the m18 18" QHD+ display boasts a crystal clear resolution of 2560 x 1600 which produces exceptional text, image and video quality. It also has a refresh rate of 165Ghz for smooth gaming without tears or ghosting and it also supports Nvidia G-Sync.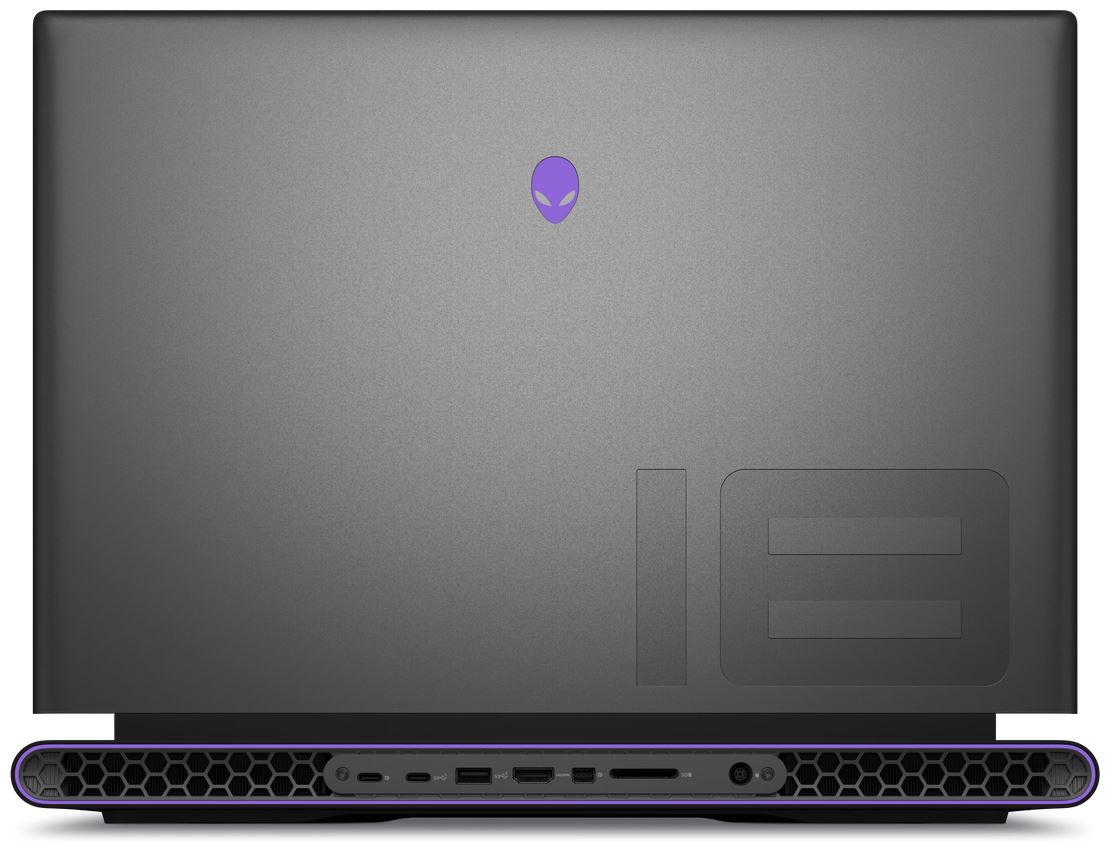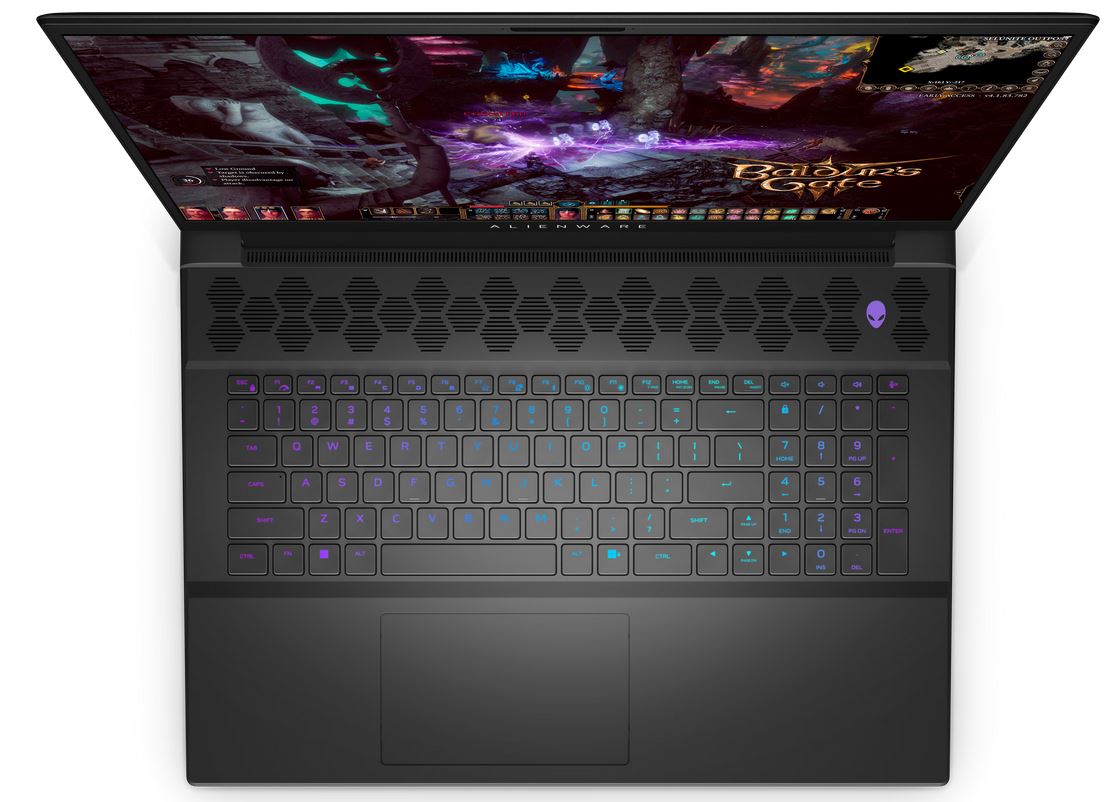 There are also a plethora of ports on the m18 that include;
1 USB 3.2 Gen 1 port with PowerShare
3 USB 3.2 Gen 1 ports
2 Thunderbolt™ 4 Gen 2 Type-C® ports with DisplayPort Alt Mode/USB4
1 RJ45 Ethernet port
1 Universal audio port
1 HDMI 2.1 port
1 power-adapter port
1 mini-Display port
1 SD-card slot
Unboxing Gallery
As you can see from the above and below unboxing images, the Alienware m18 is an impressive looking piece of tech.
To achieve the gaming performance behind this gaming laptop, Alienware incorporate a proprietary thermal interface material called "Element 31" to dissipate heat on both the CPU and GPU, including a vapour chamber on both these components to move the heat away. Additionally it has quad fans to improve airflow and also heat pipes to push the hot air out of the laptop. And as the NVIDIA GeForece RTX 40 Series also supports ray tracing to create some of the most realistic gaming worlds thanks to real-time lighting and textures so cooling is a must. For the most part, it is a quiet laptop, however can get loud for some gaming titles.
Benchmarks
In terms of benchmarks, this laptop boasts some of the latest components and we used a variety of different benchmarking tools that included AIDA64, Geekbench and 3DMARK.
AIDA64
AIDA64 is a system information, diagnostics, and auditing application developed by FinalWire Ltd and has its own benchmarking tools that provides an excellent reference to other systems. It also confirms the components behind the Alienware m18.
As you can see from the above comparisons for the tests CPU- Queen, FP32 Ray-Trace and FP64 Ray-Trace, the Alienware m18 definitely scores quite well.
3DMARK
3DMark is a computer benchmarking tool created and developed by UL, to determine the performance of a computer's 3D graphic rendering and CPU workload processing capabilities. Running 3DMark produces a 3DMark score, with higher numbers indicating better performance
So where does the Alienware m18 sit with 3DMARK? It's a gaming laptop, that's for sure and score just under a high-end gaming PC for 2023 that for a portable device is impressive.
Geekbench
Geekbench is a proprietary and freemium cross-platform utility for benchmarking the central processing unit and graphics processing unit of computers. Again, the Alienware m18 scored well for both single-core and multi-core tests that cements it as one of the fastest laptops around.
Game Tests
Assassin's Creed Mirage is a 2023 action-adventure game developed by Ubisoft Bordeaux and published by Ubisoft. The game is the thirteenth major installment in the Assassin's Creed series and you play Basim, a cunning street thief with nightmarish visions seeking answers and justice. On highest detail, the game not only plays well but it looks gorgeous on the Alienware m18.
Star Wars Jedi Survivor
Star Wars Jedi: Survivor is a 2023 action-adventure game developed by Respawn Entertainment and published by Electronic Arts. You play as Jedi Cal Kestis who must once again challenge the dark side in this third person action adventure game. Like Assassin's Creed Mirage, it is a 2023 game and again plays perfect on the Alienware m18, the only thing missing is a gaming controller.
Cyberpunk 2077 Phantom Liberty
Phantom Liberty is a spy-thriller expansion for the open-world action-adventure RPG Cyberpunk 2077. As cyber-enhanced mercenary V, join secret agent Solomon Reed to unravel a web of shattered loyalties and sinister political machination. For an open-world sci-fi game, the developers have successfully created this almost Blade Runner type atmosphere that works and plays very well on the m18.

Starfield
Starfield is the first new universe in over 25 years from Bethesda Game Studios, the award-winning creators of The Elder Scrolls V: Skyrim and Fallout 4. If you love open-world sci-fi RPG's, then Starfield is the game for you and if you want to play it on the go (e.g. gaming laptop), again the m18 Alienware delivers an immersive experience.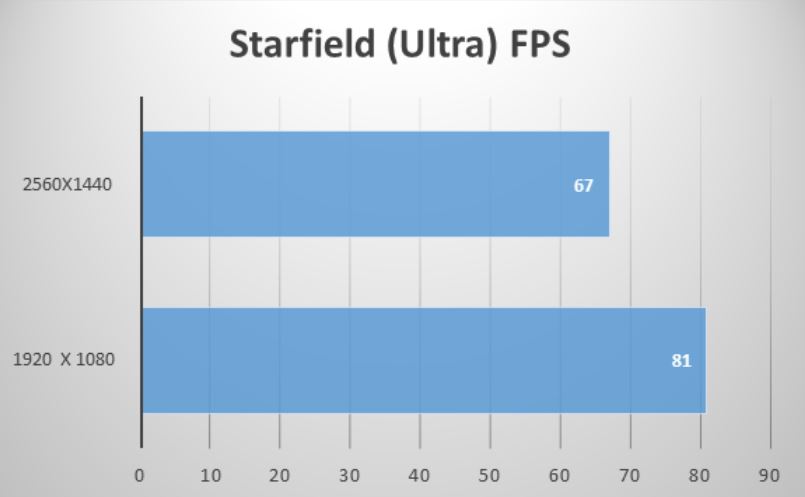 F1 23
F1 23 is a racing video game developed by Codemasters and published by EA Sports. It is the sixteenth entry in the F1 series by Codemasters. Car games and lovers of racer will also enjoy the performance produced by the m18 that as a result, successfully creates that sense of speed on this gaming laptop that is fast and looks spectacular. Zoom zoom!
Gaming benchmarks? As expected, the Alienware m18 is indeed a gaming laptop and the only thing missing from the price of admission is a gaming controller. Given the components there is also an element of futureproof and besides an excellent gaming laptop, it is also a desktop workhorse as well.
Final Thoughts?
The Alienware m18 is a beast when it comes to gaming but all this "portable" gaming power does come at a cost which is $5666AUD (November). However if you're looking to reclaim more room from your desktop but still play the latest and greatest games at eSports levels, then this gaming laptop definitely becomes THE contender for 2023.
Impressive!