Events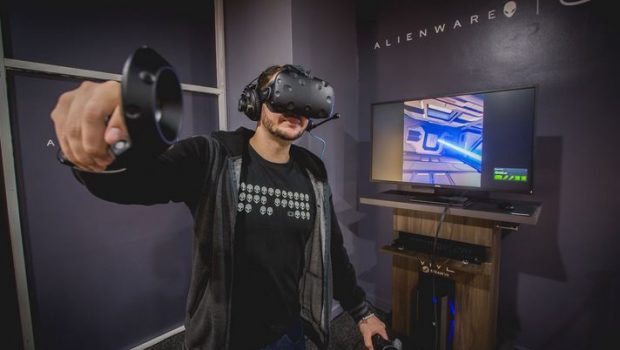 Published on August 18th, 2016 | by Admin
Alienware Live AU opens today
Sydney – August 18, 2016 – Alienware, the leader in high-powered gaming systems, will today open the doors to its first Aussie PC gaming space, Alienware Live AU, in conjunction with Sydney-based gaming café, City Hunter. Alienware Live AU is a premier gaming lounge which features 28 high-end machines from the entire range of Alienware products. It showcases the latest gaming innovations like virtual reality, 4K gaming, and more.
"Community has always been at the centre of what we do at Alienware, so we can't wait to share the Alienware Live AU space with our Aussie fans," said Ben Jackson, General Manager, Consumer and Small Business.
"The opening of Alienware Live AU marks another milestone in our 20 years of innovation, which has seen us invent categories like gaming laptops and deliver high-end gaming experiences to customers around the world."
The 28 high-end PCs powering Alienware Live AU include the iconic Alienware Area 51, newly released Aurora desktop PC, Alpha R2 micro-PC, and the entire laptop range. Also on display is the Alienware Graphics Amplifier, which allows users to plug in any PCIE graphics card to bolster their gaming specs with Alienware laptops and the Alienware Alpha R2. Alienware Live AU is also home to dual Oculus Rift and HTC Vive set ups, demonstrating how seamless Alienware hardware can integrate into the new emerging platforms.
On top of serving as a venue to showcase Alienware's hardware, Alienware Live AU also acts as a local hub for the gaming community. The venue will host regular meet ups, tournaments, and be used to give fans a sneak peek at upcoming game releases prior to launch. To stay tuned to events happening at Alienware Live AU follow @AlienwareOz on Twitter and check out the City Hunter website.
"At its core City Hunter is all about community and we couldn't think of a better way to deliver a premium gaming experience to our fans than partnering with Alienware to bring Alienware Live AU to life," said City Hunter Co-Founder Jun Zhong.
"A lot of planning has gone into Alienware Live AU, with every little detail worked to ensure we've built a space that we ourselves would want to play in."
Alienware Live AU is now open to the public and will be free to access from August 19-21. Opening hours and prices can be found on the City Hunter website. For more information, please follow @AlienwareOz on Twitter. To celebrate the opening, City Hunter and Alienware Live AU will be offering selected premium experiences free of charge, for the first two weeks. Bookings through the City Hunter website will be essential.