Comics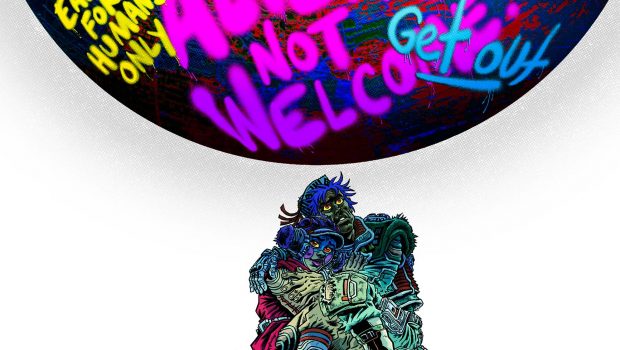 Published on September 23rd, 2023 | by Adrian Gunning
Alien Refugees GO HOME: The Devil's Railroad Begins in 2000 AD Prog 2352
A major new series starts in 2000 AD Prog 2352, out on the 4th October, as the powerhouse creative team of Peter Milligan, Rufus Dayglo, Jose Villarrubia and Jim Campbell present The Devil's Railroad.
Set in the Year 3038. the series follows Constance and Palamon, a young couple who have just found out something that changes everything: Constance is pregnant. But their home on Diaspora X-167 is trapped in the middle of a cosmic warzone, subject to nightly bombing raids… and no place to raise a family.
The couple have no choice but to evacuate their home planet in an attempt to make their way across the dangers of the galactic warzone – and to Earth. All humanoid babies born on Earth become Earth Citizens with full Earth rights, guaranteeing them a chance at a safer and more secure future.
But in order to make their way to the planet, they'll have to first brave the notorious and incredibly dangerous smuggling route known as The Devil's Railroad…
A deeply resonant and powerful exploration at what drives people to leave their homes and seek a better life for themselves and their families, The Devil's Railroad is a politically-charged series which deals with themes of home, identity, immigration and belonging. If you're a fan of stories like Saga, Children of Men or The Last of Us, The Devil's Railroad is a can't miss series!
The Devil's Railroad begins in 2000 AD Prog 2352, out on the 4th October 2023