Books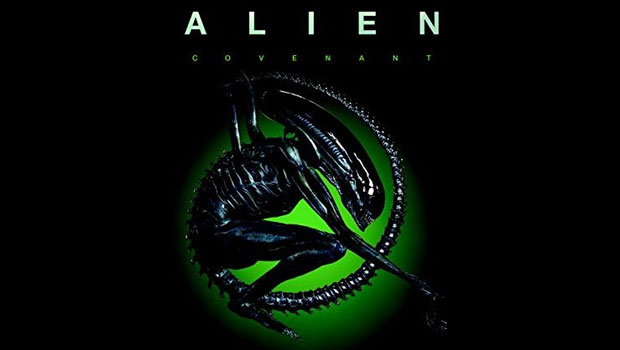 Published on August 13th, 2017 | by Tony Smith
Alien Covenant Official Souvenir Edition Review
Summary: Alien Covenant Official Souvenir Edition is a great snapshot into the cast, crew and making of this sci-fi movie based in the Alien universe.
If you're a fan of Alien Covenant, this official souvenir edition from Titan is your one stop destination for all things Covenant. Collecting a wealth of content from the film, this book is filled with production stills, concept art and interviews with some of the key cast and crew from the movie such as Michael Fassbender and Katherine Waterston, including the legendary Ridley Scott himself.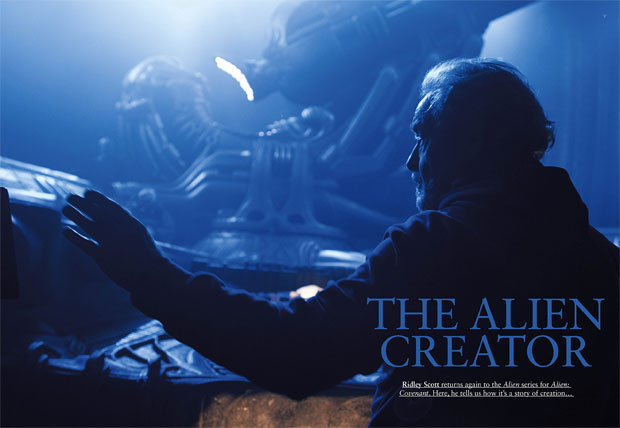 Furthermore Alien Covenant is a prequel to the 1979 film Alien and is a sequel to Prometheus which starred Michael Fassbender as the enigmatic and quite crazy synthetic called "David". In the film, a group of colonists believe that they have found a habitable paradise for humanity, however they soon discover that this world is far from perfect. Not only is this the home world of the Engineers, it is also the birthplace of the xenomorphs where the colonists discover the final fate of the Prometheus in this sci-fi blockbuster of epic proportions.
Channeling its magazine roots, the Alien Covenant Official Souvenir Edition collects some in-depth interviews with the cast and crew who describe their experience on the set, including bringing these creations to life and how the movie was made. Add in some behind the scenes photography and this is a nice peak into the film, its characters and the people who brought it to life in the real-world. I also like how the text is just right, without it being overtly heavy and is accompanied by some beautiful colour images.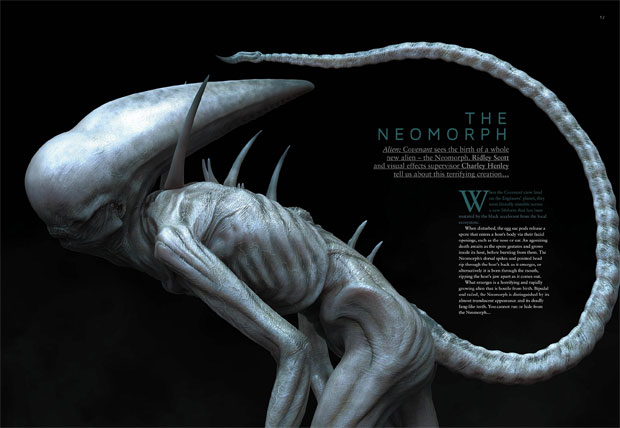 The first page of the book contains a list of the crew aboard the Covenant which is followed by a table of contents and opens up with a great interview with Ridley Scott about his return to the franchise. Following this are a wealth of interviews from the cast and crew, including sections on the aliens themselves, the Nenomorph and the Xenomorphs. Both these aliens are quite scary looking creatures and seeing the high quality images of them definitely showcases them in a new light.
Like other books from Titan, it's a well presented title with good production values and nothing feels cheap of flimsy. The highlight of this book for me however was reading the pages dedicated to the crew of the Covenant and the actors who portrayed them. Furthermore, the images in this compendium are quite impressive and it's great revisiting this universe in book form as it gives you an insight into not just the characters and the world from the film but also the people behind it.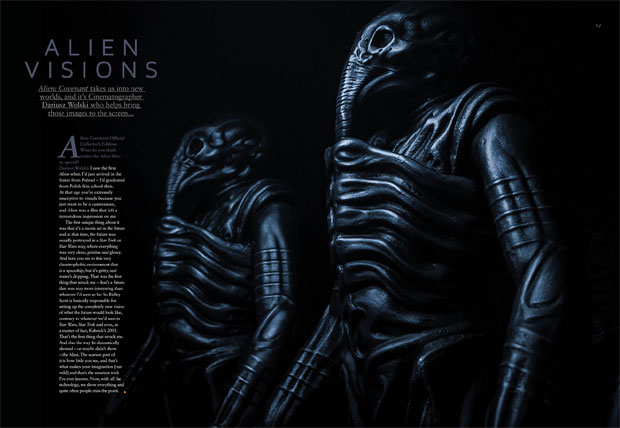 Final Thoughts?
The Alien Covenant Official Souvenir Edition salutes the film with a wide gamut of content that is backed with some stunning images that I can happily recommend to all fans of this franchise!