Comics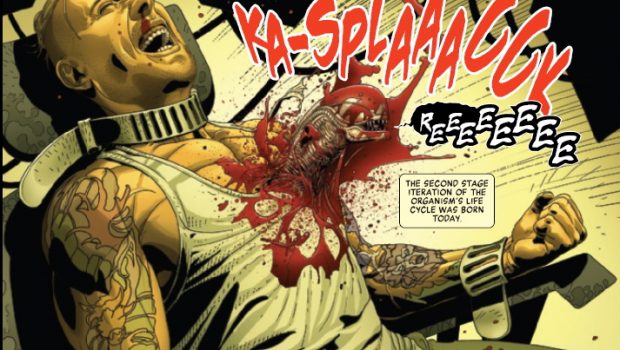 Published on July 26th, 2022 | by Tim Chuma
Alien Annual #1 (2022) Review
Summary: Mucho Alien violence fun without the need to rehash the movies again. Well worth a look as it is a self-contained story.
13 years after Gabriel Cruz was the only survivor of his crew and bought back a xenomorph alive, the company has sent him and the colonial marines to put down a rebellion on one of their stations. What he doesn't know is that is a ruse to test the xenomorph in the real world as a bio-weapon. When things go south with the operation the synthetic on board is programmed to change the mission and report in while not telling the crew and trying to stop them killing it. Who will survive?
Aliens as a comics series now has a lot of different stories in the series. There are only so many times they can retell the events of the original films. It is actually better if they do something different at this point as it makes it more likely for people to want to read it.
I enjoyed this story as it had a lot of action in it and was a self-contained story. There was another Alien series that had an ongoing story and I had difficulty understanding what was going on dipping in and out of it. The company never seems to learn that they cannot control the xenomorph and seems to make the same mistakes every time.
There is no Predator in this version of the story and it does not seem to figure in this version of the story as it is truer to the film version.
Well worth a look if you want a story based on the Alien franchise that you can read in the one sitting and not have to know anything that happened before.
Comic details:
Writer: Phillip Kennedy Johnson
Penciler: Salvador Larroca
Cover Artist: Salvador Larroca
Publisher: Marvel
Published: July 20, 2022