Comics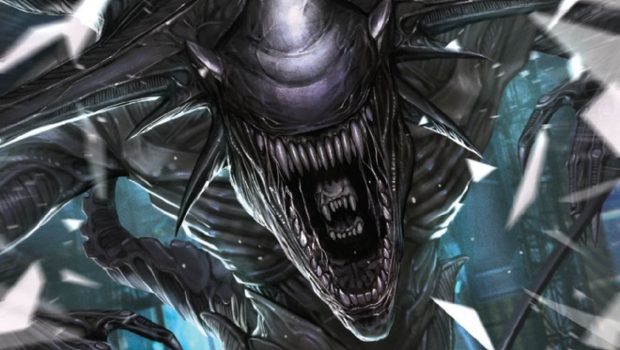 Published on August 17th, 2021 | by Richard Banks
Alien #5 Review (Marvel Comics 2021)
Keeping the momentum going in Philip Kennedy's Alien run has proven no small feat. In the last couple of issues, we've seen a slight dip in story development and genuine 'big' moments, but Alien #5 provides some key progression and a thrilling cat and mouse chase, helping to bring the pacing back up to the exciting levels we saw in earlier issues.
With Gabe and a still unconscious (and Face-Hugged) Danny separated from Iris and Bishop, the chances of the groups survival begins to look bleak. Following last issues destruction of the survivors shuttle, they're left to find an alternative escape method from the infested Epsilon Station. Giving chase is a group of angry Xenomorphs, led by the, now fully grown, Alpha that's troubled Gabe since his last visit to the doomed station.
The issues attention is split between both pairs, with Gabe offering a look at his internal struggles, particularly that of his poor relationship with his son, as well as his haunted id that keeps him held in the Xenomorph's intoxicating grasp. We still don't know much about the Queen Xeno we've had a few glimpses off, but the more we learn about Gabe, the more excited I am to delve into her character and learn more about this new and exciting Xeno-type.
There's a good portion of the issue spent following Iris and Bishop too, as they try and find an alternative escape method. There's some interesting character development here, especially around Iris and her relationships with Gabe and Danny, as well as her feelings toward Bishop, but it does feel rushed. Iris has been around since the start of the series as something of an antagonist, and it's important to understand why, so it's a disservice to her character development to glance over it so unceremoniously.
While it's the first issue in a while I've not loved Larroca's character art (there's still something a little off about the human's facial movement and designs), I adore the design of the Alpha, to the point it's one of my favourite 'new' Alien designs in years. The last few pages offer some genuinely terrifying scenes, in which the creatures are at the forefront, and it's these moments Alien fans will relish.
4/5