Events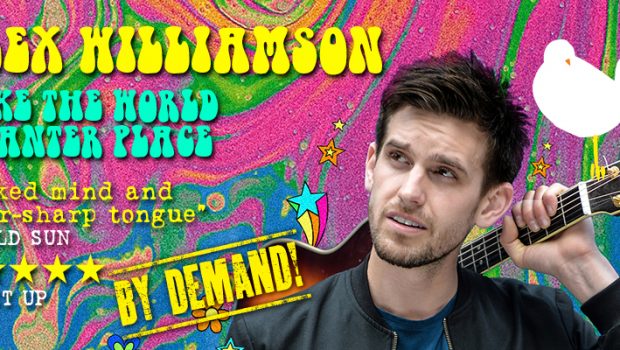 Published on September 14th, 2017 | by Admin
ALEX WILLIAMSON | Announces encore Perth show this October | Tickets on sale now
Comedian and online content creator Alex Williamson spent the first half of the year performing his latest stand-up show Make The World A Banter Place to sold out crowds at Adelaide Fringe, Brisbane Comedy Festival, Melbourne International Comedy Festival, Sydney Comedy Festival, Perth Comedy Festival, Edinburgh Fringe and across New Zealand.
Now, after the success of his festival run, Alex is returning to Western Australia for a one night only encore performance of his smash hit show at Perth's Octagon Theatre on Friday 20 October. Tickets are on sale now.
★★★★ 'Williamson's show is modern comedy at its finest' – All About Entertainment
'On stage, the South Australian is the definition of slick: confident in his material, an effortless rapport with his adoring audience, energetic, zipping through his gags with relish.' – Herald Sun
Alex has proven to be a huge runaway hit with the YouTube generation, gathering 2.5 million followers and hundreds of millions of views across his social media platforms. He began performing stand up in 2007, going on to be a state finalist in triple j's 2009 RAW Comedy competition. After a stint in radio, Alex relocated to Los Angeles where he performed duties for The Hot Hits Live From LA, gathering content from various A-List celebrities at red carpet events.
In 2012, Alex brought his various online characters, songs and stand-up comedy to life in a hilarious live stage solo show, Alex Williamson and Friends. This show and his subsequent live shows have sold out countless times at all the major comedy festivals since 2012, and internationally at the Edinburgh Fringe from 2013, where on his debut he was called "the future of comedy" by the most notorious reviewer in the UK, The Scotsman's Kate Copstick. In 2015, Alex starred alongside Aussie comedy greats Jim Jefferies and Greg Fleet in zom-com Me and My Mates vs The Zombie Apocalypse.
★★★★ ½ 'When it comes to this loose unit, nothing is off limits…We warn you now: Alex's show isn't for the easily offended – it's unfiltered, politically incorrect and downright naughty!' – This Is Radelaide
'If you're not afraid of going to hell, go see Alex Williamson. If you laugh, it's nothing a few Hail Mary's can't fix.' – Lot's Wife
Darkly intelligent and crassly funny Alex Williamson is selling out theatres across the world. Perth, don't miss your last chance to catch his latest live offering Make The World A Banter Place this October – get in early and see what comedy looks like in the 21st Century!