Comics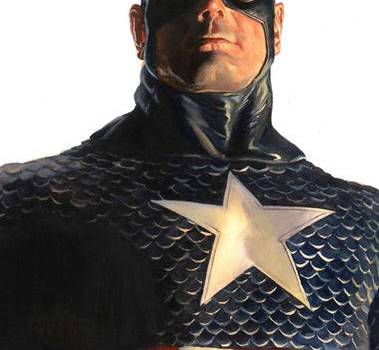 Published on July 28th, 2020 | by Adrian Gunning
ALEX ROSS OFFERS A BEHIND-THE-SCENES LOOK INTO THE MAKING OF A TIMELESS MURAL IN MARVEL'S NYC OFFICES
Over the last two months, the humble House of Ideas has revealed 28 "Timeless" variant covers created by Modern Marvel Master Alex Ross, which will begin to hit shelves at your local comic shop in September. Now, you can get a rare glimpse inside Ross's amazing artistic process! Check out a special video and watch as Ross crafts his iconic painted covers and see how his timeless imagery was made into a magnificent mural in Marvel's NYC offices!
Each terrific Timeless variant of Marvel's greatest heroes brought to life by the iconic art of the relentlessly revolutionary Ross. Behold Spider-Man, Storm, Wolverine, Namor, and more in painted portraits, depicted in their most classic and beloved costumes. And don't miss your chance to begin collecting all 28 of these stunning variant covers at your local comic shop starting in September!
See below for a complete list and gallery of the Timeless variant covers available in just over a month!
September 2020
X-FACTOR 4 ANGEL TIMELESS VIRGIN VARIANT
IRON MAN 1 TIMELESS VIRGIN VARIANT
EMPYRE FALLOUT: FANTASTIC FOUR 1 SUB-MARINER TIMELESS VIRGIN VARIANT
IMMORTAL SHE-HULK 1 SHE-HULK TIMELESS VIRGIN VARIANT
FANTASTIC FOUR: ANTITHESIS 2 SILVER SURFER TIMELESS VIRGIN VARIANT
IMMORTAL HULK 37 HULK TIMELESS VIRGIN VARIANT
GIANT-SIZE X-MEN: STORM 1 STORM TIMELESS VIRGIN VARIANT
STRANGE ACADEMY 3 DR. STRANGE TIMELESS VIRGIN VARIANT
CAPTAIN AMERICA 23 CAPTAIN AMERICA TIMELESS VIRGIN VARIANT
FANTASTIC FOUR 24 HUMAN TORCH TIMELESS VIRGIN VARIANT
FANTASTIC FOUR 24 INVISIBLE WOMAN TIMELESS VIRGIN VARIANT
FANTASTIC FOUR 24 MISTER FANTASTIC TIMELESS VIRGIN VARIANT
FANTASTIC FOUR THE THING TIMELESS VIRGIN VARIANT
AVENGERS 36 GHOST RIDER TIMELESS VIRGIN VARIANT
October 2020
AMAZING SPIDER-MAN 50 SPIDER-MAN TIMELESS VIRGIN VARIANT
DAREDEVIL 23 DAREDEVIL TIMELESS VIRGIN VARIANT
EXCALIBUR 13 NIGHTCRAWLER TIMELESS VIRGIN VARIANT
FANTASTIC FOUR 25 BLACK BOLT TIMELESS VIRGIN VARIANT
FANTASTIC FOUR: ANTITHESIS 3 MEDUSA TIMELESS VIRGIN VARIANT
HELLIONS 5 PHOENIX TIMELESSS VIRGIN VARIANT
MARAUDERS 13 ICEMAN TIMESLESS VIRGIN VARIANT
NEW MUTANTS 13 COLOSSUS TIMELESS VIRGIN VARIANT
SHANG-CHI 2 SHANG-CHI TIMELESS VIRGIN VARIANT
SPIDER-WOMAN 5 SPIDER-WOMAN TIMELESS VIRGIN VARIANT
THOR 8 THOR TIMELESS VIRGIN VARIANT
WOLVERINE 6 WOLVERINE TIMELESS VIRGIN VARIANT
X-FORCE 13 BEAST TIMELESS VIRGIN VARIANT
X-MEN 13 CYCLOPS TIMELESS VIRGIN VARIANT