Hardware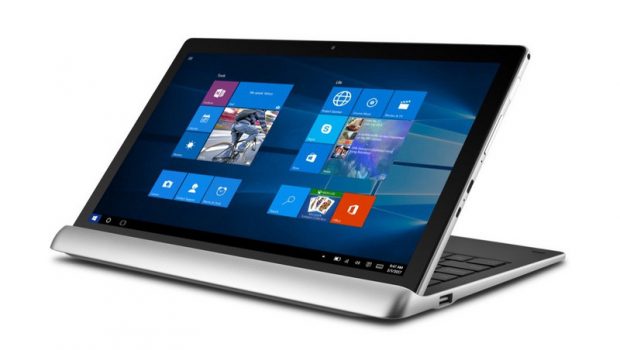 Published on November 1st, 2017 | by Admin
Alcatel PLUS 12 Takes Portable Productivity to New Heights with first 2-in-1
Alcatel's premier post-paid device, a powerful 12" 2-in-1 Wi-Fi tablet 
SYDNEY, Australia – November 1, 2017 – Alcatel has today announced the launch of its first 2-in-1 connected tablet for Australia with the release of the PLUS 12. Designed as the ultimate mobile office, the Alcatel PLUS 12 is powered by Windows 10, has a crisp 12-inch full HD display, detachable soft keyboard, a sleek and modern design, Wi Fi connectivity and all the features needed to maximise productivity on-the-go. As with Alcatel's focus on accessibility and affordability, the PLUS 12 delivers this for $558 outright, while also being available in a post-paid option.
"The PLUS 12 is the first 2-in-1 device that we have released and it's an exciting time to be diversifying our range and how it can be purchased.  With Aussie's always on the move and busier than ever, we wanted to deliver a versatile device that doesn't demand top dollar or compromise on productivity," said Sam Skontos, VP and Regional Managing Director of South East Asia and Pacific Alcatel Mobile.
"While there is naturally the outright purchase at a fantastic price, the PLUS 12 is also Alcatel's first post-paid product on the market, making the price even more compelling. This is an exciting step forward for Alcatel, as we continue to offer feature-rich devices at a competitive price point," he added.
Connectivity on the move
With fast Wi-Fi connectivity, the PLUS 12 makes it easy to communicate and collaborate with colleagues, create documents, spreadsheets and presentations, read an e-book, browse the Web, and share a presentation video in amazing quality on its 12-inch full HD display, wherever you are.
For high-quality videoconferencing, it has a 5MP front camera, loud dual speakers, and a digital microphone. The PLUS 12 also includes a detachable Soft Elegant Keyboard, making it easy to work on more detailed documents.
Productivity on the move
The PLUS 12 boasts laptop-like productivity and impressive performance even with the most demanding apps, thanks to the Intel® Celeron N3350 CPU. It also makes full use of the new features of Windows 10, including Windows Hello fingerprint recognition for fast, password-free sign-in and the new Windows Ink note and annotation feature. Cortana personal digital assistant is built-in to help find things, complete tasks, set reminders and work more productively.
The PLUS 12 also has multiple ports, including USB-C, USB-A, micro-HDMI and audio jack, enabling connections to an assortment of peripherals such as external storage, mouse, speakers, headphones, secondary screen and more.
Modern and professional design
The compact PLUS 12 is one of the lightest 12-inch 2-in-1s on the market, weighing in at just 990 grams, making it very convenient to carry. It has a sleek metal front casing with a premium brushed effect, creating a professional and modern look.
Specifications
Display: 11.6" FHD 1920×1080 IPS, Full Lamination
Camera: 5MP Front Facing
Memory: 4GB/32GB, expandable up to 128GB via micro SD
Battery: 6900mAh (tablet)
Processor: Intel Celeron Processor N3350
Operating System: Windows 10
Audio: Dual speakers
Interface: USB Type-C, 3.5mm audio jack, micro HDMI, micro SD card slot
Connectivity: Wi Fi Only
Colour: Sideral Gray
Other features: Fingerprint Scanner
Inclusions: Full Soft Elegant Keyboard with touch pad 
Pricing and Availability
The Alcatel PLUS 12 is available now from Vodafone with an outright price of RRP$558 or via several post-paid options.