Hardware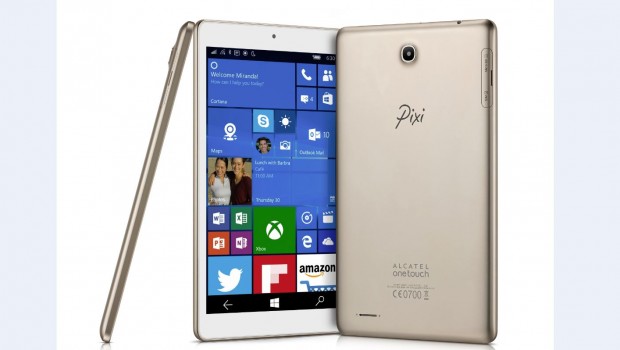 Published on January 4th, 2016 | by admin
ALCATEL ONETOUCH Launches PIXI 3 8-inch Tablet with Windows 10 at CES 2016
ALCATEL ONETOUCH, a leading lifestyle-driven global mobile and tablet brand, is unveiling a range of exciting new products at the International Consumer Electronics Show (CES) 2016.
Now third in the Australian mobile market by volume (across both smartphones and feature phones)*, today's announcements reflect aggressive global growth plans that will include significant broadening of its product portfolio in Australia and New Zealand throughout 2016. Key CES announcements include:
–       PIXI 3 8-inch Tablet with Windows 10: An entry-level, 8-inch tablet and the brand's first tablet to offer the Windows 10 Mobile operating system. With a Qualcomm chipset driving 4G LTE connectivity, it is perfect for fast downloading and smooth browsing. The PIXI 3 (8) also offers customisation through Colour Skins and Flip Stand covers, and other hot features including TV remote control, GPS, and front and rear cameras.
–       Continued Innovation meets Affordability – PIXI 4 Family: The brand-new PIXI 4 family includes 3.5-inch and 4-inch smartphones, a 6-inch phablet and a 7-inch tablet — premium yet entry-level devices offering a comprehensive user experience in design, audio, camera and battery life. PIXI 4 offers consumers the best design and features in the entry-level market.
"The new products we will be showcasing to Australian carriers and retailers this week epitomise our commitment to accessible, affordable technology that delivers real benefits to our consumers. From parents to first-time smartphone users to tech savvy teens, we have a device to fit every need", said Sam Skontos, Regional Managing Director, Australia and Pacific, Alcatel OneTouch.
"We are looking to further solidify our #3 position in Australia and have strong growth ambitions in 2016 that will include launching some of the exciting innovations seen at CES in Australia in coming months. We have already had very positive feedback on our 2016 roadmap, and our passion to deliver stylish, high quality products to Australians without the hefty price-tag remains as strong as ever", he added.
Alcatel OneTouch is located at booth #9829 and #9840 at the International CES.