Films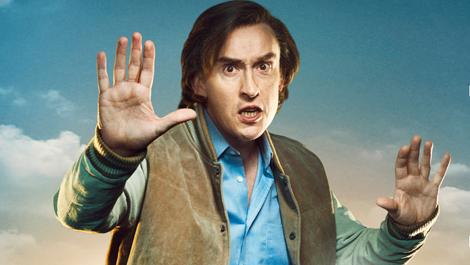 Published on October 22nd, 2013 | by Damien Straker
Alan Partridge: Alpha Papa – Film Review
Reviewed by Damien Straker on October 22nd, 2013
Studio Canal presents a film directed by Declan Lowney
Written by Neil Gibbons, Rob Gibbons, Steve Coogan, Armando Iannucci, Peter Baynham
Starring: Steve Coogan and Colm Meaney
Rated: M
Running Time: 90 minutes
Released: October 24th, 2013
Actor and comedian Steve Coogan first played his signature character Alan Partridge on the British radio show On the Hour. Between 1991 and 1992, this show parodied current affairs and British journalism by using a serious vocal tone to authenticate its comedic and satirical outlook on news stories. Its effectiveness was so great that apparently some listeners called in, believing the show was real, and complained about the way some of the presenters spoke on the air. In any brand of comedy a serious vocal tone and straight-face are essential because it veils the impression that someone is telling a joke. It becomes funnier to an audience if they believe that the person saying something absurd, stupid or ridiculous actually believes it. If they know that someone is making a joke and trying to make them laugh they are more likely to resist that type of manipulation.
Coogan's straight-faced Alan Partridge, an obnoxious radio sports reporter, is in a similar vein to other British comics like Mr. Bean. Both Bean and Partridge have similar broad traits. Both are selfish, self-absorbed, rude, generally mean-spirited and anti-social. They belong to the comedy of observational humour, where everyday slice of life situations implode because of their terrible relations with other people. If it were not for the brilliant way that Coogan and Rowan Atkinson keep straight-faced to show us what awful people these characters are, they wouldn't be as tolerable or as hilarious. Importantly, there is a purpose to their comedy, which is to hold up a mirror to society of how badly behaved it can be. Partridge is a reminder of just how obnoxious people in the media and the public sphere can be. The character has endured, just like the plethora of terrible radio shock jocks that thrive off bad publicity have continued to bolster their ratings numbers. Bad behaviour is still a formula for publicity.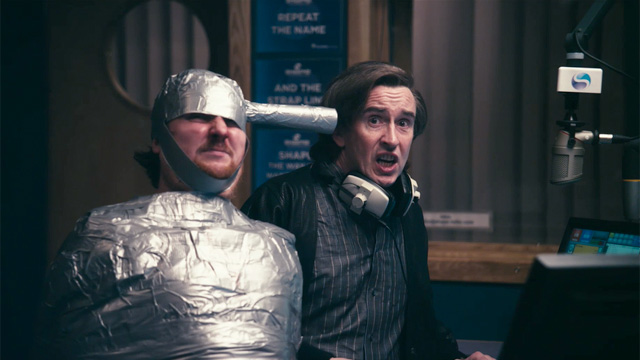 Alpha Papa is the first time the Partridge character has been in a feature film and though it's generally hilarious it still retains some dark edges in its crazy situations. Alan is on radio in Norfolk and oblivious to the dangers of the station being taken over by new owners and younger DJs replacing the current staff. This leads to a situation where Alan's colleague Pat (Colm Meaney) is fired from the station but decides to take the staff hostage inside the building. Alan is the only person he'll speak with as he continues broadcasting and keeping people at bay with a shotgun. Pat is actually the more sympathetic character between himself and Alan. On top of losing his job, he also thinks about the death of his wife. In one hilarious moment, he talks about bringing his wife to a pier and when Alan says how nice it sounds, Pat reminds him that he was talking about her ashes. Alan's first response is to make a comparison to bin Laden's funeral.
Alan thinks about his family too but he's been divorced and hilariously reminiscences about how awful it was spending time with his wife and their children. He's more concerned with his own self-preservation, fearing entering the hostage zone but also fantasising about being a gun slinging hero and dancing for the media and photographers outside. Transferring the character to film and widening the audience has meant that some of the humour is broader and slightly crasser too. There's a gag for example involving a lunchbox that's been defecated in and has to be blown up by a SWAT team, and also a moment where Partridge loses his pants climbing out a window. I still thought these types of gags and the film as a whole were extremely funny and laughed a lot. Steve Coogan knows this character backwards and excels in both physical slapstick comedy and in his comic timing. What skill it must take for a comedian to keep a straight face when discussing the joy garden gnomes bring to people's lives.
Summary: Steve Coogan knows this character backwards and excels in both physical slapstick comedy and in his comic timing.