Events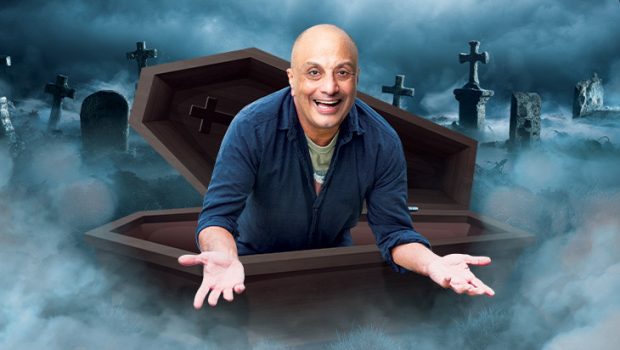 Published on April 3rd, 2023 | by Admin
Akmal Not Dead Yet Review @AkmalSaleh @micomfestival #MICF
Summary: Akmal Not Dead Yet is Akmal being Akmal!
Akmal, Australia's favourite Australian Egyptian returns in his new show Not Dead Yet who takes the audience on a very Australian experience from a very amusing of point of view. Akmal starts his gig by warming up with select audience members who end up being part of the show as he gives us a personal insight into his mind, including how he offended the South Australian town of Whyalla.
One of the main topics of Akmal Not Dead Yet was scams and unfortunately Australia is full of scams. From crystal scams to reki and even past life regression, Akmal successfully takes the mickey out of these subjects, including starting his own cult (then backing away) to the biggest scam he sees, religion as he shines a spotlight on craziness.
Akmal also discloses stories about him growing up from his ADHD to being bashed in Rockhampton to seeing a man in Puncbowl being given reki.. err… raked to disappointing his parents by no longer being religious. He talks about his hippie neighbours, including one called Mandy who sent Akmal and his wife a video of her giving birth to him thinking it would be fun to watch the baby go back inside, the mind of Akmal is indeed a horrifying yet hilarious at the same time.
Final Thoughts?
Akmal Not Dead Yet was a little rough at times but Akmal still succeeded in delivering plenty of lols for the entire audience with his honest yet engaging humour.
Check it out!
Akmal Not Dead Yet
Akmal will be returning to Melbourne International Comedy Festval because he was not careful with his money when he was funny and popular. He's still funny, however due to the avalanche of brown and black comedians his popularity has waned a little. So, this year Akmal has finally succumbed to the thousands of requests to perform in the nude. Don't miss this hilarious and highly erotic show.
Every night a lucky audience member will win Akmal's underwear!
Touching is allowed but please be respectful.
Private shows available behind the theatre at extra cost.
'A fantastic night, I loved him. ★★★★½' Adelaide Advertiser