Films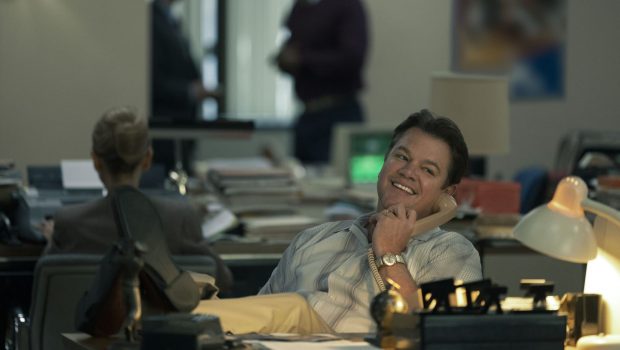 Published on April 7th, 2023 | by Damien Straker
Air – Film Review
Reviewed by Damien Straker on the 7th of April 2023
Universal presents a film by Ben Affleck
Written by Alex Convery
Produced by David Ellison, Jesse Sisgold, Jon Weinbach, Ben Affleck, Matt Damon, Madison Ainley, Jeff Robinov, Peter Guber, and Jason Michael Berman
Starring Matt Damon, Ben Affleck, Viola Davis, Jason Bateman, Chris Messina, Chris Tucker, Marlon Wayans, and Matthew Maher
Cinematography Robert Richardson
Edited by William Goldenberg
Rating: M
Running Time: 112 minutes
Release Date: the 6th of April 2023
Air's dry wit and engaging performances withstand its overlength and nostalgic lens. The film is the fifth directorial effort from Ben Affleck. His stone-faced intensity as an actor translated into a clinical brand of filmmaking through films such as Gone Baby Gone (2007), The Town (2010), and Argo (2012) before he stumbled with the clumsy gangster drama Live by Night (2016). Air now marks a solid start to Affleck's new production company, Artists Equity, which he launched with Matt Damon.
They are promising to offer participation points to filmmakers and other creatives who work with them. There is a degree of meta commentary here because Air's story about Nike signing a young Michael Jordan also doubles as a narrative about athletes receiving financial compensation. Though as much as the film is about business risks, one should not overstate Air's creative heights. It is enjoyable but carries the artistic limits of an inoffensive crowd-pleaser.
While labelled a sports movie, Air is a backroom comedy-drama that happens to involve basketball. In 1984, Sonny Vaccaro (Damon) works for Nike, scouts out players, and enjoys a stopover or two in Vegas. At this point, Nike is struggling in the shoe market against its rival brands Adidas and Converse. Nike plans to sign four athletes to promote their brand, but their marketing head, Rob Strasser (Jason Bateman), and a Nike executive, Howard White (Chris Tucker), are indecisive. Sonny hatches a brilliant but risky move.
Instead of signing several players, he presses Nike to only sign a young Michael Jordan to promote his own shoe line. Nike's co-founder, Phil Knight (Affleck), blasts Sonny for gambling on a youngster yet to play in the NBA. The decision would also be costly and set Phil at war with Nike's board. Michael's sports agent, David Falk (Chris Messina, excellent), presses Sonny not to talk to the young fellow without a meeting first. Yet knowing Adidas and Converse will converge with a sizable offer, Sonny takes a huge chance. He visits the Jordan family to convince Deloris Jordan (Viola Davis) that her son belongs with Nike. It soon dawns on Sonny that if his punt fails many careers will be at risk.
Air's biggest surprise is how its self-depreciating humour is a key feature of Alex Convery's screenplay. The other four films Affleck directed were intense dramas where levity was scarce except for Argo's dry wit. Air is the closest he has come to filming an outright comedy. The acidic barbs shared between the actors are often hilarious.
There are some incredibly funny scenes shared between Sonny and David Falk where the insults continue to escalate as Sonny is warned to stay away from his client. Meanwhile, there is no actor better suited to playing a sarcastic, smarmy marketing executive than Jason Bateman. One of his funniest quips is when he says Nike's slogan 'just do it' emerged from someone standing in front of a firing squad.
His early scenes are particularly strong as he presses his co-workers to quickly sign a player. We also learn he values his job because it connects him with his daughter each weekend. Even Affleck himself, who can be very uptight on screen, resists taking himself too seriously. Phil is an intense figure, but he still places his bare feet up on his desk and speaks in Buddhist-like cliches. Though as Sonny gently reminds him, the Dali Lama did not drive around in a purple sports car. Chris Tucker brings humour and zest to his scenes as he rapidly burns through his lines. His delivery brought big laughs at the film's early screening.
Sonny is the closest in years that Matt Damon has come to embracing a middle-age self-parody. His character is notably unfit, especially when he immediately fails to undertake track work. Strangely, Sonny's gambling is mostly used as a way of foreshadowing creative risks rather than being treated as a character flaw. Very little of his inner life is shown aside from the opening scenes where he undertakes a solo trip to Vegas. Matt Damon also looks nothing like the real Sonny Vaccaro. More positively, Air wisely includes Peter Moore who designed the Air Jordan shoe.
Here he is humorously played by Matthew Maher as a reclusive oddball turned clever designer. It is noted he passed away just before the film was complete. The script characterises Nike's mismatched personalities as a group of underdogs and a direct contrast to the seriousness and poise offered by Viola Davis as Deloris. Their different personalities unite in a critical meeting where they must convince the Jordans that Nike is right for them. In a nice touch, Michael's father acknowledges Howard as the only other 'brother' in the room. Largely, the interactions between the actors, courtesy of the witty dialogue, and the way they poke fun at themselves is a major highlight.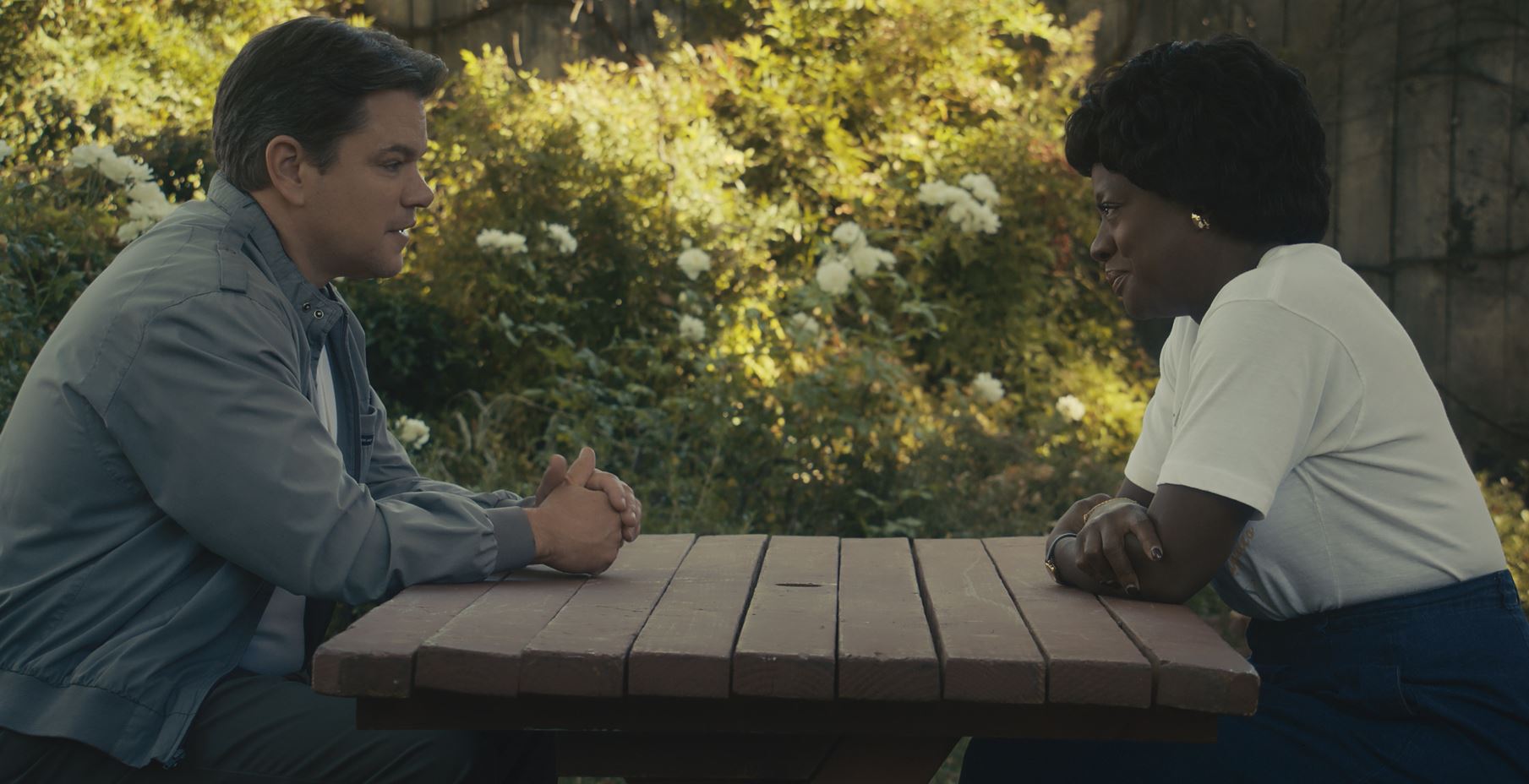 Affleck's previous films benefitted from the type of dirt-under-the-nails realism that enhances the crime genre. Once again, he captures the 1980s period well, particularly the grainy images, the clothes and haircuts of the period, and the décor of the Nike office. The story's action is mostly contained to heated exchanges and conversations rather than utilising a wide cinematic scale.
However, the actors are photographed with purpose. Several conversations are staged in unbroken tracking shots as Sonny and others walk through the office together. The creative choice shows how Sonny's plan is contained to his inner circle and infers he does not realise what a sizable gamble his decision is. Later, the camera pans around the office to reflect how many people could be affected if his idea fails.
While Affleck's craftsmanship is sharp and the film is continuously funny, there are some crucial missteps in Air's final quarter. Despite strongly balancing comedy and drama and shifting the story towards supporting compensation for athletes, the film has too many endings. During the story's climax a crucial decision is made only for another dilemma to immediately rise.
Worse, the film leans into the type of American mythology and hero worship it first parodied. There is a cheesy line repeated where the characters say, 'a shoe is just a shoe until someone steps into it'. The dialogue underlines a thematic betrayal from gentle parody to embracing American consumerism.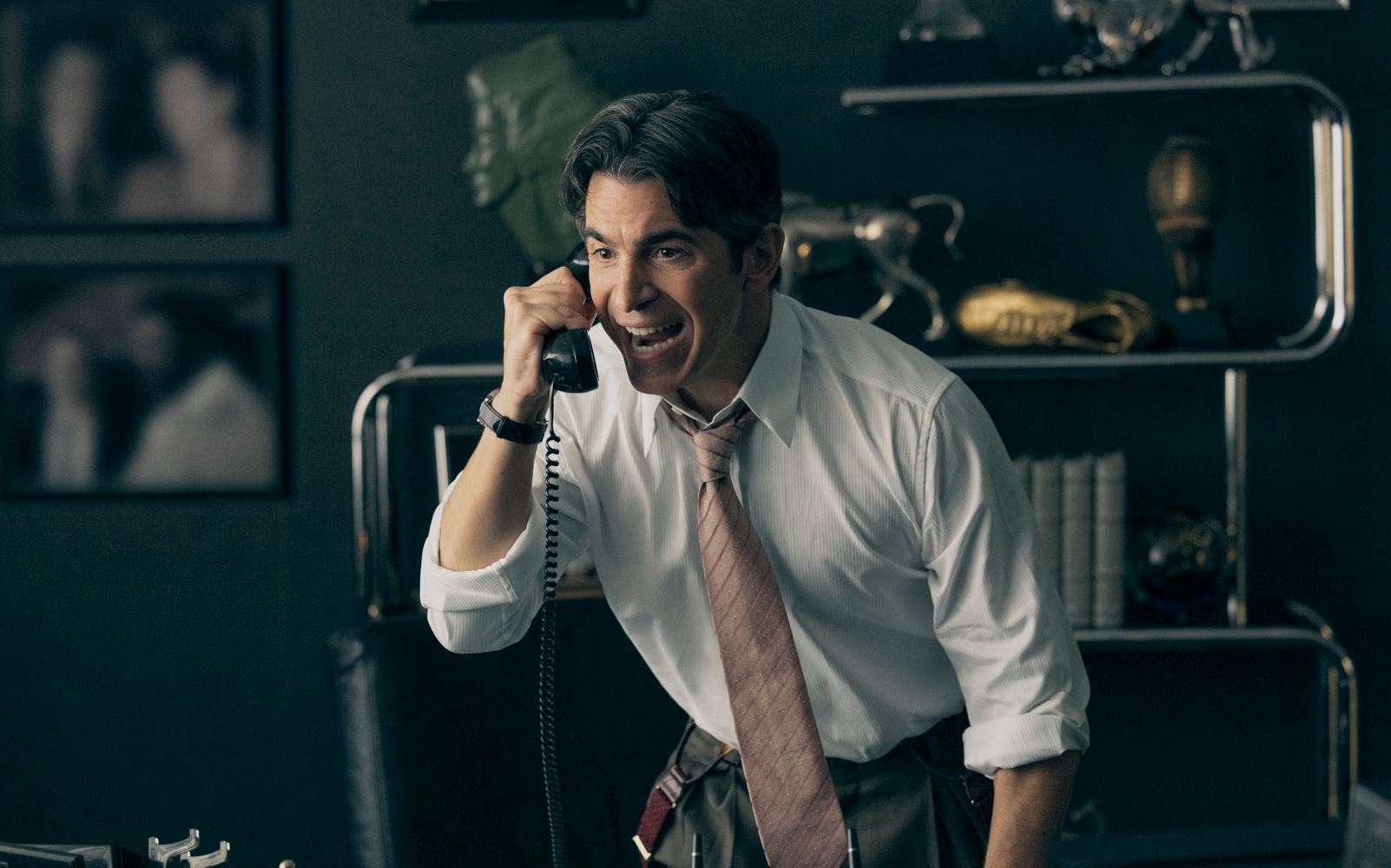 Similarly, Air also fawns over Michael Jordan in increasingly corny ways. During the critical meeting, Sonny morphs into Nostradamus and tells Michael how wonderful he will be and how his legacy will be preserved by the shoe line. Affleck intercuts the speech with real-life footage showing Michael's future setbacks. The way the film breaks the fourth wall is unnecessary. It is also ironic that the Jordans are told that Nike's rivals will not allow Michael to standout while the film itself conceals him like he is a disembodied figure.
The fawning continues throughout the end credits. We are told Michael is now regarded as one of the greatest athletes in history. There is no doubting his extraordinary talent transformed the Chicago Bulls into a champion basketball team.
However, after watching Netflix's excellent documentary The Last Dance (2020) and seeing what a tyrant he was, the praise becomes short-sighted and outdated. It is as though the love was angled as damage control after the documentary to repair the Jordan brand. Meanwhile, the film happily paints Adidas and Converse's executives as oily caricatures while hiding how Sonny later worked for Adidas.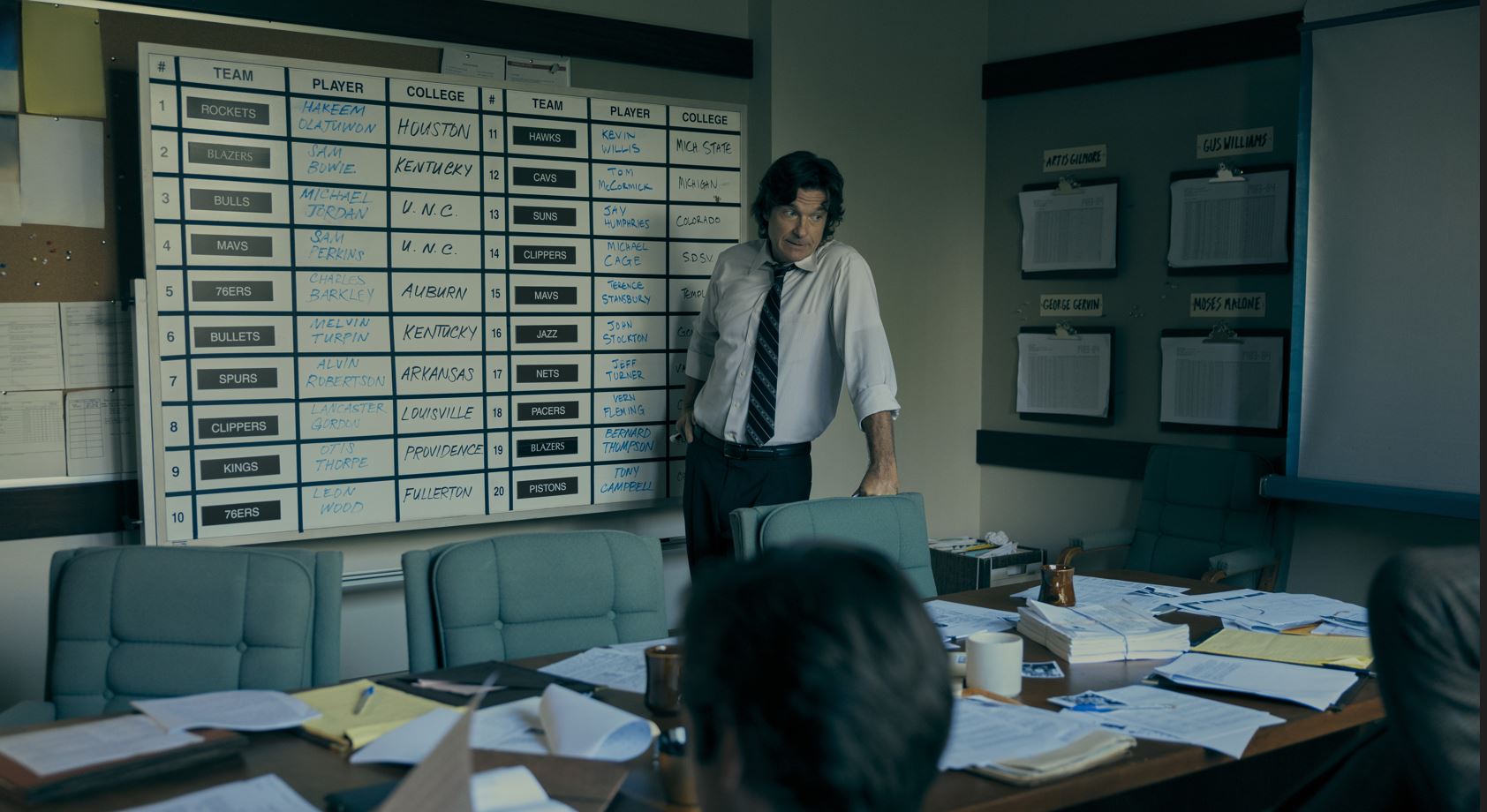 Air's revisionist pop history also extends to its soundtrack. Rob tells Sonny that he was listening to Bruce Springsteen's song 'Born in the U.S.A.' but concedes he was wrong to champion it because it is not a patriotic anthem. The song is about homeless Vietnam veterans. Yet during the end credits, where the achievements of the film's major players are outlined, Affleck plays the same song. Why? Is he being ironic or inferring how American consumerism can be used positively? As such, some of the creative choices in the last quarter betray the comedic angle that helps elevate proceedings and underlines how self-important these characters are.
Most of Air is enjoyable because of its clever dialogue and excellent, charismatic performances. The film is about how taking a huge risk saw many athletes receive the compensation they deserve. It is clear why Affleck and Damon chose this story to start their new production company since they are aiming to reward artists who choose to work with them. Yet the last quarter reveals the artistic compromises involved with using real people and portraying a mega corporation in an uncritical light. It also offers a rose-tinted view of Michael Jordan's legacy. Consequently, Air is another solid directorial effort from Affleck, but it lacks the dark edges of his first three films.
Summary: Air is another solid directorial effort from Affleck, but it lacks the dark edges of his first three films.