Hardware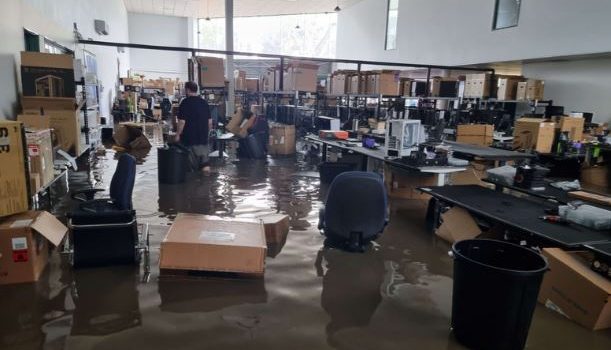 Published on August 10th, 2023 | by Adrian Gunning
Aftershock PC Triumphs Over Adversity: From Devastation to Double Growth
Aftershock PC, a prominent player in the Australian custom computer-building industry, is proud to tell its tale of resilience, recovery and unprecedented growth following the devastating Maribyrnong River floods of October 2022. This inspiring comeback, rooted in the Australian spirit of determination, has seen them emerge stronger than ever.
Co-directors Richard Noble and Ryan Merrett found themselves facing a dire situation when floodwaters from the Maribyrnong River shattered windows and wreaked havoc upon Aftershock PC's store on October 14, 2022. The aftermath saw extensive damage totaling an estimated $1.5 million, including the destruction of the company's showroom and the loss of hundreds of pieces of cutting edge tech equipment.
Richard Noble and Ryan Merrett, in collaboration with Aftershock PC's dedicated team, embarked on a journey of resilience and restoration. Their unwavering commitment not only allowed them to rebuild their business but also fueled their drive to achieve exceptional success even in the face of adversity.
In a remarkable turn of events, Aftershock PC concluded the 22/23 financial year with a staggering double growth rate, a testament to their unbreakable spirit and commitment to excellence. The company's workforce has doubled from 50 to an impressive 100, reflecting not only the expansion of their business but also their dedication to nurturing a thriving and dynamic team.
Aftershock PC is thrilled to announce the culmination of their journey with the grand reopening of their meticulously rebuilt and renovated showroom on Saturday, August 12. This momentous occasion not only commemorates their triumphant recovery but also showcases the brand's unwavering dedication to innovation and state-of-the-art technology.
Richard Noble and Ryan Merrett, co-Directors of Aftershock PC, jointly expressed their gratitude and enthusiasm for the journey, stating, "The challenges we faced were monumental, but they only served as fuel for our determination to emerge stronger. The support from our incredible team, our valued customers, our brand partners, our friends and family has been nothing short of heart warming. We're excited to unveil our revamped showroom and continue delivering unparalleled custom PC's to all of Australia"
With a storied legacy of innovation and customer-centricity, Aftershock PC has emerged stronger than ever before, proving that resilience and determination are the cornerstones of genuine success. The grand reopening not only marks the revival of a showroom but the triumphant resurgence of a brand that epitomises excellence in the realm of custom PC building.
Aftershock PC is a leading name in custom computer-building, dedicated to delivering high performance custom PC's with out of this world customisations to tech enthusiasts and professionals. With a focus on unique designs, quality and above and beyond customer service, Aftershock PC has become the trusted brand in the competitive landscape of custom-built computers in Australia.