Hardware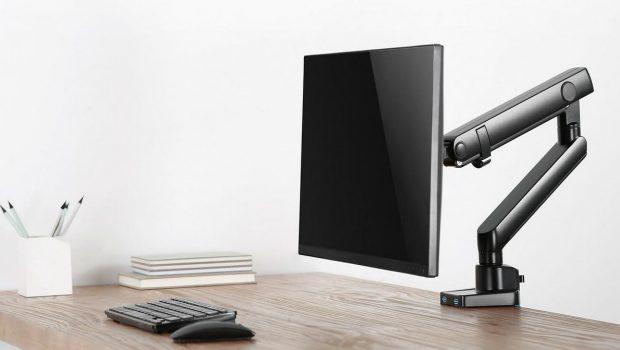 Published on November 18th, 2019 | by James Wright
AFTERSHOCK ARC Stealth Monitor Arm Review
Summary: The Aftershock ARC Steal Monitor Arm provides users with true monitor freedom placement!
We check out the excellent ARC Stealth Monitor ARM from Aftershock which provides you with total control of your monitor placement. If you haven't heard of AFTERSHOCK, they offer Australian gamers and PC enthusiasts a boutique PC experience in terms of equipment (e.g. high-end gaming equipment) and accessories (gaming desks and of course, the ARC Stealth Monitor ARM). AFTERSHOCK also supplied this product for Impulse Gamer to review.
Aftershock ARC Steal Monitor Arm Features
Easy to Install
Minimalistic Design
Easily Adjust your Monitor Height, Tilt, Swivel or Orientation
Pass-through USB Ports for your convenience
Frees up desks space
Holds monitors up to 8KG in weight
Having used monitor arms in the past, the all-directional movement of the ARC is considerable better than a lot of its competitors due to the fluidity of its movement. This is achieved with a spring tension gauge and a gas spring counterbalance which makes positioning a breeze. Upon installation, I was quite addicted to moving the screen around with ease… just because I could!
In terms of weight load, the ARC Stealth Monitor Arm supports up to 8kgs, so you need to make sure your monitor is not heavier than this weight. Another clever feature is the inclusion of two USB 3.0 ports that reduces cable clutter and give you easy access to these everyday ports.
In terms of setup, the installation of ARC is super easy easy and you basically attach it to your desk with the clamp which contains a special mounting system. Once attached to your desk, you then proceed to attach your VESA compatible screen and presto, you have full maneuverability of your monitor that allows you to display it on a variety of different angles (+90 degrees / – 90 degrees), positions and heights.
I was also surprised at how much additional space I had on my desk that in turn considerably reduced clutter thanks to its cable management system. With the two USB 3.0 (cables included), these simply attach to your PC in order to give accessible USB access.
Final Thoughts?
After using this device for almost a month, I cannot fault it one iota! The AFTERSHOCK ARC Stealth Monitor Arm definitely gave me full control over my monitor placement which was great for work and play (e.g. games and watching movies). Furthermore if you have any vision issues or back problems, this device will probably help in reducing these symptoms as you can place your screen where you want it to be. Another clever feature is that this device has cable management built into the unit and gives you easy access to two USB ports.
Furthermore, it is a very sturdy product and while I was a little dubious of the clamp system, it is super strong and won't budge after it has been clamped to your desk. All in all, a must have product if you're looking for the perfect screen placement that also reduces desk clutter!
Recommended!
For more information, please visit https://www.aftershockpc.com.au
Product Gallery