Hardware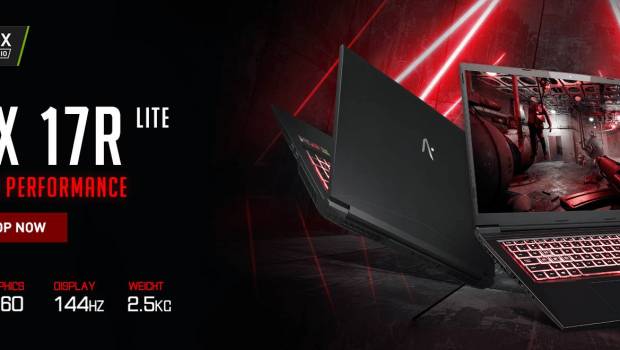 Published on October 19th, 2020 | by John Werner
Aftershock Apex 17R Lite Gaming Laptop Review
Summary: Not all gaming laptops are made equal. The Aftershock Apex 17R Lite is one of the best gaming laptops of 2020.
Not all gaming laptops are made equal. While many laptops claim to be of gaming quality, very few live up to the level of excellence that is the brand-new Aftershock Apex 17R Lite Edition Gaming Laptop. Featuring a powerful lineup of killer hardware including a vibrant 17.3" FHD screen, the award winning AMD® Ryzen™ 7 4800H, customizable cooling/performance modes, and a NVIDIA® GeForce® RTX 2060 6GB GDDR6, all while weighing in at approximately 2.5kg. Perfect for anyone looking at getting a laptop that can handle those high demanding games and graphics programs without having to break the bank.
TECHNICAL SPECIFICATIONS
Central Processing Unit: AMD® Ryzen™ 7 4800H 8 Cores – 16 Threads (2.9-4.2GHz Max Boost Clock)
Display: 17.3″ Narrow Bezel Full HD 144Hz Anti-Glare Wide Color Gamut Display (1920 x 1080)
Graphics Card: NVIDIA® GeForce® RTX 2060 6GB GDDR6 (90W)
Memory: Up to 64GB 3200MHZ (16X2) (2 SODIMMS)
Keyboard: Premium Membrane RGB (single zone) backlit keyboard plus 10-key numeric keypad
Mousepad: Mylar Microsoft Precision Touchpad with multi-gesture and scrolling functions
Storage: 2 x NVME PCIE M.2 SSD Support. Max 4TB SSD Storage
Webcam: HD 720p Webcam with dual digital microphones
Ports: 1 HDMI x 2.02 x MiniDisplay Ports1 USB Type-C (Data Transfer Only)2 USB 3.1 (Gen 1)1 USB 2.0Full Size SD Card Reader (UHS-I) Gigabit Ethernet RJ45Audio out & Mic InKensington Lock slot
Power: 3 Cell 46.74WHr Polymer Battery 180 Watt AC Adapter
Weight And Dimensions: 2.5KG395.7*260.8*30.05mm
Wireless: Intel® WiFi 6 AX200/201 & Bluetooth 5.0 (WIFI 6)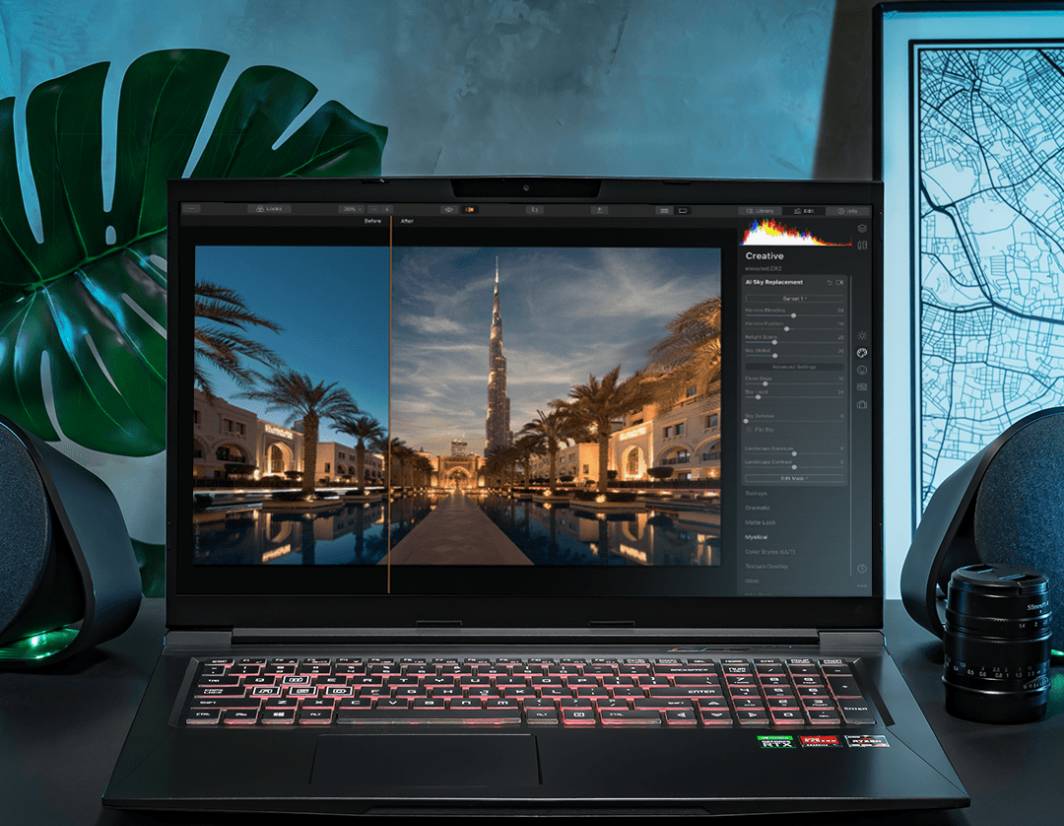 The Apex 17R lite is the latest gaming laptop from Aftershock, an Australian company specializing in creating customized laptops and desktops that meet the performance requirements of their users. Each computer starts off as a base model that shoppers can then further enhance with upgrade options ranging from increased RAM and SSD storage, all the way up to the thermal paste used on the motherboard. Although the Apex 17R lite doesn't have the same level of customization options as a gaming PC, it still has the baseline power to out-perform quite a number of gaming laptops currently on the market, and for a fraction of the price.
Many gamers and even those who require a performance PC for work purposes would blindly dismiss using a laptop purely based on the stigma that laptops don't come close to the power of a custom-built PC. Truth be told, I was one of those people until I tried out the Aftershock Apex 17R Light. Its sleek, light-weight design makes it ultra-portable without compromising on performance or battery life. The vibrant extra-large, FHD 17.3" screen offers more screen space than the vast majority of other laptops on the market that typically adopt a 15.6" screen. Given that the size of the laptop is determined by the size of the screen, having a larger screen means that the internal components can be spread out more, thus creating better airflow and cooling capabilities. And as any gamer will know, the better your cooling system is, the more power you can push out of your processors, especially when you're running an AMD RYZEN 7 4800H 8 Core Processor with 16gb DDR4 RAM, and an NVIDIA GeForce RTX 2060 6GB GDDR6 (Max Performance Edition) graphics card.
Gamers will have no trouble getting the maximum performance out of the Aftershock Apex 17R Light thanks to its innovative cooling system which is activated by a button located near the top of the keyboard and lets users toggle between different performance modes. Consisting of 3 different modes, each is designed to adjust the laptop's fans based on the users' needs from turbo-boosted speeds for high performance right down to a quieter whisper for office use. Users can further customize the mode settings via the custom Aftershock interface that controls the laptop's unique functions such as the backing light for the keyboard.
As part of my review process, I have spent a few weeks putting the Aftershock Apex 17R Light through as many different scenarios that I could come up with in order to find out just how powerful it really is. On their own, the components used to build this laptop are amazing, but that means nothing if they do not work well together. The tests I ran included everything from playing high-intensity games on maximum graphics to multi-tasking multiple RAM intensive design programs while running purely off the battery. Despite what I threw at it, the Apex 17R Light came out better than expected, even when running off a battery with less than 10% charge remaining. Even when I deliberately drained the battery to 0% just to see how quickly it would turn back on when plugged in, I was blown away by its performance. Having worked with computers on a daily basis for close to 20 years, I have never come across one that is this quick to start up. However, loading speed is not the be all and end all. Using the preinstalled 3DMark, I was able to stress test the laptop under peak performance. The results returned a score of 6762, ranking it higher than 52% of other computers tested, easily outperforming the gaming laptop benchmark of 5700.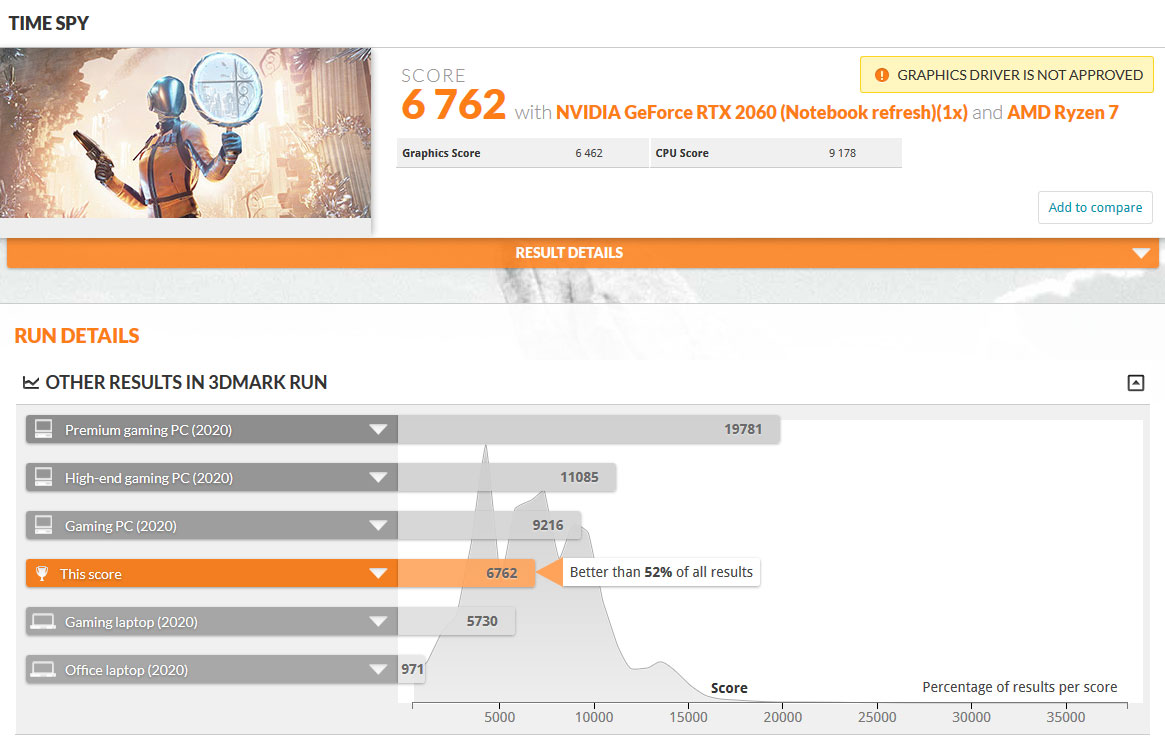 However, that wasn't enough. I had to get a second opinion and decided to download "Rainbow Six: Siege" over Wi-Fi and run the FPS benchmark tool. Thinking that the download would take quite some time due to the 'wonderful' internet speeds we have here in Australia, I was again amazed to see just how quickly the 61gb game downloaded to the powerful Wi-Fi card. Even when playing games, the latency over Wi-Fi is minuscule compared to that of even my Xbox One S and PS4. Once the game had downloaded, I ran the benchmarking tool under two different scenarios, one where the laptop was running with the power cord plugged in, and the other off battery alone. The results showed quite a gap between the two scenarios, with the plugged-in results-producing 165FPS as opposed to 29FPS when running off just the battery. However, I had no issues playing "Siege" off just the battery while sitting on the couch watching TV.
R6S Benchmark Test With Power Plugged In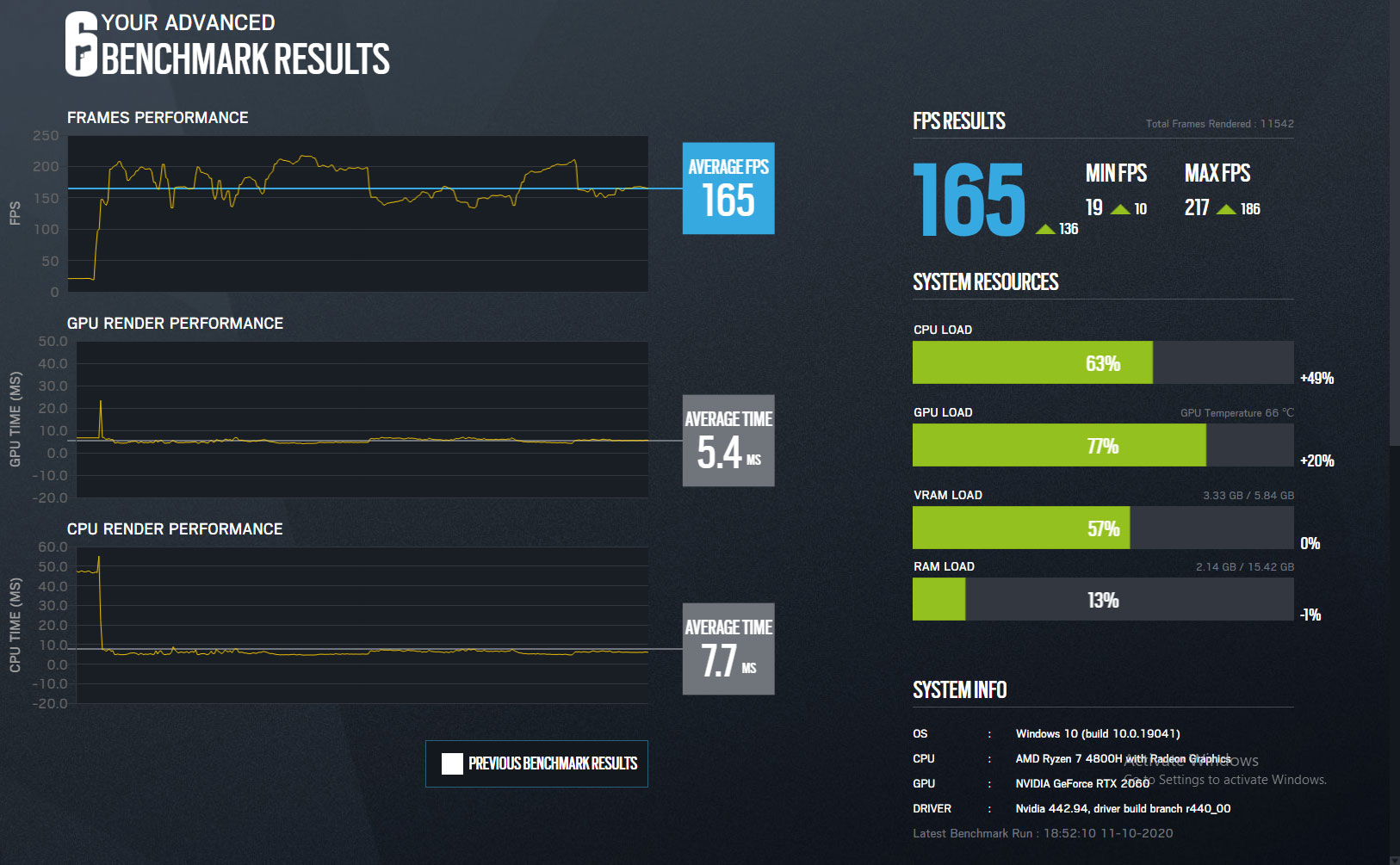 R6S Benchmark Test Running On Battery Only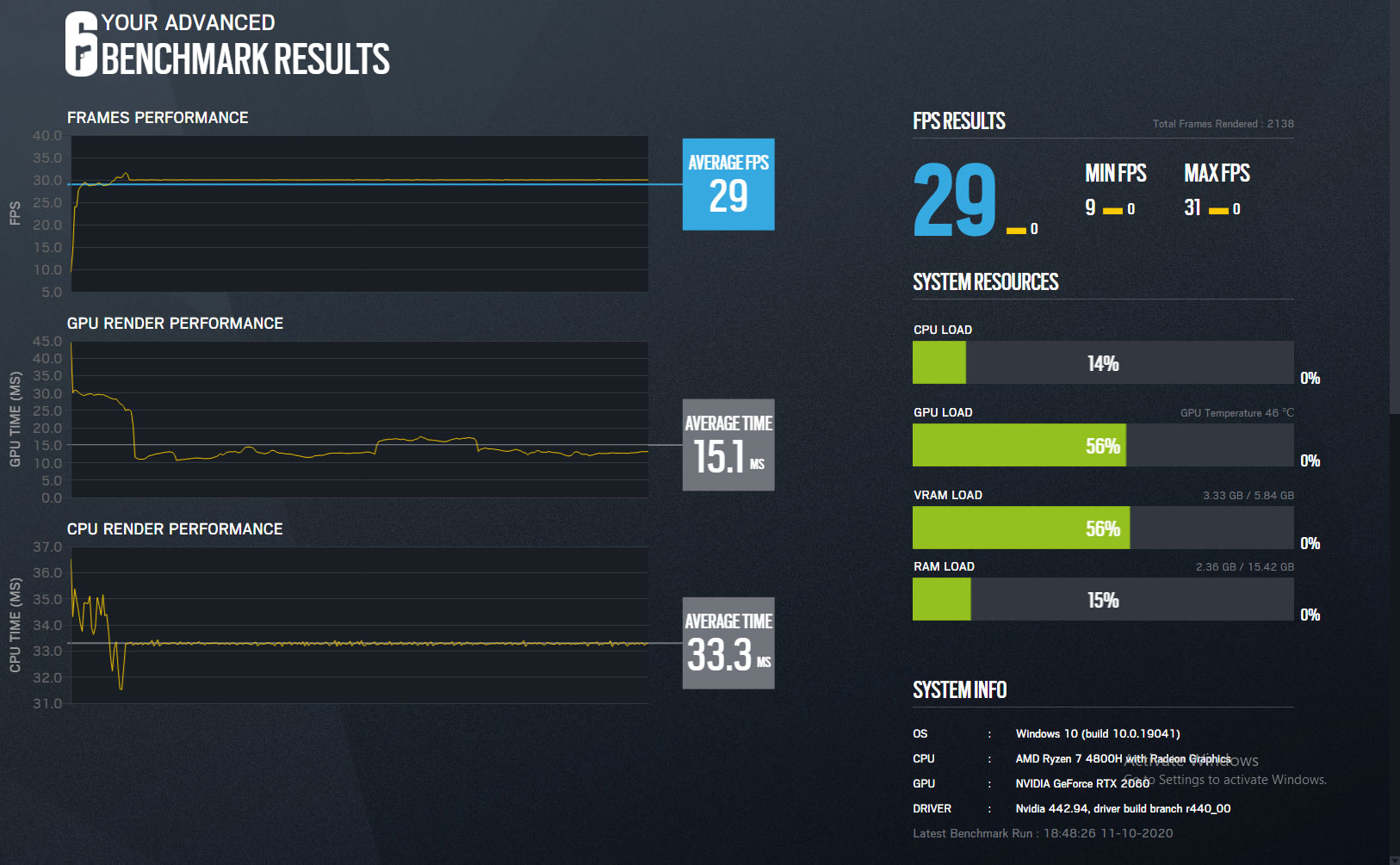 Performance aside, the one thing that I do adore about the Apex 17R Light above all else is its sleek design and matte black finish. Each button on the keyboard is illuminated with its own LED backing light that can be changed between different colors and brightness, just like many popular gaming keyboards currently available on the market. The keys themselves are incredibly soft and smooth to the touch but still firm enough that you won't accidentally press one while typing or gaming. I'm particularly fond of how the team at Aftershock has been able to maximize the use of the large 17.3" screen, allowing the inclusion of a full number pad and a decent amount of space for individual keys, unlike that of a compact layout. I'd like to also point out that the F keys have all been given additional alt functions for quickly adjusting the laptop's performance. Among these features include volume adjustment, turning the keyboard backing light on/off, and disabling the mouse pad. Having the ability to quickly make these adjustments on the fly is a fantastic feature especially when gaming.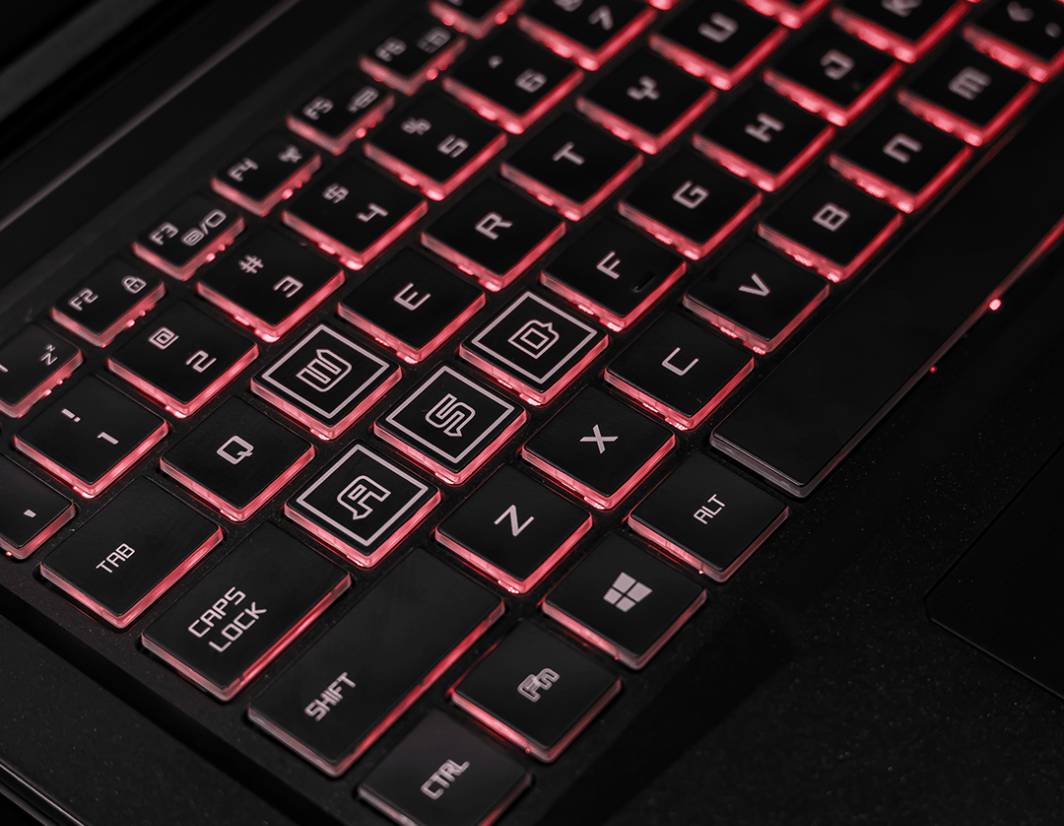 Final Thoughts
The Aftershock Apex 17R Light is an incredible gaming laptop both in functionality and design. Gamers and people working in the design industry will be able to make full use of the powerful AMD processor and RTX 2060 graphics card regardless of its power sauce. The cooling functionality has huge benefits thanks to its advanced airflow design, allowing users to push it to the limit and make full use of the massive 17.3" screen. The only downside is that the laptops casing is attached in a way that makes it difficult to open up and install your own components such as a second SSD or increased RAM. However, with the right level of care, the Apex 17R Light will last you quite some time and is definitely recommended to anyone in the market looking for a powerful machine but with better reliability and price tag than that produced by larger corporate IT companies.
For more details on the Aftershock Apex 17R Light, check out the official website