Hardware
Published on April 5th, 2023 | by Adrian Gunning
Add Colors of SteelSeries Gear To Your Easter Basket
On the hunt for the perfect gifts for Easter? Hop over to SteelSeries to grab top-quality tech accessories with all the colors of Easter eggs.  From noise-canceling headphones perfect for studying or Zoom meetings to custom color-changing, advanced keyboards for avid gamers or hyper-focused writers—SteelSeries has gear that fits everyone's needs.
Light up Easter Sunday with the colorful RGB display of the SteelSeries Arena 7 Speakers, Apex Pro TKL Wireless Keyboard, and Aerox 5 Wireless Mouse!
Arena 7 Speaker System – Unrivaled Sound that Gamers Hear, Feel, and See. Hardcore gamers want to plunge themselves into their games by both feeling and seeing the game around them. The Arena 7 speakers' high-quality sound, thundering subwoofer, and screen-reactive RGB lighting bring players into new worlds like never before. The Arena 7 utilizes a USB-connected 2.1 RGB gaming speaker system with a 2-way speaker design and the 6.5" down-firing subwoofer creates a powerful response for rich, deep, and accurate reproduction of low frequencies. Utilize a standard USB connection to invite gaming's most immersive sounds to a PC, Mac, or PlayStation. Gamers can take advantage of optical and standard 3.5mm Aux connectivity for phones, tablets, TVs, and other audio devices, and a widely compatible Bluetooth provides a cable-free experience and a convenient connection with a phone and other devices.
MSRP: Arena 7 Speaker System – US $299.99 | EU €329.99 | AP $329.99
Available at: https://steelseries.com/gaming-speakers/arena-7
Apex Pro TKL – Giving gamers an unfair advantage. Imagine the acceleration of the fastest electric cars but in a keyboard. The Apex Pro TKL series keyboards give gamers an unfair advantage by fusing OmniPoint 2.0 technology with the tournament-winning TKL form factor to create the world's fastest keyboard for esports and aspiring pros. With the Apex Pro TKL, users can take advantage of OmniPoint 2.0 technology to switch between agile 0.2mm actuations and deep and purposeful 3.8mm key presses. The TKL design gives users more desk space, for clutch plays while still being transportable to LAN events. A built-in OLED smart display allows gamers to see game system and chat information as it happens, making minimizing games a thing of the past. Double shot PBT keycaps ensure the keycaps last just as long as the 100m keystroke-rated switches.
MSRP:  US $189.99 | EU €219.99 | AP $219.99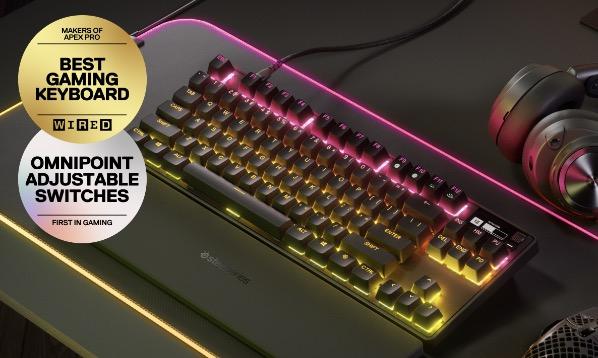 Available at: https://steelseries.com/gaming-keyboards/apex-pro-tkl-2023
Aerox 3 Wireless – Built for performance. Streamlined for speed. The SteelSeries Aerox 3 Wireless mouse is engineered for the fastest swipes, so gamers beat the competition to the trigger. When milliseconds count, speed matters. The Aerox 3 Wireless has an ultra-lightweight 68g design perfectly optimized for super light mouse swipes. A 200-hour battery life with fast charging ensures stress-free dual wireless. The TrueMove Air sensor, silky smooth 100% Virgin Grade PTFE glide skates for enhanced control and speed, while the water-resistant AquaBarrier™ provides safety. A USB-C cable makes for easy connectivity and aftermarket customization. (Also available in a wired version.)
MSRP: US $99.99 | EU €109.99 | AP $109.99
Available at: https://steelseries.com/gaming-mice/aerox-3-wireless