Interviews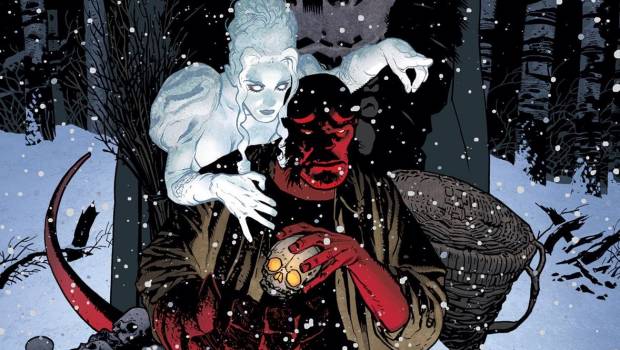 Published on December 18th, 2017 | by Dana Folkard
ADAM HUGHES INTERVIEW – HELLBOY: KRAMPUSNACHT
Mike Mignola and Adam Hughes have teamed-up to spin a chilling Satanic Christmas tale that pits Hellboy's against the Krampus! This one-shot Hellboy adventure hits stores on December 20, just in time for the holiday season!
Impulse Gamer was lucky enough to have a quick chat to Adam Hughes about his time working on Hellboy: Krampusnacht, the challenges of drawing Hellboy and what it was like working alongside…or rather "from the front" of Mike Mignola.
Warning, this is a funny interview!
So, this is your Mignolaverse debut. How did you wind up working on Hellboy: Krampusnacht, and how has this venture been for you personally?
ADAM: Mike Mignola lost a bet with Geoff Darrow and I'm the punishment.  I'm kidding, I kid!  Mike asked me to collaborate with him on something, and 6 months later, I called him on it.  Working on this project has been the most rewarding gig I've had in 20 years.
What was it like working alongside Mike Mignola and drawing Hellboy, one of his most iconic creations?
ADAM: Well, I didn't really work alongside Mike.  You have to approach Mike from the front, as he startles easily.  Mike is one of my great heroes in comics, and I was thrilled to do a comic with him, especially an issue of my favorite comic.  As for drawing Hellboy himself, it was nerve-wracking. He's such a character of Mike's pen, he looks odd if he's drawn differently.  But I have a very different style than Mike, so I was faced with the dilemma of drawing Mike's Hellboy running around an AH! comic or interpreting him.  Everything else was easy compared to that dilemma.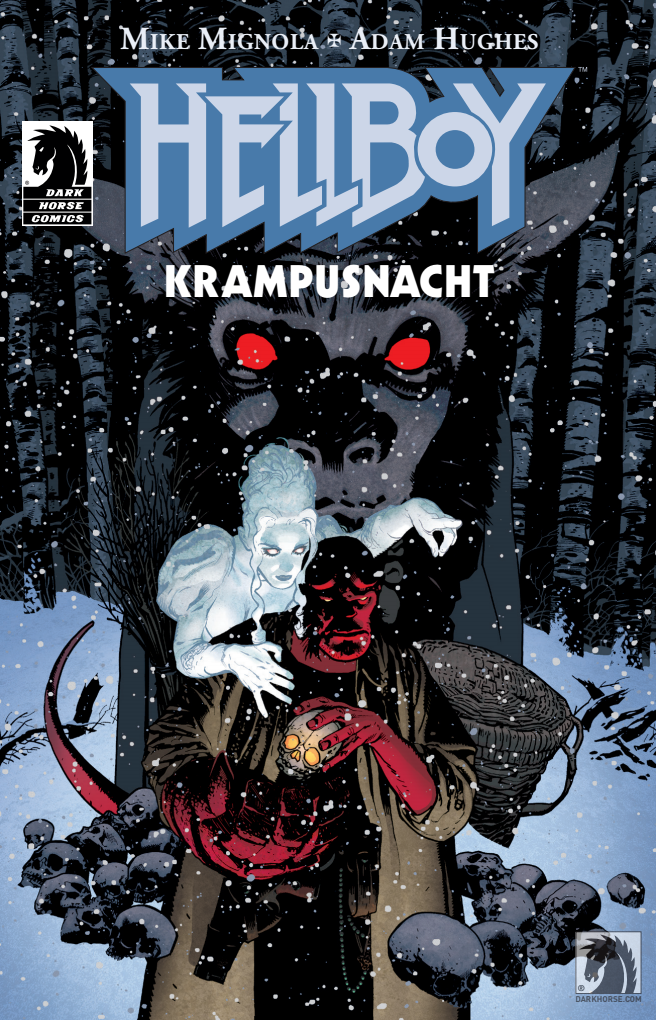 Were there any challenges when trying to draw Hellboy and his familiar and his much-loved personal nuances?
ADAM: Drawing Hellboy was nothing BUT challenges.  At first, I drew the Right Hand of Doom wrong, and had to be corrected.  Been reading the book since it started and I never noticed the three round "knuckles" actually cover the joint where his fingers start.  How much hair does Hellboy have?  I can't tell – Mike's the master of shadows.  How high up should his horns go, and at what angle?  How far out do they stick?  Does Hellboy have lips?  It was nerve-wracking, like I said.  Oof.  I'm having another anxiety attack, just discussing it.  Where are my pills?
I absolutely love your "goaty" looking Krampus design. Can you tell us a little bit about the process of drawing a character like this? Did you find yourself using a lot of those wonderfully scary Christmas postcards for reference?
ADAM: Well, in a way.  The concept of horror is different today than it was in the Days of Yore.  The Krampus on those really old cards isn't very scary looking, if you've already seen, say, THE EXORCIST.  I tried to use the elements – horns, chains, birch twigs – but make him as horrific as my skills could accommodate.  So, I used the old cards, but only as a starting point.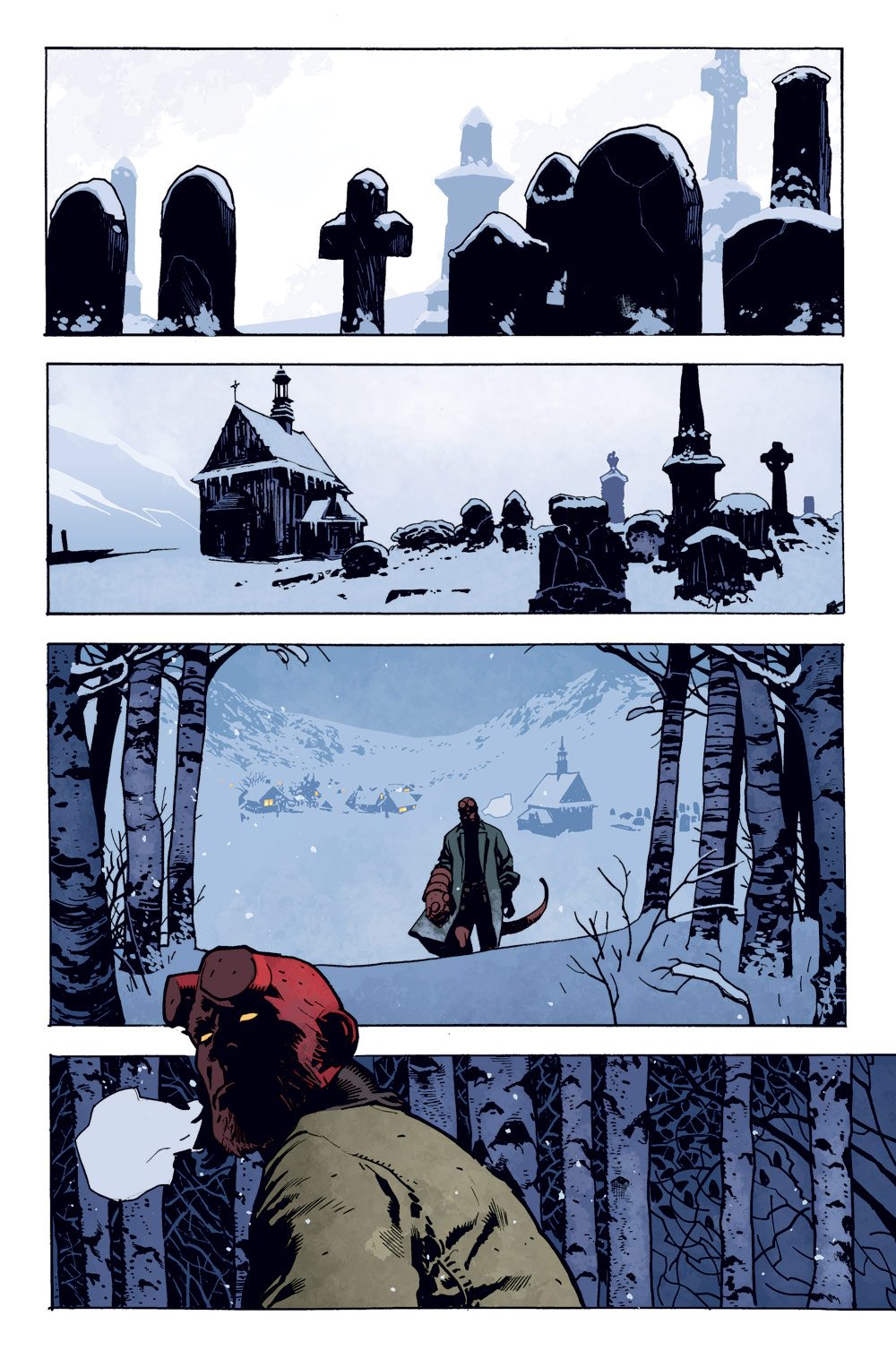 This story is full of festive cheer…only kidding. It's actually quite a dark and haunting tale. Did you find that you encountered any challenges when trying to balance the light and dark elements of this story?
ADAM: Not at all.  Coming after BETTY & VERONICA, all I wanted was dark and haunting.  Are there light elements in the story?  Damn.  Sorry about that!  I didn't crush them to death as hard as I should have.
What's next for you, and can we expect another Mignolaverse collaboration in the future?
ADAM: I'm still trying to decide what to do next.  I've got a few jobs in the videogame industry lined up while I ponder my next move in comics.  If Mike wants me, I'd love to do more.  I mean, I don't do windows, but beyond that, I'm game.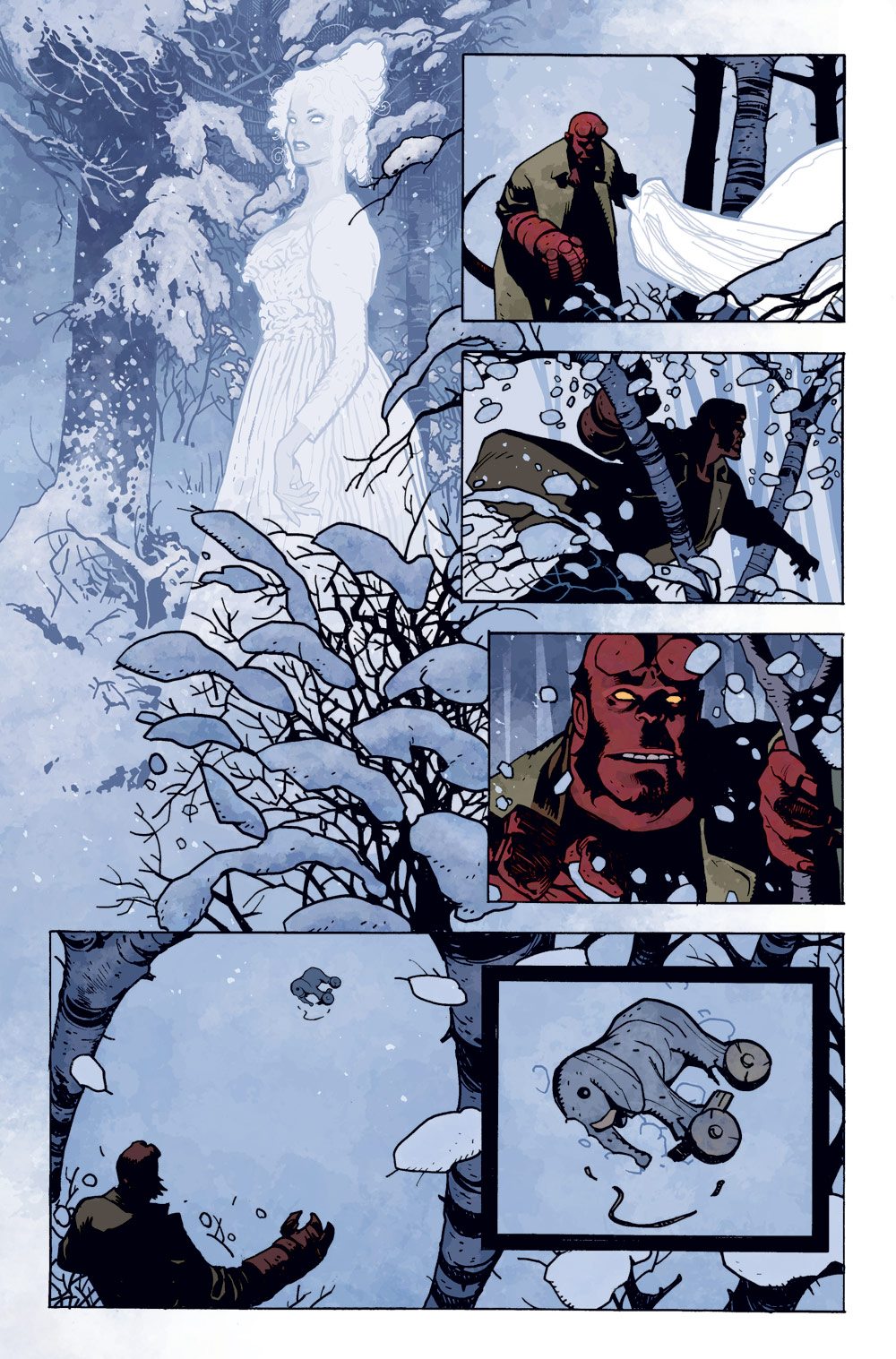 HELLBOY: KRAMPUSNACHT hits stores December 20, 2017!