Events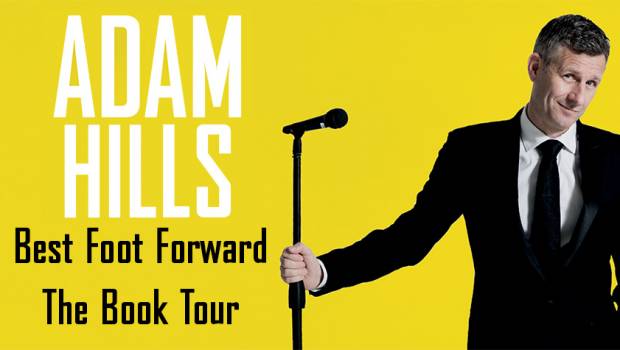 Published on July 18th, 2018 | by Admin
Adam Hills is returning to Australia for two shows only on his live book tour
Adam Hills has always put his best foot forward, which has earned the charming comedian (and now author) adoring fans all over the world.
Luckily for fans back home in Australia, after much time spent cracking up UK audiences on his stupendously successful TV series 'The Last Leg', Hillsy is coming back to Oz. One of the country's most loved and successful comedians is returning for one night only in Sydney and Melbourne to share an evening of stories from his witty new memoir Best Foot Forward.
The show will entertain with quirky and surprising anecdotes and, of course, some stand-up – it's in his funny bones after all. A night out with Adam Hills in 'Best Foot Forward' will take audiences along with this twinkly-eyed comedian back to where it all began – from his days as a quiet primary school kid in the Shire, to a growing obsession with comedy (which saw him sneak off to see a young Jim Carrey perform whilst other teenage boys his age were sneaking off to drink cheap booze and meet girls), to his first open mic night on his 19th birthday. He'll share previously untold stories of how he learnt from the best – revealing moments with Kermit the Frog, Whoopi Goldberg, Barry Humphries and Billy Connolly, to name just a few of the greats – and the magic of hosting 'Spicks and Specks' and his 2008 Paralympics gig, which led to his hit UK TV show 'The Last Leg'.
This is a show that will celebrate how hard work, talent and being proudly different can see you find your feet.
These will be Adam's first shows in Australia in over three years.
Will sell out. Tickets on sale 10am Friday 20th July at comedy.com.au
Adam Hills: Best Foot Forward, the book, is published by Hachette Australia and will be out 31st July.