Comics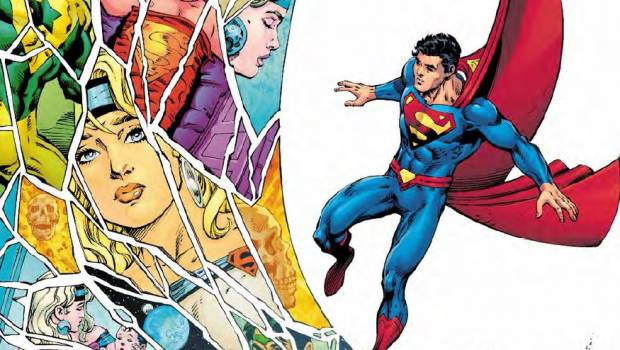 Published on December 28th, 2017 | by Andrew Bistak
Action Comics #994 Review
Summary: Action Comics #994 is a fun journey into the past of an alternate Krypton
Blue and Gold are back as Superman (not Blue Beetle) and Booster Gold find themselves in a right pickle when Clark went back in time in order to uncover the truth about his 'father'. However our time hopping hero Booster knows a thing or two about meddling with time and follows our favourite Kryptonian to make sure that Superman doesn't change the timeline and more importantly doesn't get himself killed when the soldiers of Krypton are hot on their trail. Unfortunately Superman is powerless as Krypton has a red sun and Booster may be the only solution to their dire situation. More importantly, Superman realises that this past is 'different' and something is not quite right.
Skeets, Booster's trusty A.I. sidekick believes that when Jor -El was taken away from Krypton, this created an 'alternate' reality and as a result of this disruption, time itself is trying to fill the void. It also means that if this Krypton survives, Superman may never have come into existence. Although the 'time masters' give Superman one of Booster's wrist blasters, General Zod is one step ahead of them as he orders the Eradiactors to take them down. To make matters worse, Superman is about to meet his father, however Booster forces the Man of Steel into his time sphere to escape this timeline.
Big Blue also witnesses the birth of another reality, one where his birth parents survived, a sister that he'll never know and a place where he marries a Kryptonian whom together they have a daughter. Their new journey in the time stream is cut short when one of the Eradictors stowed aboard the time sphere's waves which forces them into the 25th century… the home of Booster Gold as the issues ends on another cliffhanger.
Final Thoughts?
Mr Jurgens, you are indeed a tease and Action Comics #994 was a fun read that definitely had parallels to the classic Superman stories of the 90's but with a modern twist. I enjoyed seeing the team-up between Booster Gold and Superman which created an interesting story that I'm sure will have major repercussions on the Man of Steel and I'm eager to see where all these chess pieces fall.
Recommended!