Comics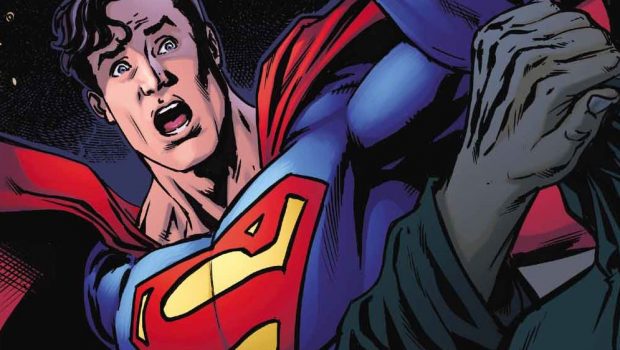 Published on September 17th, 2017 | by Andrew Bistak
Action Comics #987 Review (The Oz Effect Part 1)
Summary: This issue of Superman finally reveals the identity of Mr Oz!
The speculations on the identity of Mr Oz has finally ended and issue #987 of Action Comics delivers the next epic arc of Superman and although writer Dan Jurgens left a breadcrumb of clues throughout the DCU, I wasn't really expecting this very interesting curve ball of who Oz is. The issue starts with Mr Oz about to unveil his plan for what he has in mind for Clark and his family as artist Viktor Bogdanovic lends his talents to next ground breaking chapter of Superman.
The story also highlights why Superman is who is he and Jurgens and Bodganovic add an interesting comparison as they show Mr Oz as the 'opposite' of the Man of Steel who has a pure hatred for Earth and its denizens. Perhaps not evil but more on the scale of Ra's al Ghul. Interestingly, this 'hatred' that Oz holds for the people of Earth does pass the gaze of Superman as a group of guerillas kill their own people which does seem orchestrated by this mysterious villain to 'force' the hand of Superman.
And through the ashes, Mr Oz once again appears to Superman and takes him to the Fortress of the Solitude as he delivers a hate fuelled monologue to Clark and how darkness has won on Earth and in a spectacular panel by Bogdanovic, his identity is finally revealed. In a classic Empire Strikes back moment, Mr Oz reveals to Kal-El that he is his father and that he is Jor-El.
Wow… totally unexpected, even though I had theories that the identity of Mr Oz led back to Krypton but not to Clark's father who allegedly perished with the destruction of this planet. I also admit that all these clues of Mr Oz and his tampering since Rebirth makes total sense. However as Jurgens explores the relationship of Clark and his father Jor-El, I'm really excited to see where all this goes, especially with the Doomsday Clock ticking closer. With that said, it may even be a Jor-El from another timeline or reality.
Final Thoughts?
Action Comics #987 was a mindblown moment for me and Dan and his creative team really delivered an exceptional issue and I for one cannot wait to see where all this goes!
Recommended!
Gallery