Comics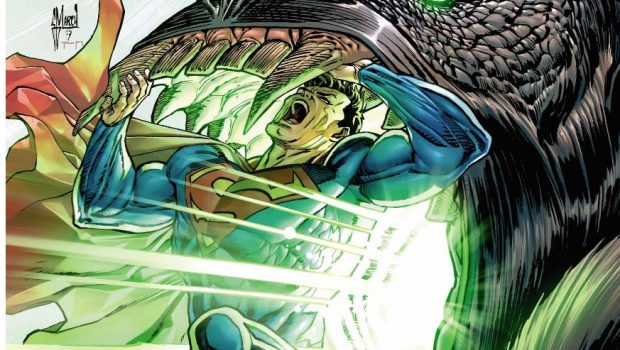 Published on August 23rd, 2017 | by Andrew Bistak
Action Comics #986 Review
Summary: Action Comics #986 is an interesting conclusion to the story line of 'only human' but more importantly, it gives some massive clues as to who Mr Oz is!
Writer Rob Williams and artist Guillem March deliver an action packed story with part two of Only Human which sees a mind-controlled Lex Luthor become engulfed by the innate powers of his 'borrowed' New Gods technology. As he succumbs to the powers of this Apokoliptian 'mother box', he not only starts getting the upper hand on Superman but as a result slowly starts transforming into Darkseid himself.
Unfortunately for Superman, Lex 'Darkseid' Luthor unleashes his hidden kryptonite darts at the Man of Steel and in a moment of clarity, Lex does the unthinkable as he saves his once enemy by breaking the stronghold of the Machinist. Although the two share an interesting moment between them, Lex is perplexed by some of the recordings from his suit where he discovers a strange tattoo that is another clue of this 'changed' universe.
While Lex attempts to save the image, Mr Oz arrives and destroys all copies that he captured. Although Lex challenges Oz, the mysterious Mr Oz defiantly informs him that indeed he is smarter than Lex as he strips him of the Superman insignia from his suit. So while Mr Oz leaves, the clues have been laid. Is Mr Oz Ozymandias from the Watch Men? Possible but he destroys Lex's insignia with something that looks like heat vision. Is it Superman from another timeline? Perhaps. Maybe and we'll find out in the next issue of Action Comics when his identity is finally revealed!
Additionally Guillem March provided some strong layouts in this issue with lots of dynamic panels to help progress the story. He draws a mean Darkseid, not to mention a very classic incarnation of Superman. Rob Williams really delivered a good issue and there was some great dialogue from both Superman and more particularly Lex Luthor. I also like how he laid the seeds of who Mr Oz is… at first I thought it was Alexander Luthor but after this issue, I'm learning towards Kryptonian and possibly a Superman from another reality. Nonetheless, we will find out soon and I'm really looking forward to this answer!
Recommended!
Gallery