Comics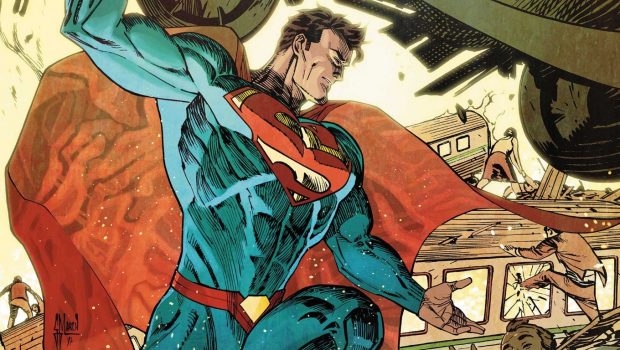 Published on August 10th, 2017 | by Andrew Bistak
Action Comics #985 Review
Summary: Superman #985 brings us back to normality!
After the epic conclusion from last issue, things return a little to normality for our Man of Steel as writer Rob Williams and artist Guillem March give us the next arc of Superman with Only Human. The story commences with Lois asking her husband Clark to take things a little slower in relation to the events prior, however our humble reporter notes that he feels quite optimistic… hey, he is from another planet!
Unfortunately for Clark, his optimism is cut short when he discovers that a group of animals and people are being controlled by one of his lessor known villains, the Machinist who is using modified Lexcorp chips for mind control. Superman believes Lex is responsible who vigorously denies his involvement and after an interesting monologue between the two, he recruits his reformed nemesis to help him hunt for the Machinist which leads them to India.
However the Machinist is one step ahead as he manages to attach a chip to Lex via his nano-drones and as a result, he is now under the control of this Dr Doom lookalike. With the order given by the Machinist to kill Superman, Lex obliges and attacks his old foe in classic comic book fashion. Although not a blockbuster story, it was still a fun read, especially the great banter between the two 'Supermen', particularly from Lex who whose hatred for the Man of Steel stems deep.
Artist Guillem March gives the reader some fun and dynamic panels, especially with the depth and perspective he adds. There's some wonderful panels of Superman looking down and some great action scenes which help with the overall tone of the story.
Final Thoughts?
In conclusion, Action Comics #985 is a fun Superman story and never having read about the Machinist before, I'm eager to see the direction of this fill-in creative team.
Next issue: Kneel Before Lex!
Talent
Written by: Rob Williams
Art by: Guillem March
Cover by: Guillem March
Variant cover by: Mikel Janin
Specs
Series: ACTION COMICS 2016
U.S. Price: 2.99
On Sale Date: Aug 9 2017
Volume/Issue #: 985
Color/B&W: Color
Trim Size: Comic
Page Count: 32
Gallery