Comics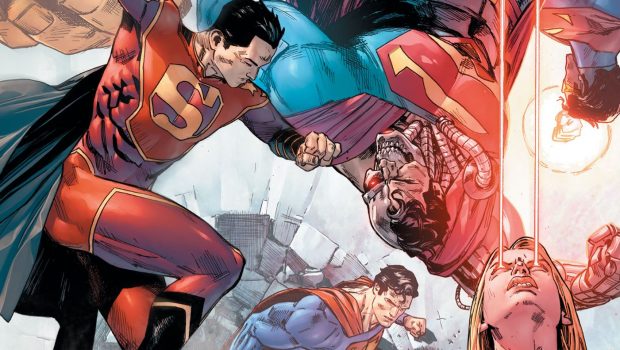 Published on July 12th, 2017 | by Andrew Bistak
Action Comics 983 Review
Summary: Action Comics 983 is another example of the success of the post-rebirth Superman courtesy of veteran writer Dan Jurgens!
As Lois and Jonathan flee the fight between Superman, his allies and his enemies, they are taken deeper into the Fortress of Solitude by Kelex in order to escape the 'war zone'. As a blind Superman stands with Supergirl, Superwoman, Lex Luthor, Steel and Super-man (Kong Kenan), Revenge Part V is about to begin courtesy of writer Dan Jurgens and artist Viktor Bogdanovic.
Once again Jurgens succeeds in giving the reader another impressive issue of Action Comics as a blind Superman still manages to show why he is… well… super. The issue picks up from the previous one as two armies have met outside the Fortress of Solitude and there's a  great dichotomy between the two leaders on the field, one being Kal El and other General Zod which is highlighted well by the dialogue of Jurgens.
Needless to say, a battle of epic proportions ensues which sees Zod take on Superman, Cyborg Superman challenge Supergirl, the Eradicator vs Superwoman, Blanque using his telepathic powers on Super-man and finally Metallo against Steel. The artwork of Bogdanovic really shines here, particularly the battle of Superman vs General Zod.
Unfortunately before Lois and Jonathan can leave the fortress, their voices betray them by Zod's super hearing and now the villains have the upper hand. Superman now has a new kryptonite and that is his family. With the advantage, Zod manages to procure a device that allows him to send his enemies, including two of his allies into the Phantom Zone as we're introduced to the next arc of Revenge, Vengeance is Zod!
Wow… Dan Jurgens continues to hit the superman ball out of the park and issue 983 of Action Comics is another example of why the post-rebirth Superman is such an awesome character. It's great that DC have finally put this character on the pedestal it deserves as Jurgens continue exploring the psyche surrounding this iconic comic book character. Add in the excellent art of Bogdanovic and Action Comics should definitely be on your standing order.
I'm giving this issue 5 shields of Superman!
Action Comics 983 Gallery