Events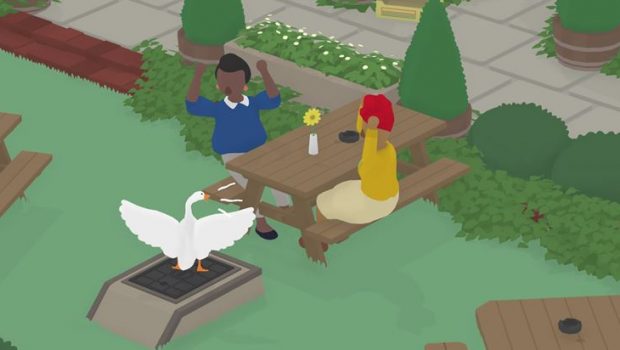 Published on June 29th, 2022 | by Adrian Gunning
ACMI, House House and Orchestra Victoria present world premiere live concert performance of Untitled Goose Game
ACMI, House House and Orchestra Victoria are proud to present Untitled Goose Game Live, featuring the award-winning Melbourne-made videogame projected onto ACMI's cinema screen, alongside a live accompaniment by musicians from Orchestra Victoria.
Audiences will be entertained as a horrible goose creates chaos, calamity and hilarity in a small village, accompanied by a new arrangement of Dan Golding's soundtrack created exclusively for this event, featuring works by classical French composer Claude Debussy. During the performance, the musicians will react live to the actions of the player, making for a one-of-a-kind experience for fans of the hit videogame.
ACMI Acting Director and CEO Graham Jephcott said: "We're so excited that adults and children alike will be able to experience this trailblazing performance of Untitled Goose Game Live at ACMI with musicians from Orchestra Victoria performing Dan Golding's fantastic new score. To bring House House's iconic Melbourne-made videogame to our cinema screens with a live music accompaniment will be an unmissable experience for fans of this game."
Orchestra Victoria Executive Director Sara Pheasant said: "We're delighted to be partnering with ACMI to showcase some of the brilliant talent in Melbourne's game industry. In Untitled Goose Game, Dan Golding uses responsive sound design to create moments of serendipity and humour for the player. We look forward to lifting the lid on how this innovative scoring method works with our musicians for live audiences at ACMI."
Composer Dan Golding said: "When we created the music for Untitled Goose Game, we created a system to simulate what it would be like to have a live musician sitting by the side of the player, providing a live soundtrack. Now, with Orchestra Victoria and ACMI, we no longer have to simulate it – we have the real thing. I'm incredibly excited to see this world-first performance in Melbourne."
Following each of the 3.30pm and 6.00pm Friday 8 July performances, visitors can explore sound design and music in videogames via talks that will include advice for students passionate about this artform.
The 11am Saturday 9 July session also features a relaxed performance designed for visitors with ASD and sensory sensitivities.
Untitled Goose Game Live will be performed at ACMI on Friday 8 & Saturday 9 July 2022. Tickets are on sale now at acmi.net.au
Untitled Goose Game Live
ACMI, Fed Square
Friday 8 July, 3.30pm
Performance + talk (careers in game and music)
Full $25, ACMI member $21, child $18
Friday 8 July, 6.00pm
Performance + talk (music and sound design in games)
Full $25, ACMI member $21, child $18
Saturday 9 July, 11.00am
Relaxed visit
Full $20, ACMI member $16, child $12
Saturday 9 July, 1.00pm
Performance only
Full $20, ACMI member $16, child $12