Hardware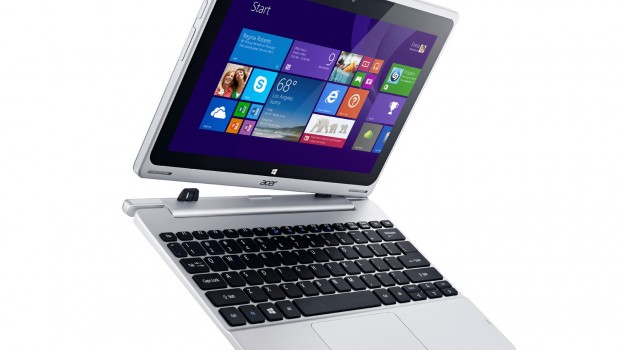 Published on October 13th, 2014 | by admin
Acer Switch 10 Pro Release
SYDNEY (13 October 2014) – Acer today expanded its popular 2-in-1 line with the new Aspire Switch 10 Pro, designed for businesses and the education market. The Switch 10 Pro has an Active Pen for writing and drawing, and an impressive 1920 x 1200 Full High Definition 10.1-inch display with the latest anti-scratch Gorilla® Glass 3.
"2-in-1 devices have become the productivity tool of choice in both the corporate and education marketplaces," said Katherine Nguyen, Head of Marketing at Acer Australia and New Zealand. "With its design sophistication and flexibility, the Switch 10 Pro serves as a laptop for writing e-mails or assignments or producing power-point presentations; and a tablet for collaborative work or personal networking and surfing."
For the sharpest viewing, Acer's cutting edge LumiFlex™ technology automatically adjusts the display settings while Zero Air Gap heightens contrast to create bright, crisp images and increase readability in sunlight. And dual front facing speakers add a surround-sound audio experience.
The magnetic detachable Acer Snap Hinge™ has two hooks to firmly connect the tablet to the keyboard and a 2-way connector that holds the tablet for convenient two-sided viewing. Its innovative design enables easy transitioning between modes, latch-free keyboard docking and additional storage capability.
The Acer Active Pen provides fast, precise input for those who prefer to handwrite notes and enhances the drawing experience. It is cross-compatible with other Acer models that support Pens including the upcoming Switch 11 Pro. The Pen is large enough to be comfortable and can be tethered to the Acer Snap Case.
"The Switch 10 Pro is Acer's third generation 2-in-1 product offering Touch, Type and Pen. The impressive display feature has the best user experience regardless of whether you're inside or out and about," Daniel Goffredo, Head of Commercial Products at Australia and New Zealand, said.
"It's great for users who want both a laptop and a tablet in a complete package that sports an 10.1-inch screen with anti-fingerprint coating and a responsive Chiclet keyboard. We know its smooth versatility and dynamic productivity will resonate with customers."
Aspire Switch 10 Pro
One of the thinnest 2-in-1 devices on the market, the Aspire Switch 10 Pro measures less than 8.9 mm in tablet mode and 20.2 mm with the keyboard dock.
Weighing just 0.585 kg for the tablet, the thin and light design is perfect for frequent travellers. It delivers long battery life of up to 8 hours(2) (HD) for all-day of computing. This model provides solid performance offering up to 64GB(1) of storage, 2GB of RAM and an Intel® Atom™ quad-core processor. It offers a 2MP HD webcam with 1920 x 1200 resolution and 1080p Full HD audio/video recording. The Switch 10 Pro also comes with Microsoft Windows® 8.1 with Bing and Microsoft Office 365 Personal(3) at no additional expense, so users can create and edit Microsoft Word, Excel and PowerPoint documents virtually everywhere.
Switch 10 Pro: Four Modes; Robust, Attractive Design
Featuring a magnetic detachable design for latch-free docking and smooth transition, the Acer Snap Hinge™ allows users to switch easily between four modes:
• Notebook – fully functional with a spacious keyboard and a Precision Touchpad for content creation and other productivity apps
• Pad – thin and light for those on the go; ideal for browsing the Internet, viewing movies, playing tablet games and taking notes with an optional Acer Active Pen
• Display – a stable mode, ideal for showcasing presentations in small meetings, sharing photos and videos with colleagues or participating in video conferences
• Tent – hands-free experience for watching movies and/or maximising space in confined spaces, such as while travelling on a plane or train
Thin, lightweight and durable, the Aspire Switch series was made for taking to class, for work and on the road. The rear cover is made from aluminum with NIL (nano imprint lithography) and is finished with a gentle gray brush stroke for an aesthetic touch.
Zero Air Gap technology delivers sharp images, while Acer LumiFlex™ optimises screen visibility during outdoor activities, even in bright sunlight. IPS technology provides wide viewing angles and accurate colours from edge to edge.
The Precision Touchpad supports six touchpad gestures and delivers greater sensitivity and palm rejection by distinguishing between intentional finger gestures vs. accidental contact by the palm of the hand.
Built-in Acer BYOC™ (4) means users will never be unprepared as they can easily access and manage their data anywhere. Acer BYOC Apps offer real time information, data management and data security across multiple devices for immediate synchronising.
Optional accessories include an Acer Snap Case that protects and packs the tablet and keyboard for easy carry, and a micro USB cable that serves as a connection and charging hub.
Pricing and Availability
In Australia, the Acer Aspire Switch 10 Pro with 64GB of storage is available now from Synnex, BlueChip IT, Ingram Micro and all Acer Education partners. Prices start from A$749.
In New Zealand, the Acer Aspire Switch 10 Pro with 64GB of storage is available now from Synnex, Dove and all Acer Education partners. Prices start from NZ$799.
To find out about availability, product specifications and prices in specific markets, please contact your nearest Acer office via www.acer.com.au