Hardware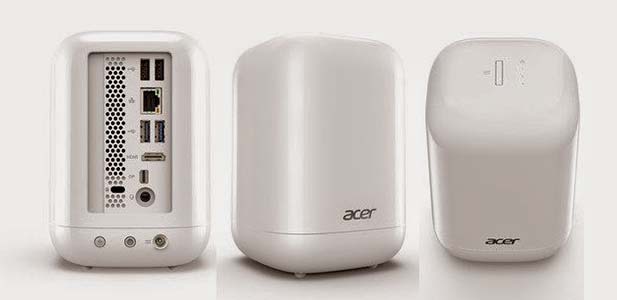 Published on February 25th, 2015 | by admin
Acer Revo One – Compact Entertainment Hub
SYDNEY (25 February 2015) Acer announces the launch of the Revo One RL85, a stylish personal computer designed as the entertainment centre for the entire family. Small in form but huge in capabilities, this single device provides multi-media sharing, content streaming and massive storage.
"Acer's Revo One looks great and is designed to be the space-saving hub for the entire family's entertainment needs," said Katherine Nguyen, Head of Marketing at Acer Australia and New Zealand. "It delivers a powerful, fast, rich cinematic experience that's ideal for watching TV shows, movies or photo slideshows."
Powerful, fast, rich cinematic experience
The Revo One home entertainment hub is powered by quality Intel® Core™ i3 or i5 processors. It supports dual displays and has ultra high definition video and audio output. It features three HDD storage slots each capable of storing 2TB, and if that were still not enough space, it also boasts two easily expandable SATA ports for up to 6TB. And the Wi-Fi connection – depending on configuration – is up to five times faster than on traditional BGN-powered PCs. So no matter how many movies the kids download or how many devices are streaming the latest shows, everyone will be happy.
Contemporary Design
Not only does Revo One have big capabilities, it looks great too. It fits discreetly and stylishly into any bedroom or living area with its polished white exterior, aesthetic curved lines and rounded corners. And it's even robust enough for the kids' playroom.
The Revo One is complete with all the elements of a quality PC – and more. For the easy accessibility and smooth media navigation that is expected of today's pleasurable entertainment experience, it ships with a wireless keyboard and mouse. The SD card port on the top surface is marked for easy access, and four LED smart indicators light up to indicate the status of the LAN and hard drive. On the back are all the other ports – the two USB 2.0, two USB 3.0, HDMI and mini DisplayPorts – and a secure latch that unlocks simply using a pen. Underneath, you'll find everything for storage hot swap to change or replace hard drives.
Acer BYOC™ Apps
Revo One supports Acer Build Your Own Cloud (BYOC™), which gives you full access to all your files on all your devices, no matter where you are. Acer devices now come pre-loaded with everything needed to use BYOC, a uniquely private way to access all files, photos, music and documents using any smart device, even if it's not an Acer. Best of all, everything is kept private and secure, because it's your own personal cloud, powered by your own devices.
Revo One Specifications
• Dual displays (HDMI and Mini DisplayPort)
• Ultra HD (3840×2160) 4K2K video output – which provides four times the resolution of Full HD (1080p)
• 7.1 channels for audio output
• AC Protocol Wi-Fi connection – depending on configuration – is up to five times faster than on traditional BGN-powered PCs
• Supports RAID 0/ 1/ 5 technology for worry-free storage of big data
• For the budget conscious, the Revo One Intel Celeron model 2957u comes with 2GB RAM and 60GB SSD with the option of an expandable SATA port for an additional 2TB on hotswap caddy
• Intel Core i3 5005U comes with 4GB and 1TB HDD
• Intel Core i5 5200u comes with 8GB and 2TB HDD and can expand 2x extra hard drive support up to 2TB each on hotswap caddy
Pricing and Availability
The Acer Revo One RL85 will be available in Australia at JB Hi-Fi, The Good Guys and Bing Lee – not all models will be available at all stores – from 1 March 2015 with prices for the Celeron starting at A$419, the Core i3 at $799 and the Core i5 at $1099.