Events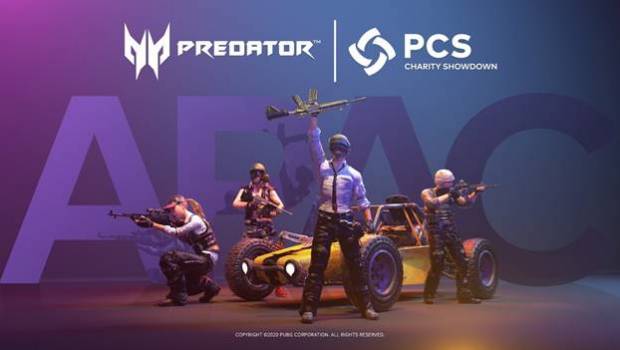 Published on May 13th, 2020 | by Adrian Gunning
Acer Predator to be the Official Partner of PUBG Continental Series APAC Charity Showdown
Acer today announced that Predator Gaming is the official sponsor for PUBG Continental Series (PCS) APAC Charity Showdown. Acer Predator and PUBG Corporation are coming together to encourage esports fans to enjoy the tournament while sharing kindness during the continued COVID-19 pandemic.
Acer will be providing a suite of devices from its line of gaming devices to support the PCS APAC Charity Showdown from May 14 to 31.
l   The Predator Helios 300 equips gamers with powerful internals, custom-engineered cooling tech and up to a 240Hz display to obliterate the competition.
l   The Predator Orion 5000 is a monolithic gaming desktop armed to the teeth with top-of-the-line components for gamers craving the ultimate in performance.
l   The Predator XB253 GX is G-Sync Compatible FHD IPS monitor with up to a 240 Hz refresh rate that's all about making games come to life on the screen.
"Predator is always looking for opportunities to support gamers and promote esports around the world," said Andrew Hou, President of Acer Pan Asia Pacific Regional Operations. "We're excited to work with PUBG Corporation to host this charity event, giving players a chance to express their passion for the game while giving back to the community during this challenging time."
PCS APAC Charity Showdown will be held across two weeks with 16 teams from Southeast Asia and Oceania. Each regional tournament will have a combined prize pool and donation fund of US$200,000. The donations will go to the winning team's charity of choice.
The tournament will start Week 1 on May 14 and May 16, followed by Week 2 on May 21 and May 23.  Representing Australia in the tournament will be three teams: Fury Australia, Athletico, Team Ferox.
List of participating teams in PCS APAC Charity Showdown:
○        Cerberus Esports, Creatory Esports, Phoenix Gaming, Divine Esports, DivisionX Gaming, DIC Gaming
○        Buriram United Esports, Golden Cat, Daytrade Gaming, Qconfirm, MiTH
○        Victim FTF
○        ArkAngel Predator
Oceania (Australia): 3 Seeds
○        Fury Australia, Athletico, Team Ferox
For more details of the event, please see the regional official PUBG channel.
To watch the stream, visit https://www.twitch.tv/esl_australia.