Hardware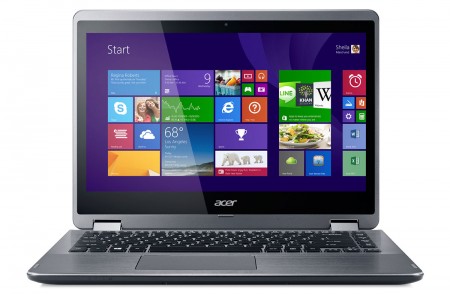 Published on April 15th, 2015 | by admin
Acer Announces the Aspire R 14 Playbook
SYDNEY (15 April 2015). Acer announces the arrival of the powerful Aspire R 14 Playbook. With its four modes – notebook, display, tent and pad – there are no limits to the work that can be created, moments shared, games played and connections made.
The R 14 Playbook is ideal for people who want a stylish device they can use for work or play, those who need to work while travelling and then relax to watch movies, and people who want a laptop as well as a tablet.
Acer's unique 360-degree, dual-torque hinge design allows easy one handed conversion into the different modes with a wobble-free touch experience. Acer Touch Tools allow the user to capture, collect, write and share screen data with touch while the Precision Touchpad offers improved pinch to zoom, smoother scrolling and screen navigation experience. The R 14's smart audio technology automatically reverses when converting so that sound is perfect in every mode. Its Zero Air Gap display delivers vivid images without frustrating reflections. And Acer's Skype Certification provides crystal clear, instant audio and visuals for your calls around the globe.
"Pick up the versatile Aspire R 14 and you'll see the world in a new way. From checking a recipe at the kitchen bench, watching a movie, reading before bed, or sharing content and collaborating in small group discussions, its four modes are designed to flow with you both at home and at work," said Katherine Nguyen, Head of Marketing at Acer Australia and New Zealand. "The R 14 is just that bit smarter, for all your needs."
The smarter versatility of the Aspire R 14 Playbook
• Notebook mode – ideal for users who need to maximise productivity for their work processes and need options for traditional typing, creating an Excel spreadsheet or building PowerPoint decks.
• Display mode – hides the keyboard at the back and brings the screen closer and at the right angle for enjoying entertainment or converting the R 14 to act as a large size photo frame.
• Tent mode – perfect viewing and touching experience for any confined space such as a plane, the kitchen or a bookshelf.
• Pad mode – effortlessly rotate 360 degrees for use as a tablet, Internet browsing, playing light games or sharing information.
The Acer Aspire R 14 Playbook is built on an Intel® Core i7 5500U processor and the Windows 8.1 64 bit operating system. It has a 14″ HD 1366 x 768 resolution display with 16:9 aspect ratio, 2GB NVIDIA® GeForce® 820M, two built-in speakers and an HD camera. The R 14 boasts a 1TB hard drive and battery life of up to 6 hours (based on MobileMark® 2012 test results). It weighs 2.2kg and is 342mm (W) x 245mm (D) x 23.8mm (H).
Pricing and Availability
The Acer Aspire R 14 Playbook retails for $1,499. It is available through JB HiFi and other reputable retailers.