Hardware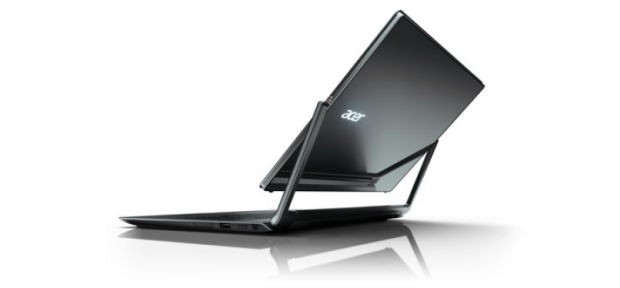 Published on November 24th, 2014 | by admin
Acer Announces New Convertible Notebook Line – the Award Winning Aspire R 13 Series
SYDNEY (24 November 2014). Acer announces it has been named a 2015 CES Innovation Awards* Honoree for its Aspire R 13 Series of convertible notebooks which have been released in Australia and New Zealand today. The new line can transition between various notebook and tablet style modes of operation. The R 13 Series features Acers unique Ezel Aero Hinge that allows the display to rotate into six different positions which makes it perfect for those who dont want to give up a traditional notebook design, but want more options and flexibility. It can also be used with the optional Acer Active Pen.
Acers goal is to deliver an experience consistently beyond everyones expectation at all price points, said Katherine Nguyen, Head of Marketing at Acer Australia and New Zealand. This new Aspire convertible is the perfect device to sit in the middle of your mobile world – a device that is both portable and capable of efficient productivity.
Products chosen for a CES Innovation award reflect innovative design and engineering. It is a great honour to be selected among the best tech products and services coming onto the market, she said.
Aspire R 13 Series – Intelligent Construction and Smart Features Enhance Work and Play
Less than 25.4 mm thin and just over 1.5 kg, the lightweight Aspire R 13 Series incorporates the unique Acer Ezel Aero Hinge that provides both flexibility and stability. The 13.3-inch display is affixed to this special hinge at the sides, which allows the screen to rotate 180 degrees so it can be used in six different ways. This quick and effortless way to transition between various modes gives it the productivity features of a traditional clamshell notebook with the convenience of a tablet. Acers patented dual-torque system hinge keeps the display stable and in place when touch navigation is used. It is attached to a forged U frame, which also helps to enhance stiffness while maintaining the notebooks slim design.
• Notebook mode – provides a precise and spacious keyboard for maximum productivity.
• Ezel mode – brings the display close for convenient reading and web browsing.
• Stand mode – makes it easy to draw a flow chart, take notes, brainstorm with others or edit artwork. The stand is sturdy enough for drawing and other touchscreen interactions.
• Pad mode – enables the R 13 to be used as a tablet for web browsing, playing games or watching videos. The screen fits perfectly in the chassis frame, so its steam-lined and easy to hold.
• Tent mode – the ideal position when space is limited, such as an airplanes seatback tray or a small kitchen for easy viewing of online recipes.
• Display mode – good for viewing photos and video or playing games with others.
The Aspire R 13 is crafted to last and packed full of cutting-edge features. The touchscreen and outer lid are both encased in a slim, but strong, sheet of Corning Gorilla Glass 3, making them tough yet beautiful.
All R 13 Series models offer premium touch screen displays with super crisp images and fine detail. Available in either super high-resolution (WQHD) (2560 x 1440) or full high-definition (FHD) (1920 x 1080), photos, videos, games and presentations are strikingly vivid and detailed; text is sharp and crystal clear. Both display options include Zero Air Gap Technology, which ensures vivid, lifelike visuals. It reduces reflections, heightens contrast, creates bright and crisp images and improves readability in sunlight. FHD models feature IPS technology, which provides wide viewing angles, making them ideal for sharing movies and photos or for work presentations.
In addition, anti-fingerprint technology helps eliminate smudges and makes the displays easier to clean, while Cornings newly developed AR/ETC technology minimizes reflections and improves the displays contrast. A built-in light sensor automatically adjusts the screens brightness to enhance the screen image, making it easier to see and read based on the ambient lighting in the room.
The R 13 Series can also be used with an optional Acer Active Pen for drawing, creating and collaborating. The pen comes with a pressure sensor for professional drawing and a hover sensor for easy access to functions. It also supports palm rejection so users can write on the screen comfortably.
The pen works with Acers exclusive pen-enabled software, Acer Hover Access, which is pre-installed on all models and features applications for work or play, that works in 3 easy steps: Hold the Acer Active Pen above the screen and the Acer Hover Access software will automatically detect the pen; click the button on the side of the pen; launch apps to write notes, paint or edit.
The R 13 Series also features the Acer Screen Grasp which allows any image to be easily captured, personalised and shared to social networks or pasted to documents.
In addition to its innovative features, the R 13 Series includes powerful technologies, making them fast and responsive for a wide variety of work and entertainment uses. For maximum performance, models offer Intel Core i5 or i7 processors, up to 1TB Solid State Drive (2 x 512GB SSD) with RAID-0 support and up to 8GB of memory. Leading audio features include Dolby Digital Plus Home Theatre for cinematic surround sound, and Acer Purified Voice, a combination of hardware (dual-array mic) and software (voice recognition and audio processing). It is also Skype certified, which ensures webcam/video chats, conference calls, VoIP calls and voice commands are always crystal clear. To keep the powerful R 13 running cool and quiet, the Aspire R 13 boasts an advanced dual air-intake design for comfortable and noise-free computing. For all day computing, models with a FHD display deliver up to 8 hours of battery life.
Pricing and Availability
To find out about availability, product specifications and prices in specific markets, please contact your nearest Acer office or retailer via www.acer.com.au.